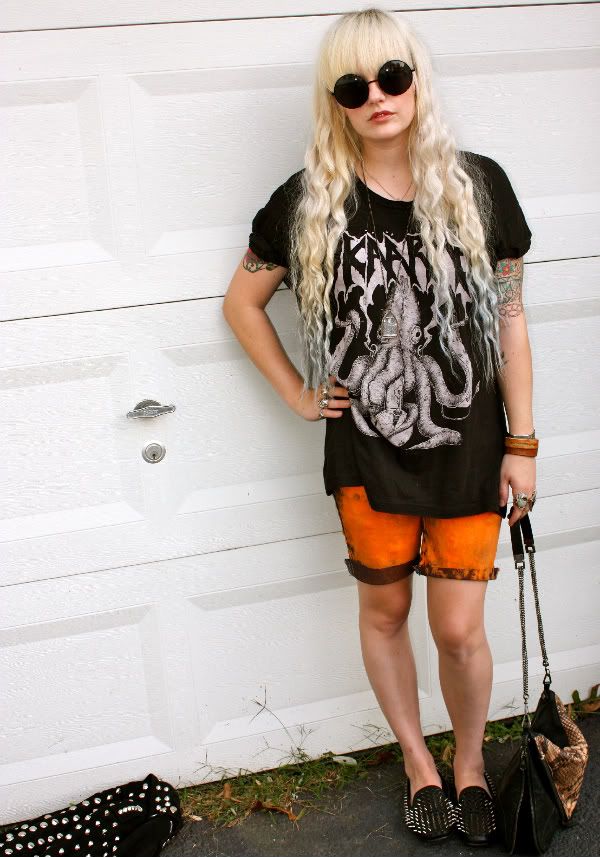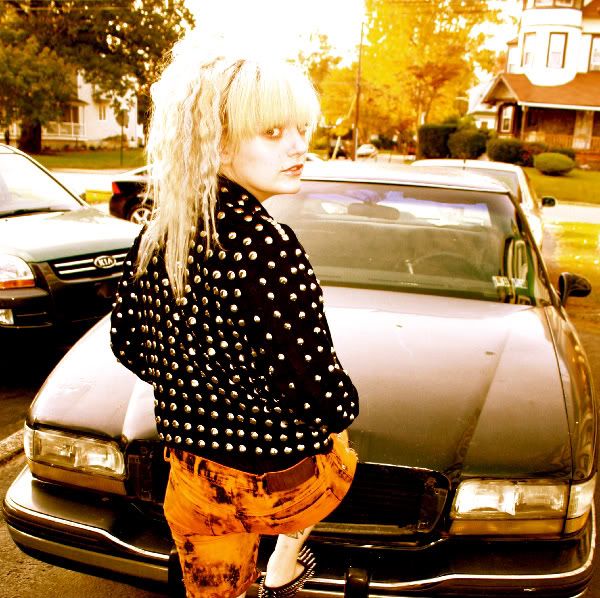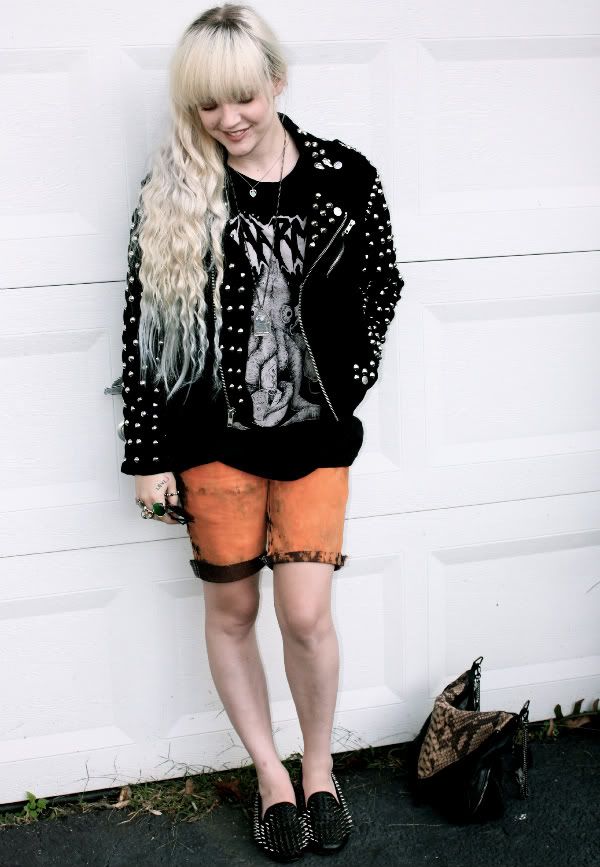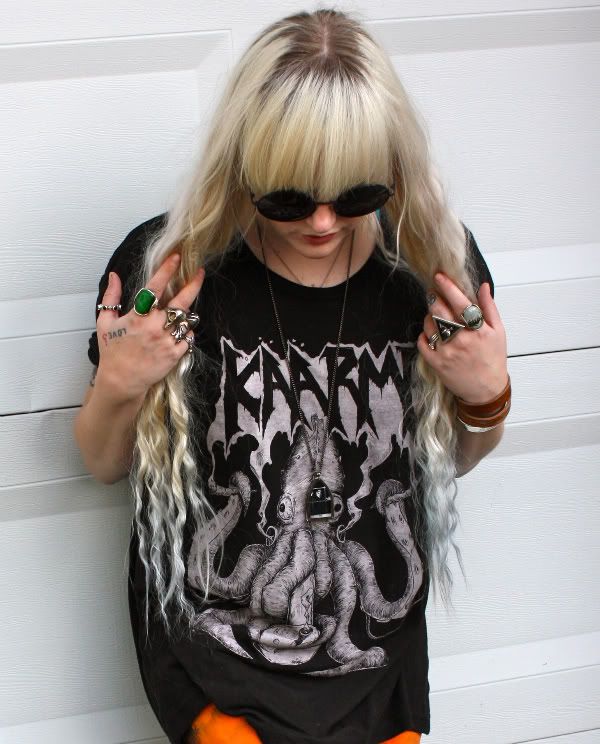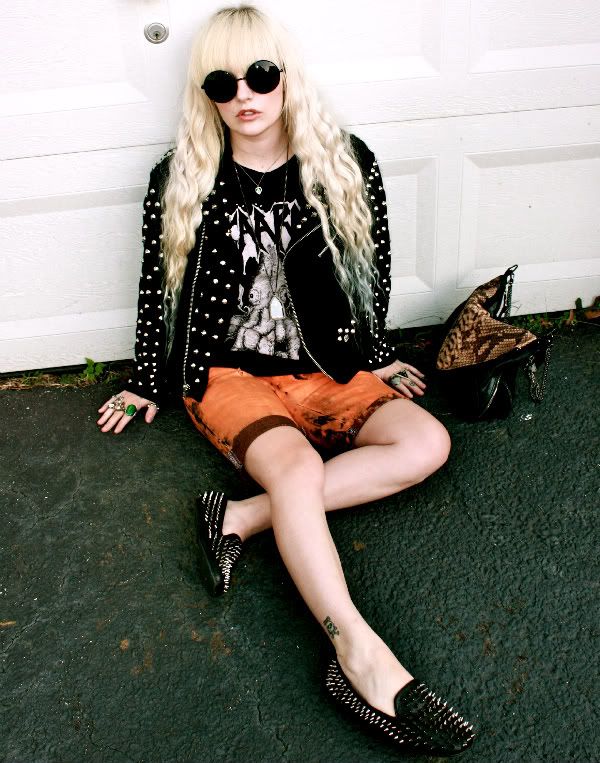 Cephalobong t-shirt and Aggressor studded jacket by Käärme, DIY cutoffs, BOYY Slash bag, Hellraiser shoes courtesy of UNIF, Nosferatu necklace and Victorious Vertebrae ring courtesy of L.S.D., large gemstone rings courtesy of Hard Candy Gems, Bless leather snap bracelets, cheap-o oversized shades.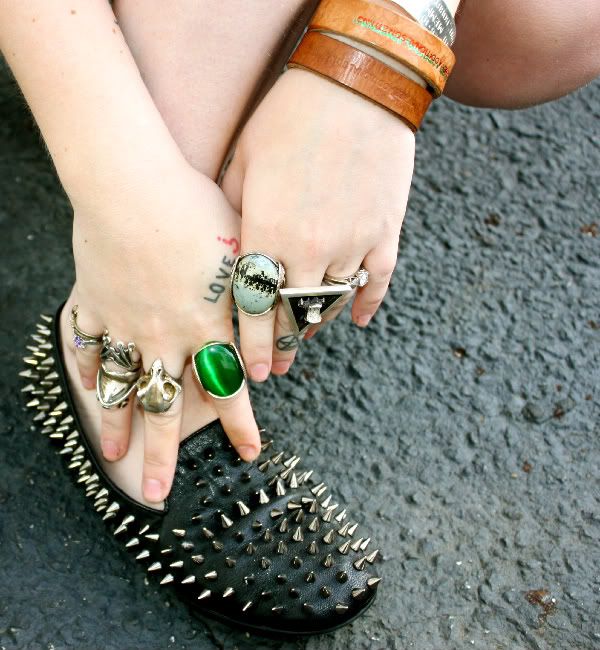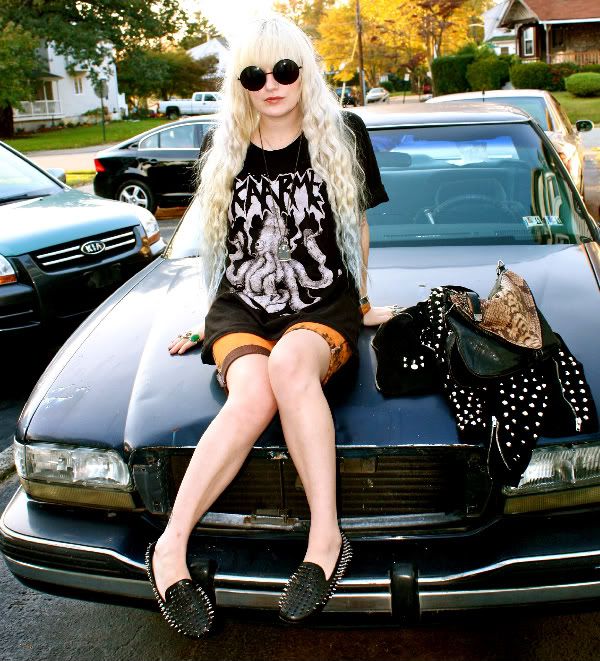 First off, I have lovely Christine to thank for these amazing shoes. If you're looking for a flat that isn't your run of the mill boring ballerina flat, look no further. UNIF's Hellraisers are the ultimate loafer - comfortable, well-made, and eye-catching for sure. They also come in pink, fyi. You need these shoes. Secondly, I have worn a piece from Hard Candy Gems on here before, but how amazing is the huge green ring? The artist responsible for HCG meticulously wraps these huge gemstones in sterling wire (you can also opt for gold or copper), so the price points are very reasonable. The shop mainly consists of huge statement rings in every color you can imagine, but there is a decent selection of necklaces and earrings as well -- I'll share the rest of my goodies from this shop in a future post. Buyers beware, you will spend hours on Hard Candy's shop drooling over all the amazing statement pieces. Don't say I didn't warn you.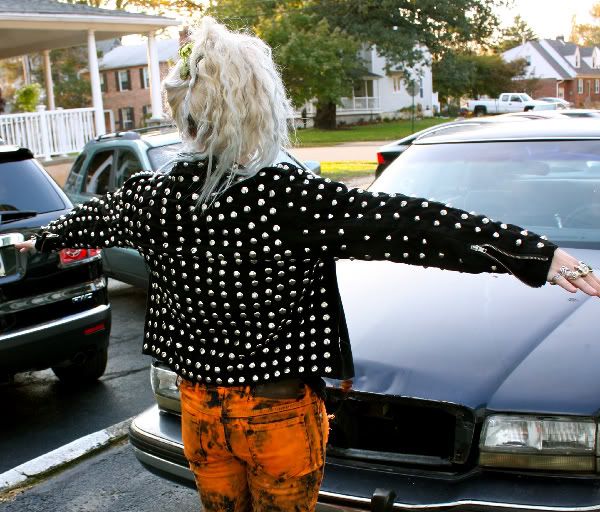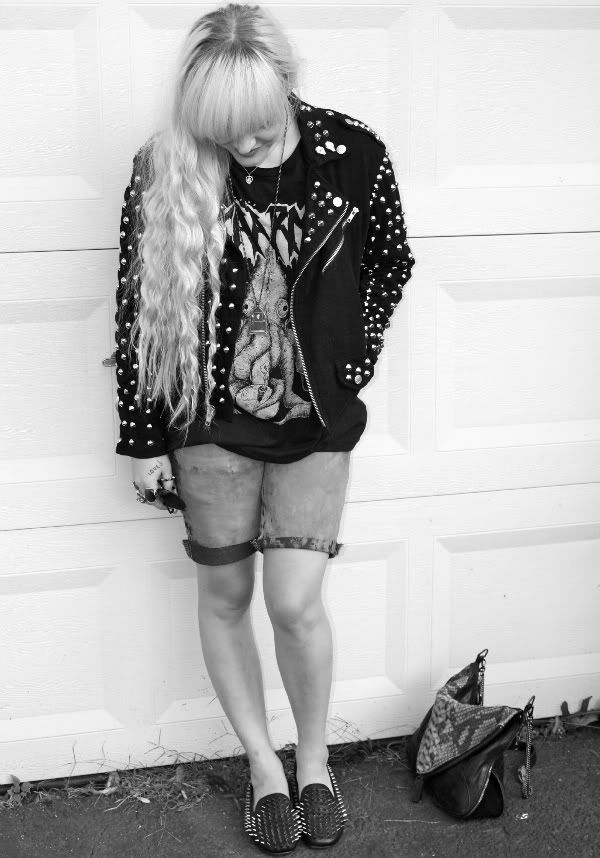 The Aggressor jacket is a piece from our a/w '11 collection and it will be available to purchase next month. I like this piece because it is a moto jacket, but it is made of a lightweight denim, so it's a nice multi-seasonal jacket. I like to wear mine with a hoodie underneath for extra warmth, or just wear it open like here, when the weather is in the mid-60s or so.




We're really glad everyone is digging the new Käärme stuff and thank you for your continued support .. for those of you who picked up an Omen shirt, we'll have another shirt available this weekend that you will appreciate for sure, along with a new piece of jewelry that has been in the works for what seems like forever. Cephalobong was brought to us by the same incredible artist who helped design Snakerider; I really love this shirt. Since the print is a discharge print, it is a nice beige color rather than stark white. And the squid's eyes crack me up. Matt Ferri, you never fail us.

Annnnnd ... the winner of the Snakerider t-shirt giveaway is kaleigh brown (elektrodot@gmail.com). Congrats, we'll be emailing you soon. Snakerider is just about extinct now, so enjoy! &hearts