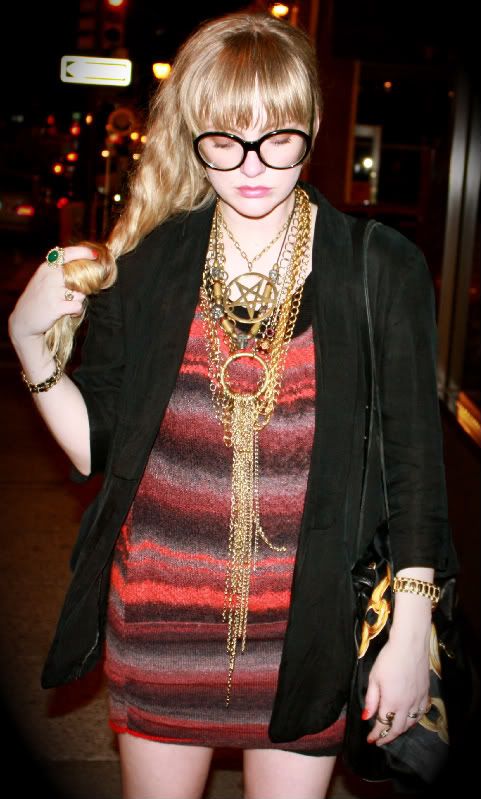 Trying to post quickly today; I have a very busy day ahead of me filled with lots of exciting tasks like paying bills, writing business proposals for my husband, getting in touch with physicians and my elusive landlady, writing writing and more writing, buying groceries ... the list is interminable.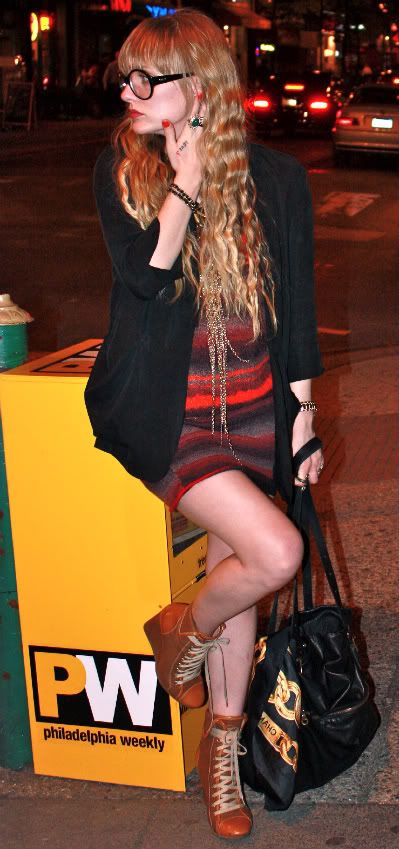 Free people sweaterdress, Topshop blazer, Chloe wedge boots, Ralph Lauren glasses, Jas M.B. leather tote, Chanel scarf, a shitload of gold chains & rings.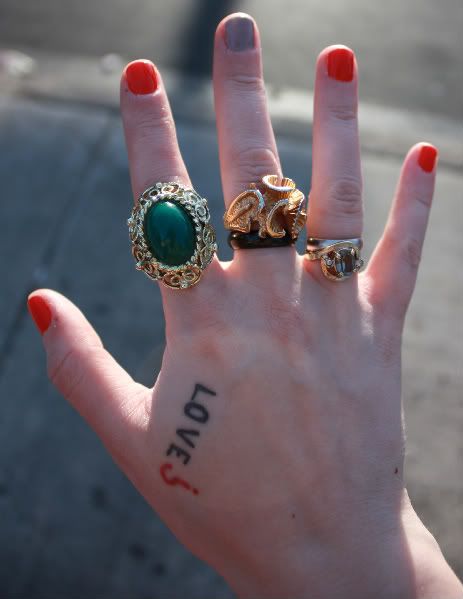 I got a mani-pedi yesterday, and I unwittingly had my nails painted to match the dress I wore that night. L to R: green/gold vintage cocktail ring from Aci Nae, goldtone costume ring from estate sale, black jade ring. The ring finger ring I found on the street yesterday! I brought it to our local jeweler and he told me it is 18k gold with topaz and little diamonds. Pretty lucky birthday surprise!




These Chloe boots are one of only 3 brown pairs of shoes that I own, and they're definitely my favorite of the trifecta. They're very versatile, as they can be worn with casual dresses or skinny jeans and still look appropriate. Unfortunately, I'm still in search of the perfect brown leather bag.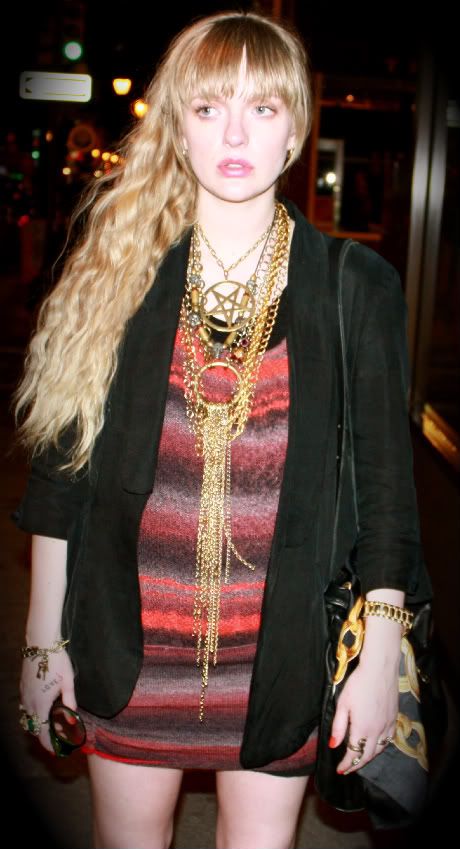 The pentagram pendant & d-ring body chain were gifts from my good friend Summer Adeline. The brass/steel/leather skull necklace was handmade by Wino (The Obsessed, Spirit Caravan, Saint Vitus, Shrinebuilder) and given to Bobby as a gift.




We went to Continental Midtown last night, which is an old favorite of mine. I always order the spicy mustard shoestring fries to share, and the crab pad thai. The seared ahi tuna is also excellent, but I can't eat raw fish while I'm pregnant.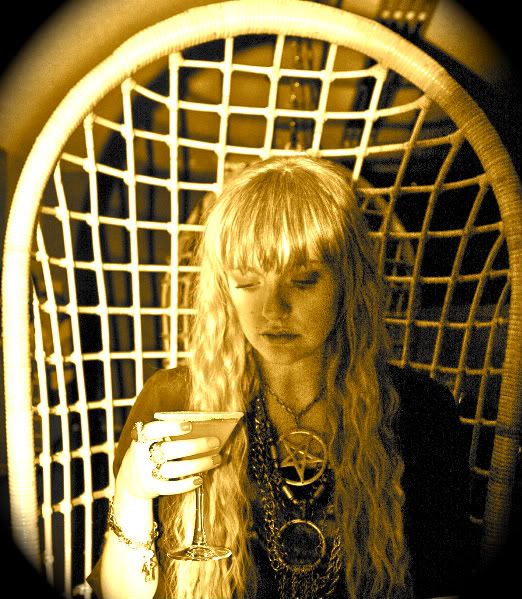 Obviously, I got sooo drunk off of this virgin Buzz Aldrin. It's normally made with tangerine Smirnoff or something. The Continental has really fun drinks. One of them is blue and comes with Smartees; I forget what they call it. We sat upstairs, which has a lounge and these fun basket seats that are suspended by chains from the ceiling. Unfortunately our photos in there did not come out well, sorry!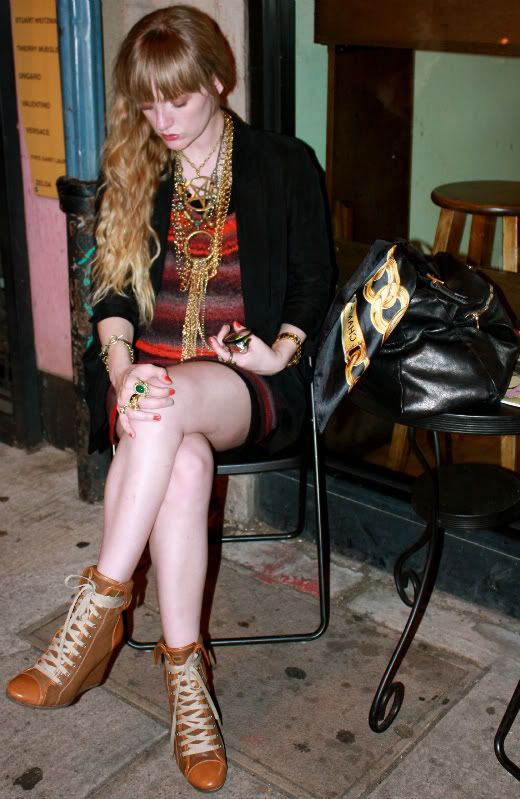 Overall, a very fun 24th birthday spent with my love. &hearts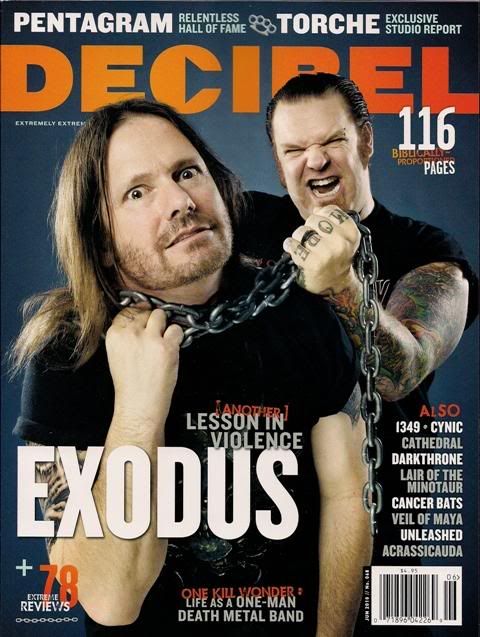 Be sure to check out this month's Decibel magazine, which features an extensive six page editorial on Pentagram. The article, written by J. Bennett, includes plentiful rare photos and an interview with Bobby Liebling, Victor Griffin, Joe Hasselvander, and Martin Swaney about the making of the seminal debut album Relentless, which has been inducted into the Decibel Hall of Fame. You can buy the issue at your local Borders or Barnes and Noble.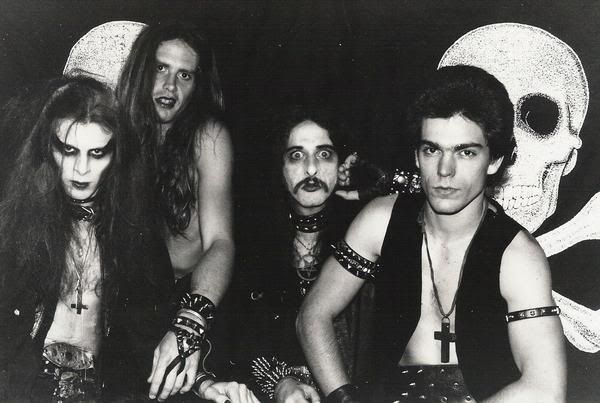 Pentagram circa 1983. L to R: Victor Griffin, Joe Hasselvander, Bobby Liebling, Martin Swaney. Photo courtesy of Jeffrey Lee. Note: Out of respect to the musicians pictured and their strong beliefs regarding this matter, I'd like to make it explicitly clear that this is an old photo and none of these men currently endorse any blasphemous or anti-Christian imagery or ideals.

Pentagram's Relentless, along with their other albums, can be purchased through Amazon: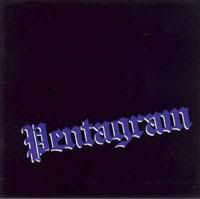 The critically acclaimed 1985 classic debut is also being reissued on 180 gram vinyl through Peaceville on May 24th. The limited edition rereleased LP is to be housed in a deluxe gatefold sleeve and will come with a full-sized A3 poster. You can reserve a copy through the Peaceville website.

Relentless, with its abrasive lo-fi charm and mammoth riffs, is my personal favorite Pentagram release, closely followed by 1987's Day of Reckoning.



The Death Row lineup performing "All Your Sins" in 1983. As usual, footage courtesy of Jeffrey Lee, our endlessly loyal and doggedly supportive close friend. Sincerest thanks to Jeff for his constant willingness to share his jaw-droppingly extensive collection of Pentagram-related media.

Pentagram will be on tour in May, kicking off in Raleigh on May 21st and finishing at the Maryland Deathfest in Baltimore on May 30th.

Enjoy your weekend! xo