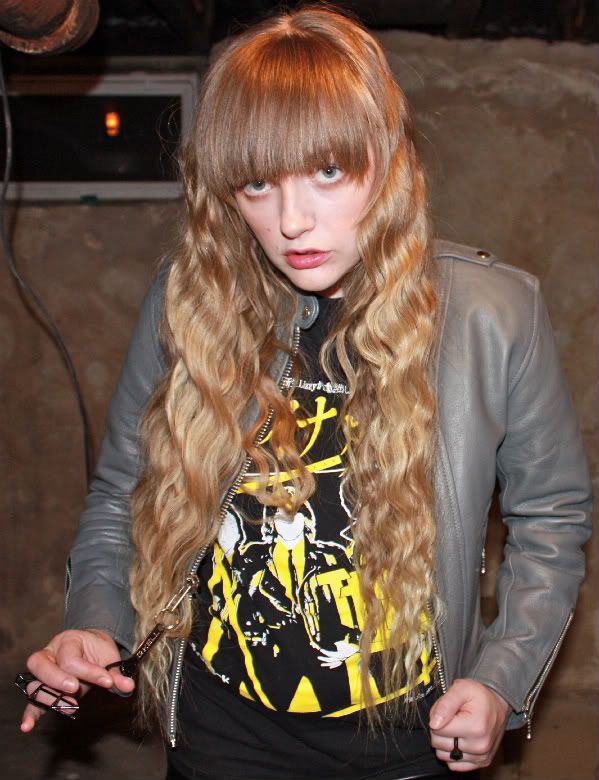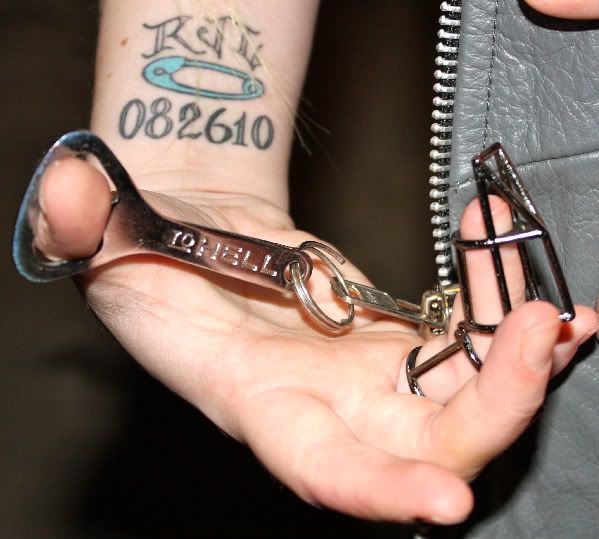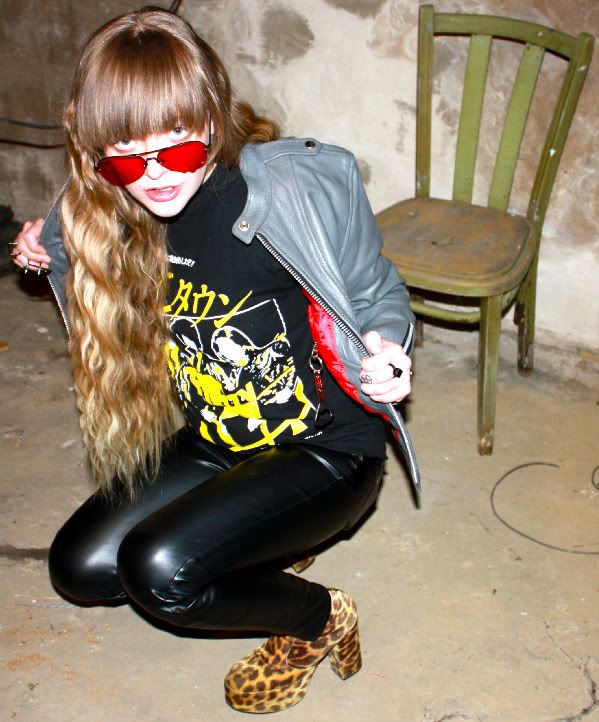 gray leather Offender jacket courtesy of Straight to Hell, Thin Lizzy t-shirt courtesy of Full Breach 77, vintage David Ackerman leopard print platform boots, leather pants (?), Ann Sofie-Back red drip shades, Chris Habana cage ring, Margiela powder-coated brass black cuff & ring.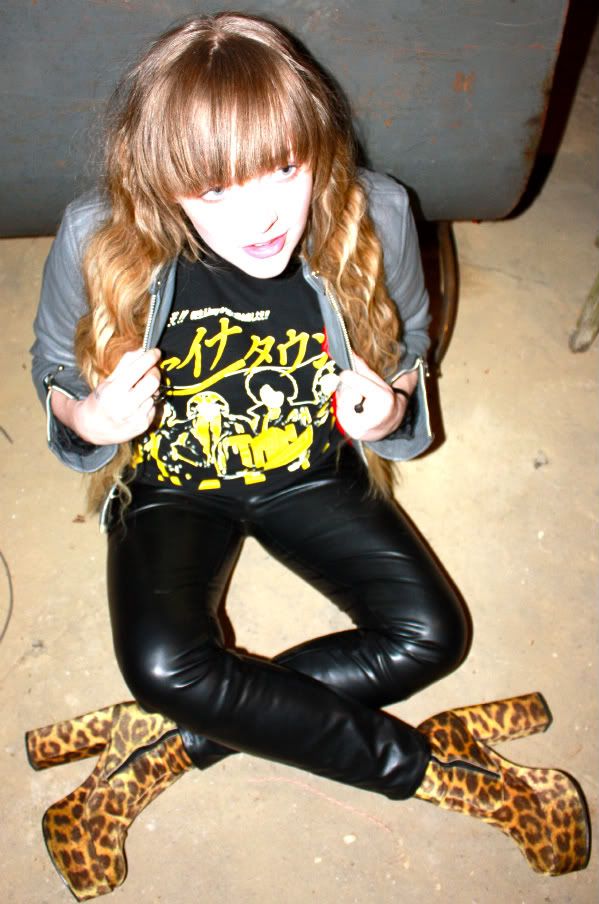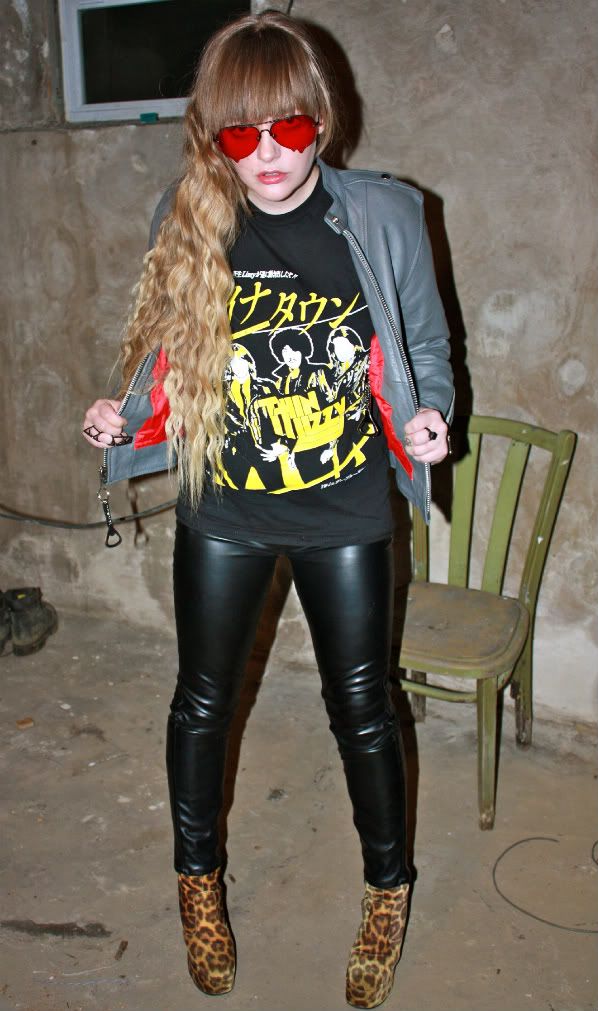 Not much else to highlight in this post except for this exquisite jacket. Bobby and I were both very generously sent these gorgeous, soft buffalo leather beauties from Straight to Hell. Bobby opted for the Defector, a classic British style moto jacket in the black with red trim color scheme. After much deliberation, I went for my least-obvious pick: the Offender, a classic cafe-style moto jacket in a stunning gray leather.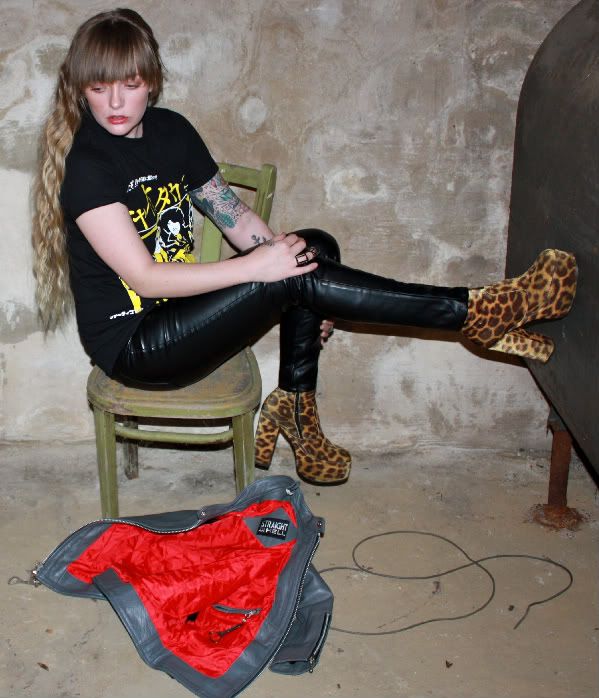 You can't beat these jackets; they are simply matchless. The buffalo leather is top-notch quality, the company uses NO cheap hardware, and 2 of the zipper pulls (the main one and the left inside pocket) are steel bottle openers, onto which STRAIGHT TO HELL is stamped with pride. Once Bobby and I put on our jackets for the first time, it was obvious to us why everyone from Iggy Pop to Slash wear only Straight to Hell leathers.




All of Straight to Hell leather jackets have the red lining and are very lightly quilted, so they break in very easily. One problem I've always had with unisex leather jackets is that the shoulders are too wide on me, and it looks horrible. The people at STH helped us pick out what sizes we needed with utmost patience, and as soon as they arrived and we put them on, we knew we would never need to buy another leather moto jacket ever again. They fit perfectly. Bobby will be sporting his in the June (hits stands in may) issue of Decibel magazine. He will also be on the cover of that issue, so keep your eyes peeled come early May.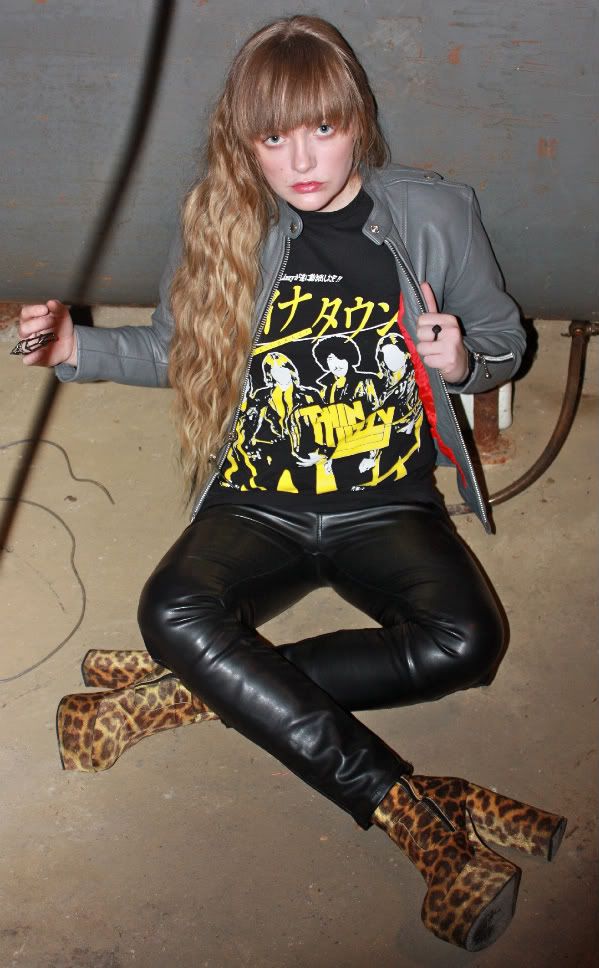 Straight to Hell's sister company is Full Breach 77. Full Breach offers the largest selection of obscure, original puck rock (pre-'88) and rock n roll band t-shirts I've ever seen. The designs are colorful, and whether it's Bo Diddly or the Runaways you're looking for, Full Breach have it printed on a 100% cotton t-shirt. The best part: they're roughly $13-$16 a piece. I loved this hideously yellow Thin Lizzy print; although Jailbreak is obviously not my favorite album (for the record, it's Black Rose), I couldn't resist the Japanese lettering or Phil's trademark afro and those sad, sad eyes. He was a beautiful man.

Josh, the founder of both Straight to Hell Apparel and Full Breach 77, was kind enough to not only send us a boxload of precious gifts, but also grant me an interview for Halcoholic. When we got these jackets, our first question was: how does this company sell these perfectly crafted jackets for 1/4 of the price of many lesser-quality leather jackets from only slightly more popular companies, and why? If Hall of Fame rock 'n rollers are wearing STH jackets, why aren't they jacking their prices? Is this small company that legitimately dedicated to many working-class punk rock customers who can't afford a $2500 leather jacket? Josh graciously answered all of my questions in detail, from starting Full Breach in 2002 bored and broke in Chicago and working on his hands and knees to screen print shirts, to traveling to Japan in 2009 in order to launch Straight to Hell. Josh spoke with a down-to-earth humility and readiness: cut and dry, no "elitist punk" bullshit, and an inner authenticity that most people simply do not possess. You just have to respect that.

------------------------------------------------------------------------

1. When did you first launch Full Breach 77 and Straight to Hell and what is some history?
Full Breach 77 started in 2002 making original punk rock t-shirts. We were punk rockers in our 20s, sitting around in our Chicago apartment in the hood of Humboldt Park, bored and broke. I had a rough job at a video store whose name shall not be mentioned cause they are horrible, and my upstart partner at the time, partner in rock and roll and partner in crime, well he was struggling to make it as a chef. Must have been late winter or early spring. I remember that apartment well because the cops would pull ya over just for walking home, even during the day. They thought you were in that neighborhood to buy drugs.

Many punk rockers have tried their hands at screen printing their band's t-shirts, so that's really all it was about. Making art, making offensive imagery on a t-shirt, and giving it to our friends. We were printing on our hands and knees with a "borrowed" gas station squeegee and the underside of a welcome mat bought at Ace down the street. Hey our friends like our designs. Really? Cool! Okay let's start a website. What's a website? It probably went something like that. And then cheers-ing our PBRs together. Oh yeah we need a name. How about Full Breach. Like when the swat team bursts into somewhere, full speed and guns ready and dead serious. "FULL BREACH FULL BREACH!!!" And we are pretty influenced by 77 punk rock and all the bands from that era. Dead Boys, Thunders, Ramones, and of course the early English bands. That style, that aesthetic, that sound, that attitude. That's punk rock to me. Of course now in 2011, punk has so many white-washed meanings, but that's another story. To me it's really now about rock and roll in general, real rock and roll - music, attitude, aesthetic, lifestyle. When I was a kid the guitar teacher told me my fingers were too small to fit around a guitar. Well fuck you - I'll still be involved in music. Ain't going anywhere.

We had our record label Full Breach Kicks from 2005 - 2009. Natural progression. Spend what we make on t-shirts and give it back by releasing records. I say give it back because that's about the time the music biz was dying, just no one told us, so it was very hard to break even on a record release. From a business standpoint, a record label is the worst idea ever. From a personal standpoint, it's a great idea and can be very fulfilling - for a bit. Then it's just makes you jaded. Done with it.

Oh yeah. Small thing, no not really... ee went to Japan around 2002 and hooked up with a Japanese company selling Japanese leather jackets here in Chicago and on our website. Fast forward to 2009. Straight To Hell is launched. We wanted to do a full apparel line and to do it right and make and design killer items. Name taken from a great Clash song of course. Personally I've been wearing leather jackets for 16 years, so I know what a good, snug fitting awesome rock and roll leather jacket should be like. The aesthetic of a biker jacket meets the attitude of rock and roll and punk.

2. What was your initial motivation for starting a clothing line that promotes many bands that a lot of people don't know about, i.e. The Saints? Was it personal interest to have shirts you couldn't find elsewhere, the desire to spread the word about "true" punk rock, a combination of both, or something else?
Spreading the word and representing what we were and are about for sure. Trying to get people into the good stuff. Shit music is so accessibly these days, if you're not really a musical person, if you are a weekend warrior desk jockey type, you're not gonna be digging around in the underground getting dirty trying to find good counter culture stuff that can change your life, then you're just not gonna find good music. Hey not everyone has the will or desire or need to go out there on their own and discover something, to be an individual. I'm a weirdo so I've been screwed from the jump. Gotta go out there and be independent. Too much ADHD to sit behind a desk and be a yes man. When I was a kid they told me I had ODD - Oppositional Defiant Disorder. Really, no shit, that's my excuse? Cool... The other night I was DJing at a rock bar here in Chicago that has a stripper pole in the back and a chick comes up and requests "stripper music she can dance on the pole to - like Rihanna". And I'm here playing "Satisfaction" by the Stones at volume 11. Really? I ask her if she knows how many people have fucked to and probably stripped to the Stones before, and she says that's her parents music. It's that attitude by so many people that makes me never wanna be like that. That ignorance. At least when it comes to good rock and roll baby!

3. I know FB77 and STH are small companies; is there a reason why you keep your designs so exclusive, with very little wholesale?
We do actually wholesale out to some really cool stores. Trash and Vaudeville in NYC and Angry, Young, and Poor in Lancaster, PA are our buds. Trash is on St. Marks Place and has been around since the mid-1970s. Super cool people work there and they know what's up. Oldest and coolest rock and roll store ever. AYP are great too, they really know punk. These are the places we relate to. We do sell to a few others stores, but FB77 is so genre-specific that you can only do so much with it. On the other hand, STH has cross-over appeal and all types of people, rockers or not, dig our designs. So stores get in touch! It's a rough economy out there, the Man is trying to take over, wall street screwed over the middle class. Sounds like reasons to support the underground!

4. What do you feel sets Straight to Hell leather jackets apart from any other jackets?
Easy question and the most important. It's all about the fit. Our jackets are designed by rockers, so you're gonna get that perfect fit. If ya buy a thrift store leather jacket, you never know what you're gonna get. And if ya buy some cheap jacket, than that's what you'll get. And if ya buy a nice leather jacket from a large name-brand company, then you're still probably gonna get baggy arms or a bunchy back. Our jackets fit like a glove, and the high quality buffalo leather is amazing and soft and breaks in super nice. Top that off with cool detailing, multiple colors and styles, and red lining with a dangling metal Straight To Hell bottle opener attached to the inside zipper pocket, then you're in business! First drink's on me. And you'll be supporting an independent, do-it-yourself label.

5. You use high-quality leather and hardware on the STH jackets; is there any reason why you price them so reasonably, when people are purchasing large brand name leather jackets of lesser quality for quadruple the price?
We use the best buffalo leather out there. The leather is great and stretches and conforms around your shape and breaks in perfectly, with a vintage leather jacket look and feel in just a few months of wear. A good leather jacket should be a staple in a wardrobe, and it becomes part of you. It's like that perfect pair of jeans you always wear. That's why when I see these jackets out there with so much going on, I don't get it. Classic and simple is always best. We price them at a place that rocker folks can hopefully afford. A punk rock kid in high school can get one and a rocker in a successful band or whatever can get one too. Just examples. It's important for us to have all these types of people wearing our jackets. The price is where it's at so we can continue as a business and grow, and also so it can appeal, at least financially, to all types of people. Thank you for saying they are priced reasonably, because it really bothers me when people say they are too expensive. Which happens. These people have no idea what kind of expenses businesses accrue, they just want something to hate on. Ours our around $250 depending on where you purchase it. A new and comparable leather jacket will run ya around $450 up to even a grand or more. We are not trying to be some exclusive, high-end fashion label. We want folks to wear our jackets, not just trendy people with money. Although we'll take them too, ha ha.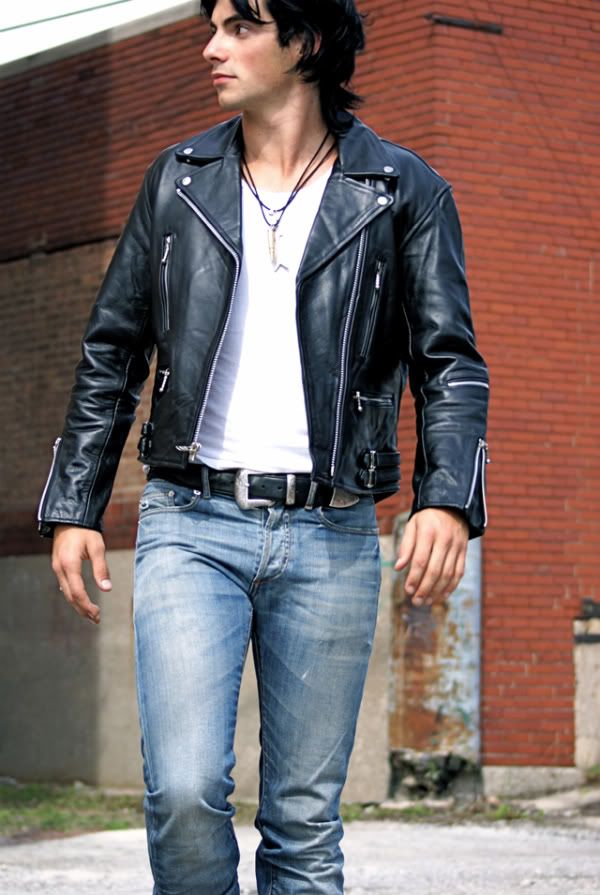 the Defector jacket in black.

6. What sort of individual do you picture wearing FB77 shirts and STH leather jackets?
Anyone reading this. If ya dig the shirts then go for it, and our jackets appeal to all types, so they're killer for anyone in any style or culture. A good leather jacket is timeless and wearable at all occasions, whether riding a motorcycle or going to a show or wearing every day! And all the celebrity rags and fashion magazines are now saying leather jackets are cool! So ya gotta do what you're told! If Justin Bieber is on the cover of Rolling Stone rocking a leather, than it's cool right? Naw just kidding, but in reality our leather jackets are classic designs and timeless and appeal to people who either ride a motorcycle of course or who want that cool street or rocker look. Nuff said.

7. What can people look forward to see in the future from your lines? Anything new, or are you planning on sticking to the stand-bys that have worked well for you up to this point?
We are working on denim right now. It's been a long road with this, because we are very specific. When it's out it's gonna be amazing. Men's and women's with a great tight fit in multiple colors and washes. The James and The Judy. Also we are working on slim-fit polos. Bad Man polos. Are polos only for preppies? Tennis and golf and cricket? Good boys with civilized manners? We say no! This is for the bad man. This is for you.

8. If you could have one "famous" person wear a STH jacket, who would it be, and what style/color combo would you choose?
Interesting... well I would say Sarah Palin. Make her wear the jacket 24/7. Confuse everyone cause that's what she does anyway. Put her in the pink Defector. Now that would be funny. How about Alice Cooper. That would be awesome. Iggy Pop and Slash already have jackets, that's pretty cool.

9. Where do you see your companies five years from now?
Just rollin' with it and keeping rockin' and staying positive and we'll see what happens and hopefully people respond well.

10. Anything else?
Just a thank you to you for your time and your support and for your killer blog. Thanks for everyone's support and shout out to our friends and family. Today is Johnny Cash's b-day so I'm off to the bar to spin some tunes.

------------------------------------------------------------------------

Thank you, Josh, for everything. Expect to see much more of Straight to Hell and Full Breach 77 on here in the very remote future.

††††††††††††††††††††