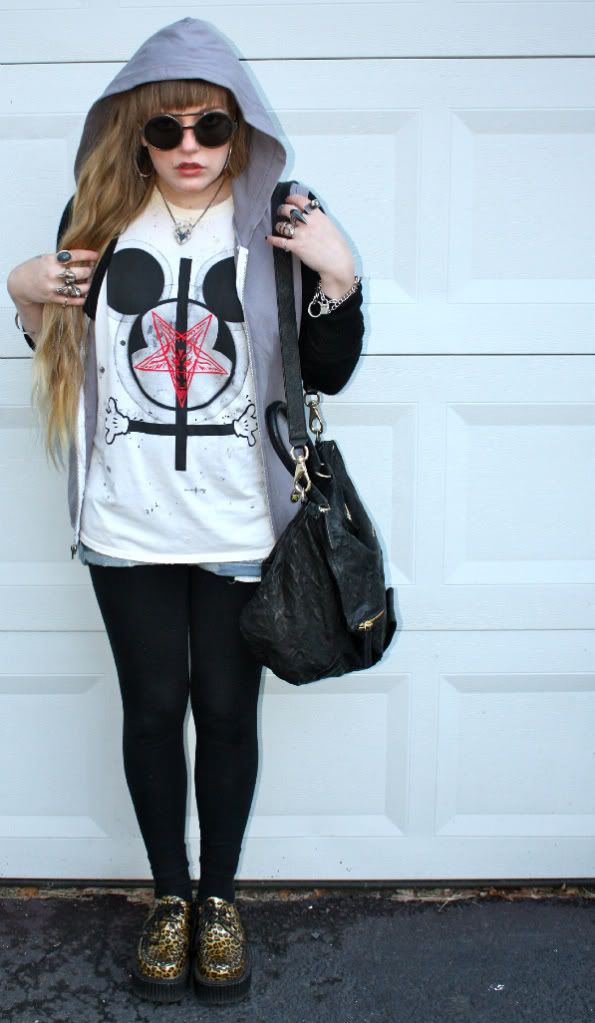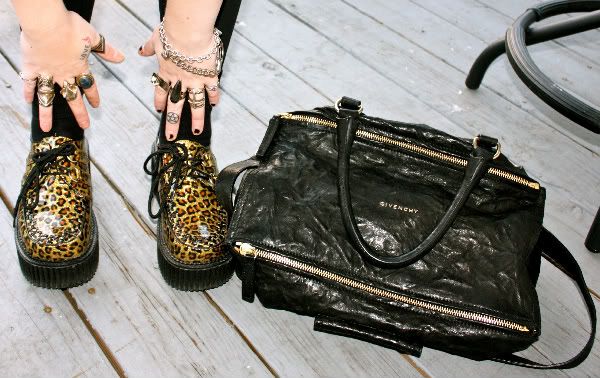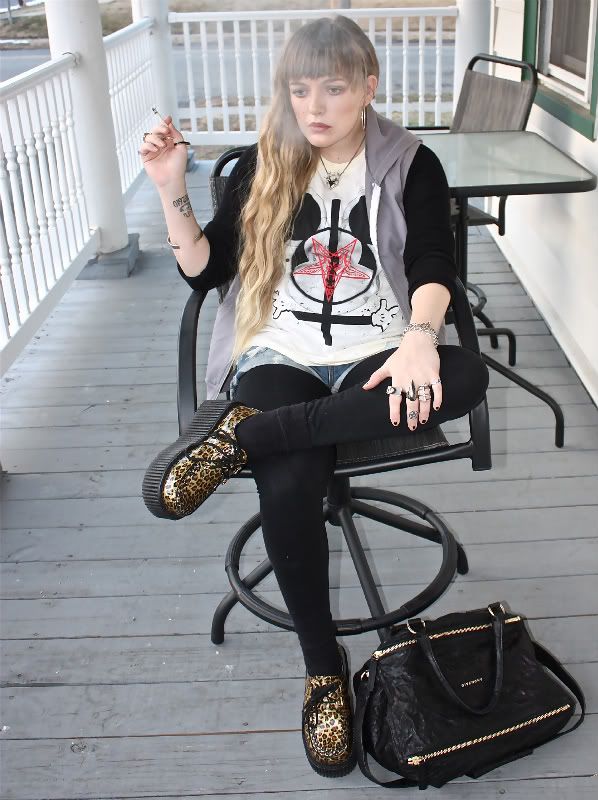 "Disneylamb" muscle tee courtesy of UNIF layered under Rick Owens cropped cardigan & my own DIY Vice Squad sleeveless hoodie; Zara cutoffs, Givenchy bag, Karen Walker sunglasses, gold leopard print creepers by Demonia.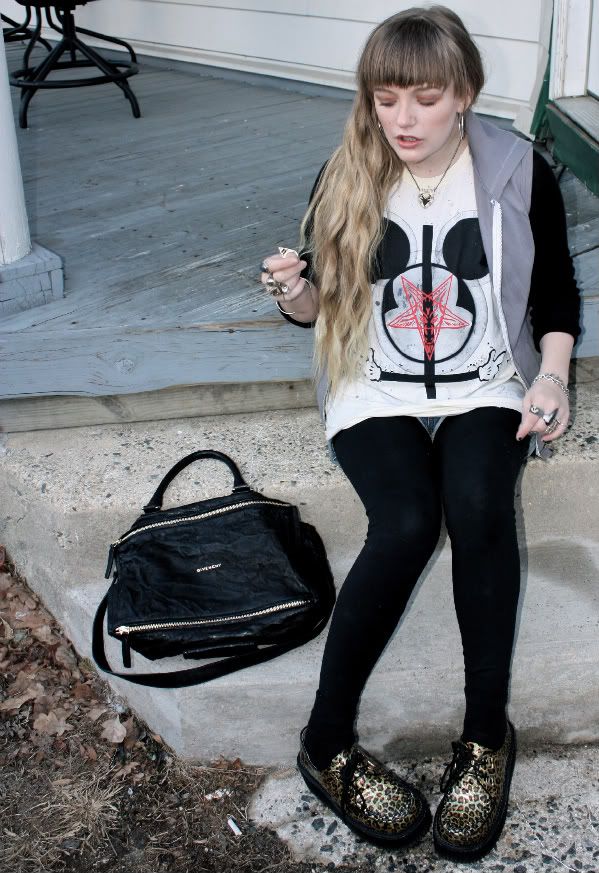 UNIF recently shipped me a very generous care package (thank you, Eric and Christine!), and it included their "Disneylamb" shirt design. There has yet to be a UNIF piece on which I've laid my eyes and didn't adore.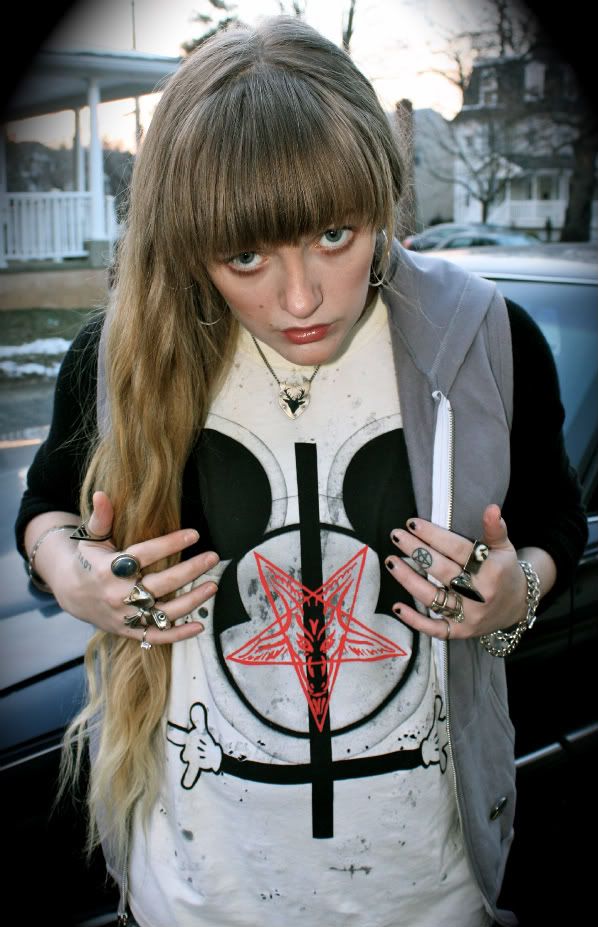 stag shield necklace courtesy of L.S.D.

Everything about their t-shirts is perfect: they're appropriately threadbare and distressed in a very authentic-looking way, they fit beautifully due to the thin [combed?] cotton, and their prints just straight up fucking rule. I love the hot pink of the pentagram against the white of the shirt, Mickey's inverted cross body, and how his hands are (I think) throwing the horns -- though his thumbs are out, so maybe he's sign language-ing "love" to us. Either way, I am buttfunky in love with this print.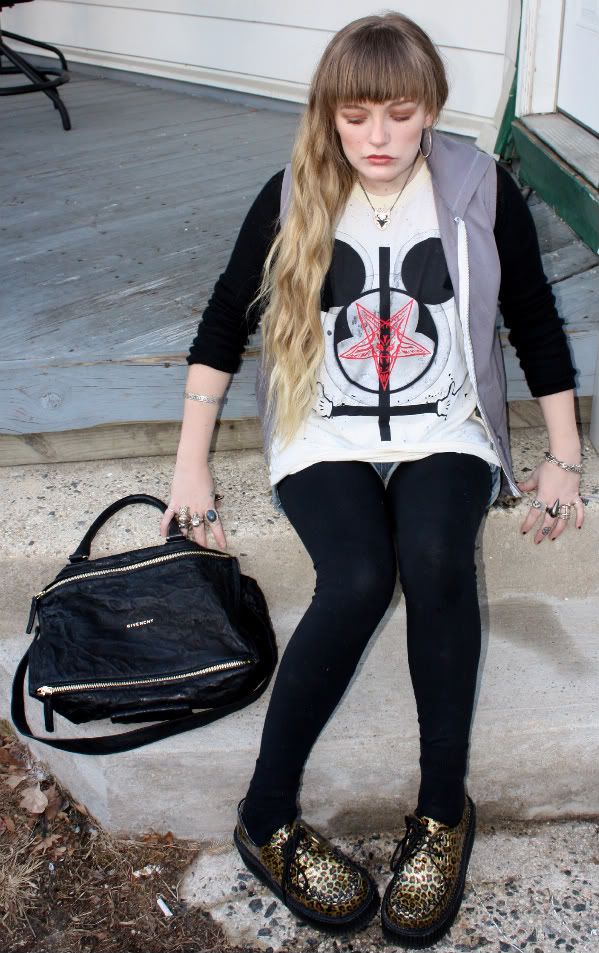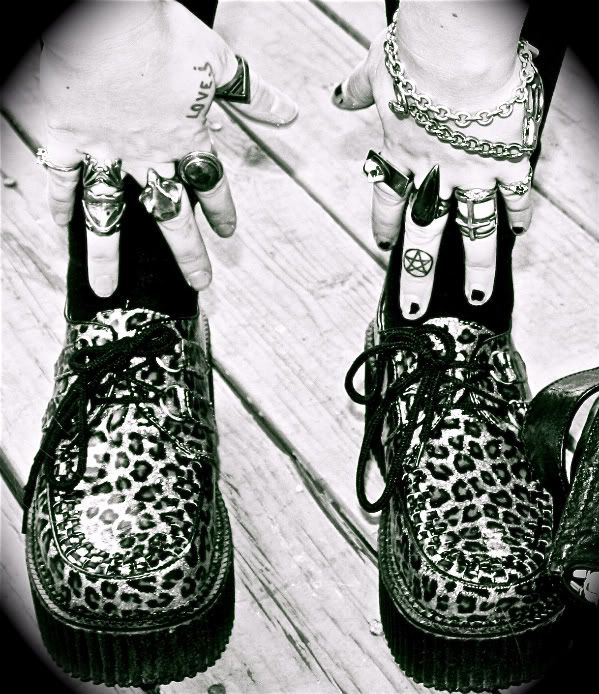 Rings from L to R: custom pinkie rings, sterling/onyx frog, sterling/lapis large stone, sterling "equals" ring courtesy of L.S.D., sterling "feeling a little unbalanced" ring courtesy of L.S.D., talon ring courtesy of Leviticus, Pamela Love cross ring.

I haven't owned a pair of creepers in 6+ years -- the last pair I had were white, thick-soled, and I had splattered red acrylic paint on them to make them look like I had been present at the scene of a gruesome homicide (or committed the homicide myself, since I thought I was such a badass with my green hair and 8 gauge septum ring) and they had been sprayed with blood. A ridiculous concept in retrospect, but they actually looked pretty cool. However, I was still primarily a Docs, Chucks, and Vans girl, so the bloody creepers were sold online.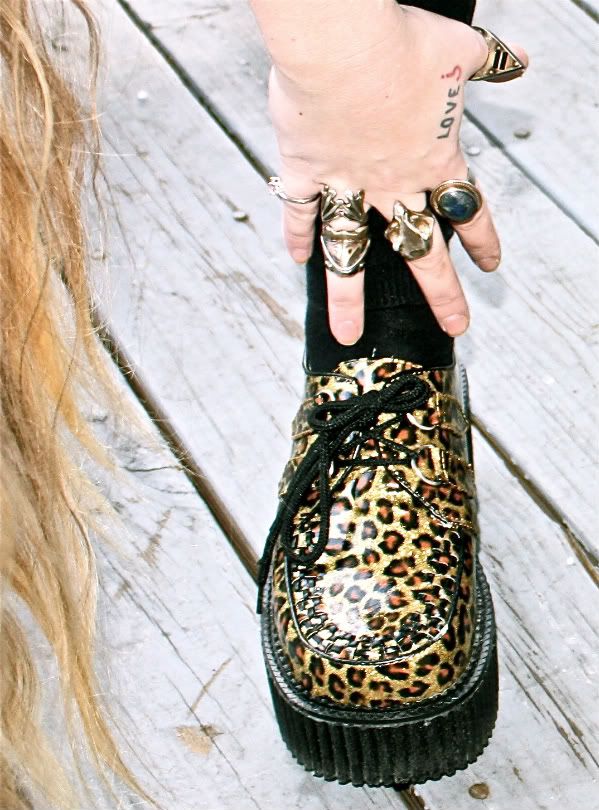 However, when my husband and I were e-shopping for stage boots for him, I stumbled across these gold leopard print creepers, and fell in love. I don't have many flats that are appropriate for the winter or walking around in snow/sludge, and these were very reasonably priced, so I had to have them: the perfect hybrid of geek and gaud. They're by Demonia, and they also come in purple, red, and blue, for those of you who want a pair of these uglies to call your own..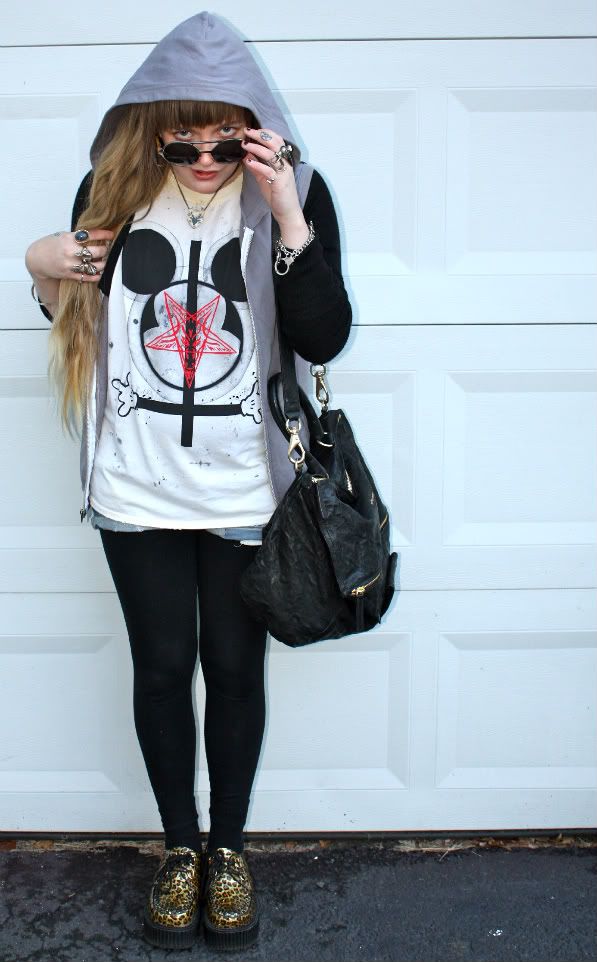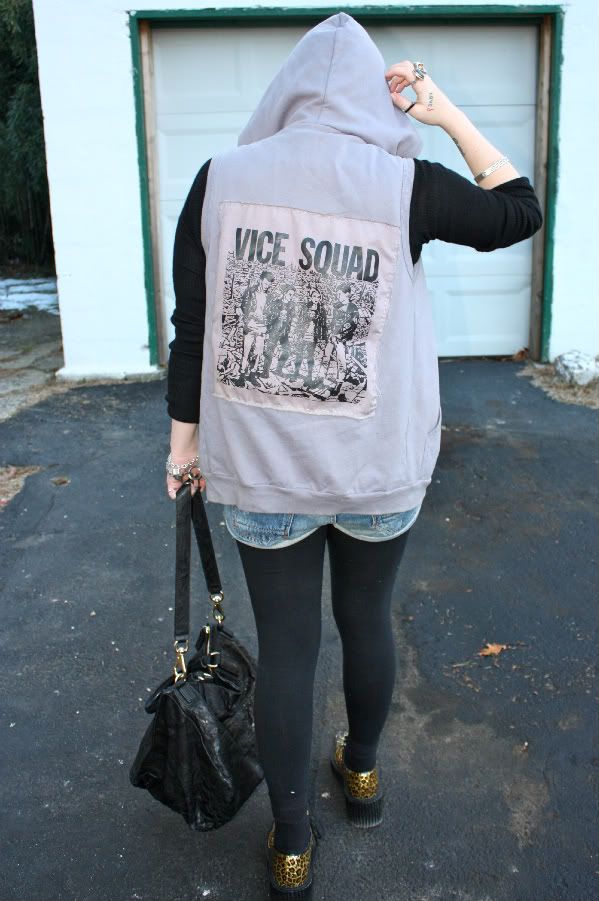 I had mentioned on my Twitter, in response to some people who had asked me about the MeineLiebe project, that I made the decision awhile ago to respectfully withdrawal my association with the line. When I initially decided to launch my own line, I made a vow to myself that I would not rush production or take any short-cuts in the design process for the sake of saving time and/or money, compromise my vision or "settle for less" by using cheap materials for the sake of saving time and/or money, and most importantly, I would not try to sell an inferior design to customers at an outrageous markup. My mantra was and still is: no design is finalized unless I would wear it myself with pride on a regular basis. With all due respect, I just did not feel my partners at MeineLiebe and I had the same creative vision; therefore, I deferentially stepped out of the project, and am no longer associated with MeineLiebe.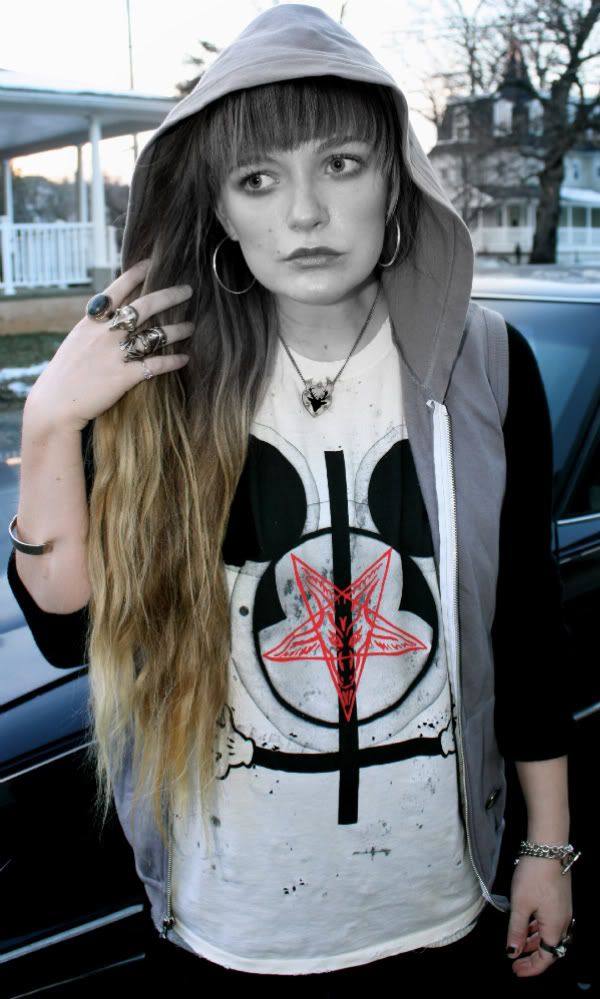 However, my departure from the MeineLiebe line does not mean the end of RTW and accessories designing for me. A very gifted artist, who is a "think outside of the box" kind of individual, and I will be launching our own line, consisting of unisex RTW, jewelry and other accessories. We have only had a handful of meetings thus far, and already designs are going into production. My partner in this project and I have very similar creative visions, and witnessing them amalgamate and materialize into kick-ass designs is fulfilling and incredible beyond words. We hope to have our webshop up with pieces for sale around late March to mid-April. We do have a name for the line already, but I'll save that for the next post.

††††††††††††††††††††