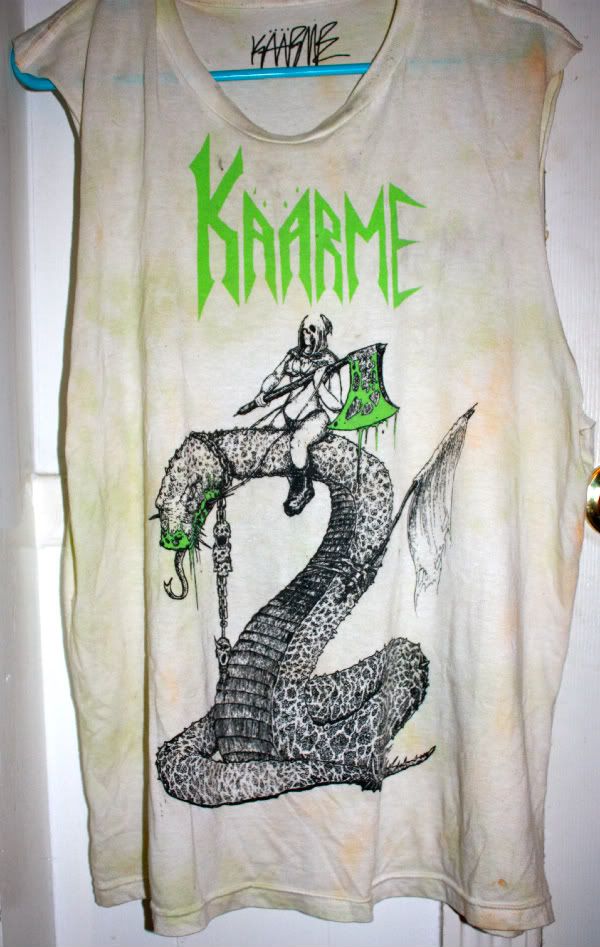 So, Käärme's Snakerider t-shirt was by far one of the most popular designs in our last collection. They are almost sold out, with only 2 pieces left to purchase via our web shop. However, we keep at least 1 of each size of every design to use for trunk shows, etc. So in reality, there are still 4 Snakerider shirts left in our inventory: 1 of each size.

For those of you who missed out on this design, this is your chance to get your hands on one before they are gone for good and the new collection comes out. Yes folks, this is a giveaway, and the lucky winner will receive a Snakerider shirt ($53 value) in the size of their choice. Here are the 3 simple rules:

1) You must be a follower of both Halcoholic and either the Käärme facebook, tumblr, blog, or twitter.

2) Place a link to the Käärme website (http://kaarmeconcepts.com) OR a link to this giveaway on either your blog, facebook wall, tumblr, or twitter.

3) Comment to this post with your name, email address, and the link(s) to #2. By that, I mean post the link(s) to where you linked either the Käärme website or this post. Please do not comment with your name, email address, and "http://www.kaarmeconcepts.com." These submissions will not be counted.

You can submit until Wednesday, October 19 and the winner will be announced Friday, October 21. Good luck!