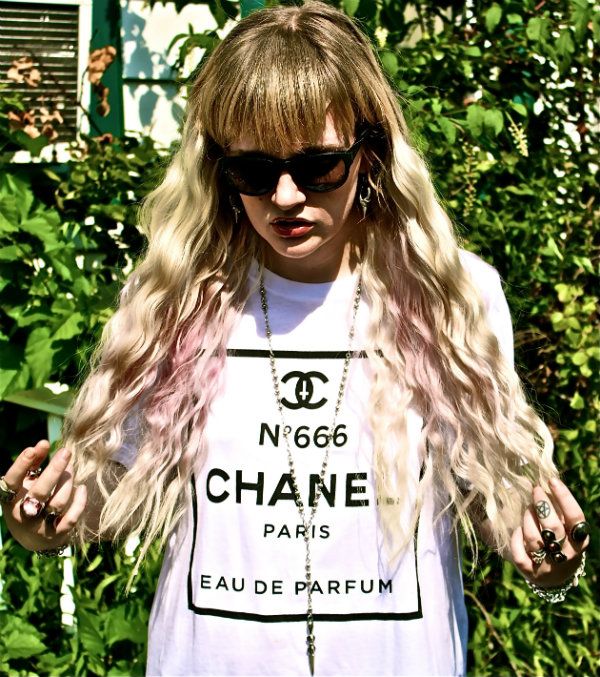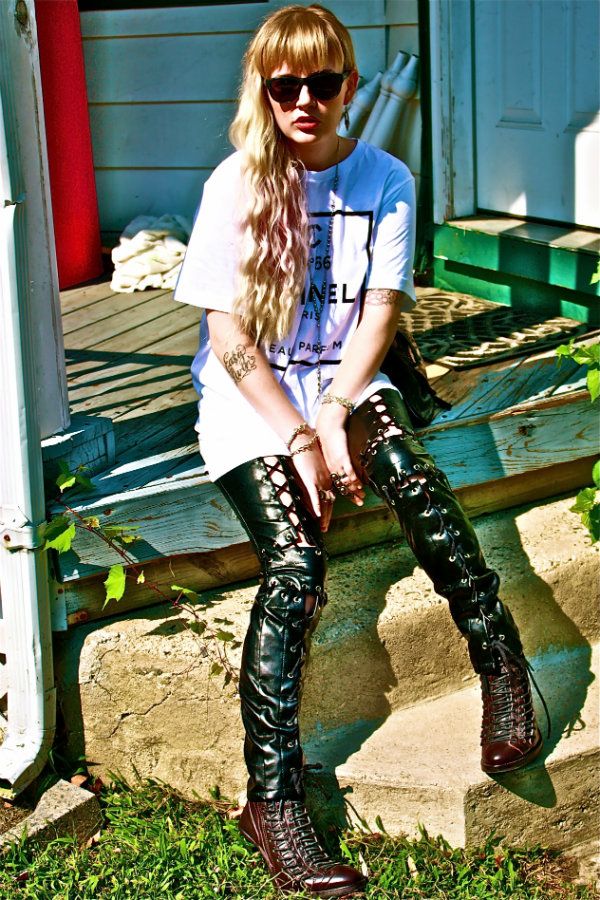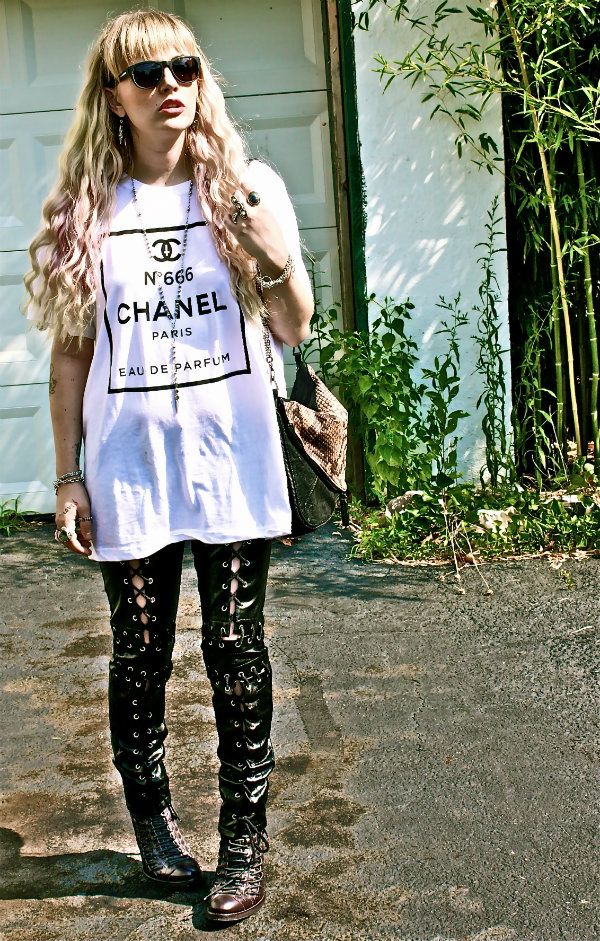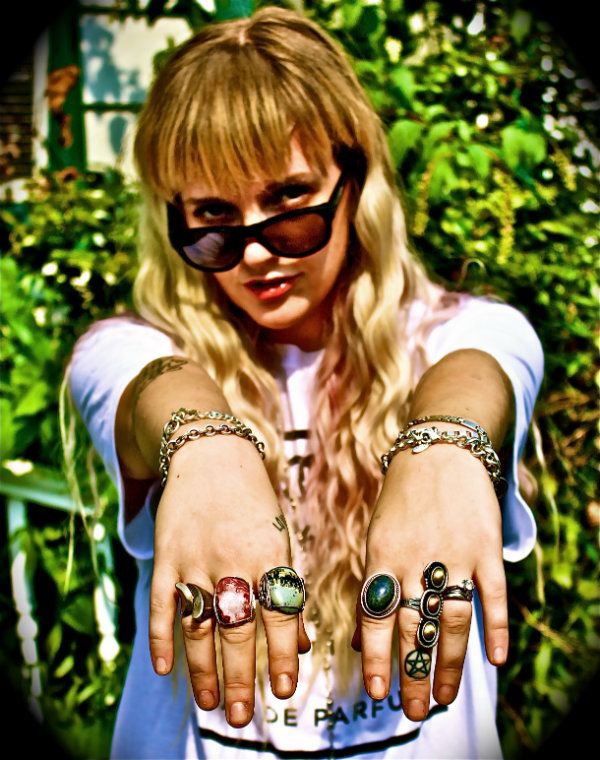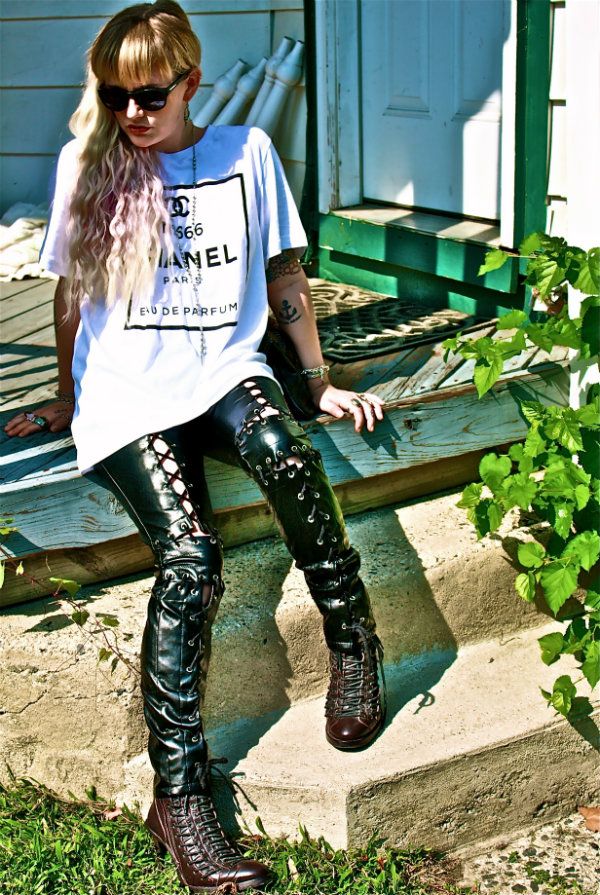 No. 666 tee c/o Killer Condo, faux leather laced-up pants via eBay, Ann Demeulemeester triple-lace boots, Jil Sander shades, BOYY Slash bag, pink druzy & speckled jasper cocktail rings (right index & middle) c/o Hard Candy Gems; "Love Angels" rosary necklace, tri-color "Serpent" ring (left middle), & "Poison" earrings c/o Vanessa Mooney; lapis ring (left index) & random sterling ring (right ring) both vintage, all bracelets purchased by Bobby in Europe except for the Tiffany's padlock.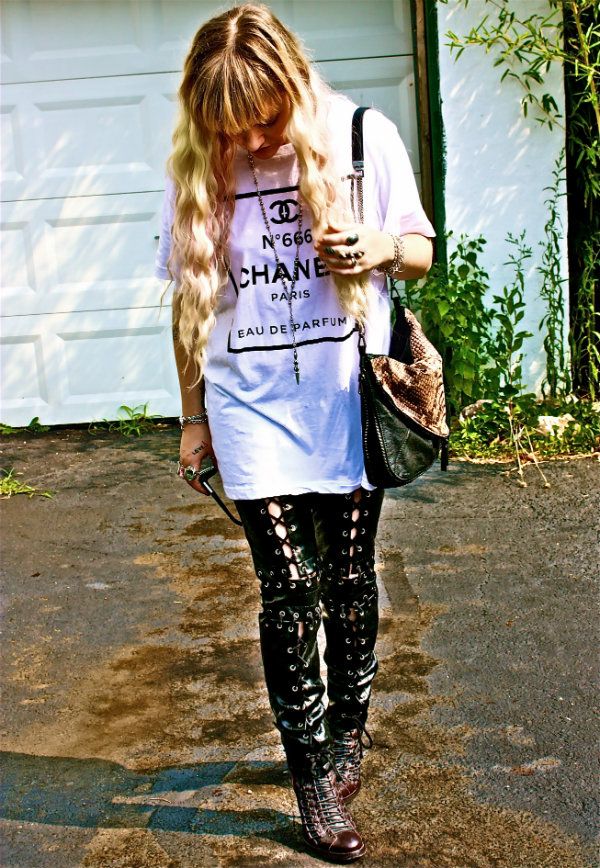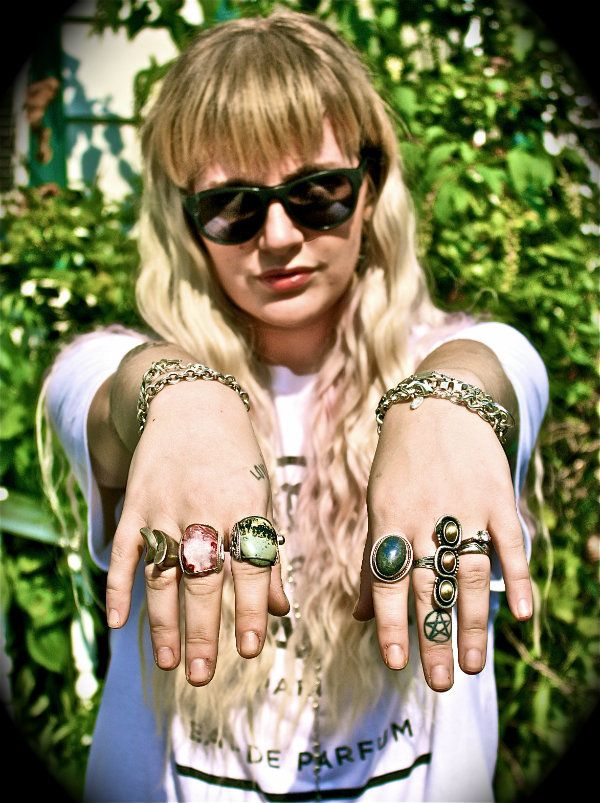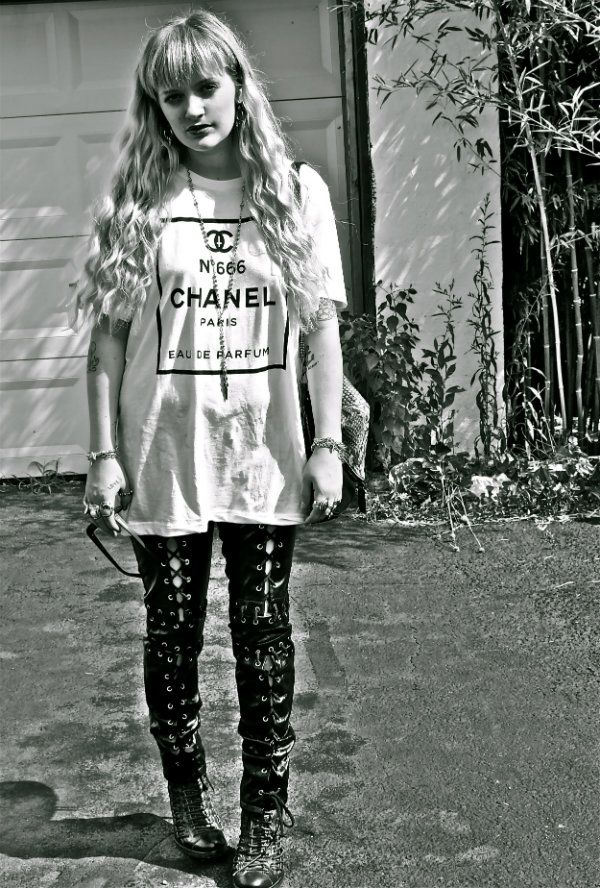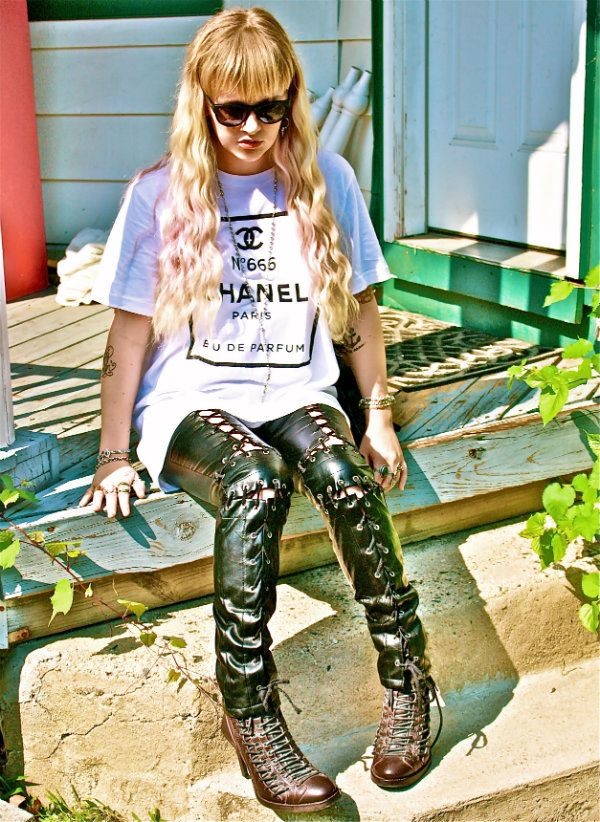 I got these pants for dirt cheap off of glorious eBay, along with a cornucopia of other sick pants, leggings, and overalls (yes, overalls -- and yes, I made them look badass), which you'll see in the very remote future. The shirt was sent to me from the amazing people over at Killer Condo ... it is also available in black, which I have as well. KC's tees are so soft and whenever I wear them out, I get a slew of "omg-where-did-you-get-that-shirt" compliments from passer-bys. Love, love, love. I'm also loving my new pink druzy ring, courtesy of Hard Candy Gems. HCG's treasures are not only stand-out gaudy-gorgeous, but amazingly comfortable; both my husband and I wear their rings on a daily basis. I have purchased statement pieces online for triple the price of what a Hard Candy Gems piece runs for, only to be disappointed by the crappy quality. Trust this woman when I say this to you right now: you CANNOT go wrong with HCG.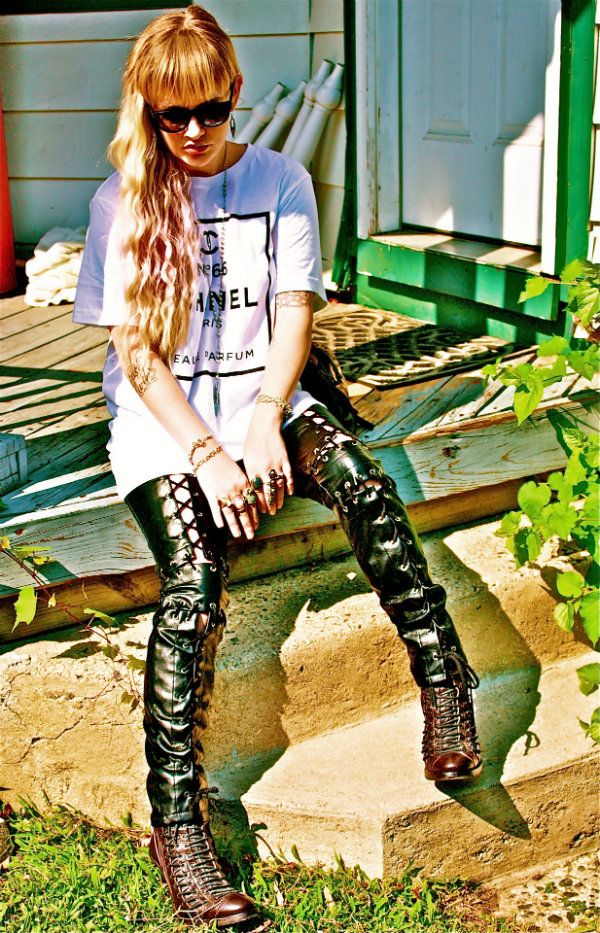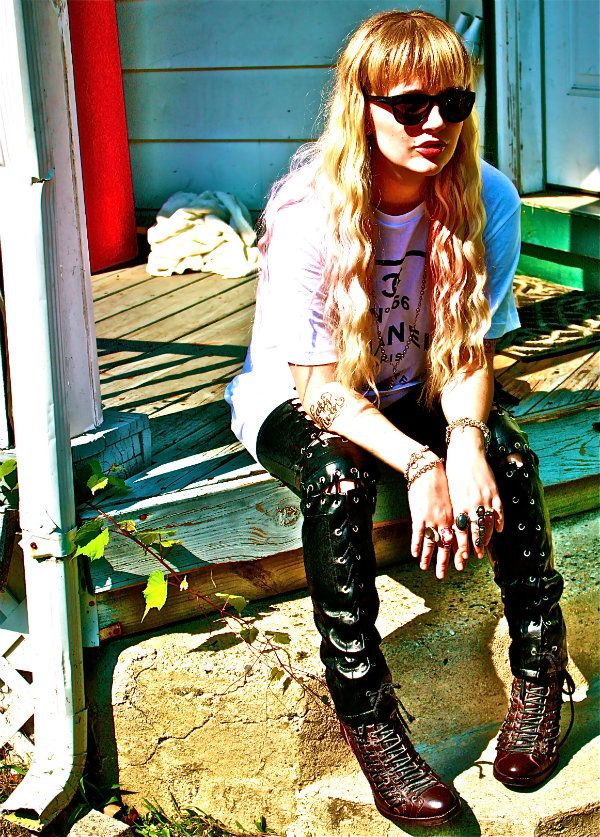 I'm going to end this post on an extremely positive note by making a very exciting announcement. I'm so honored that Troma Productions (the legendary horror film company responsible for classics like the Toxic Avenger series, Terror Firmer, and Blood Sucking Freaks) contacted the nefarious scoundrels at Käärme Concepts and asked us to provide the costumes for their current production, Return to Nuke 'Em High. Return to Nuke 'Em High will be the fourth installment in the Nuke 'Em High series (read more on Nuke 'Em High here, and we at Käärme are majorly pumped to see our gear on the Cretins, the leading ladies, and the other cast members. So we're warning you now: watch Return to Nuke 'Em High when it unleashes itself on Netflix, Redbox, On Demand, etc etc etc, or we'll make sure the next joint you smoke is radioactive weed and you puke a baby monster into a toilet bowl ;)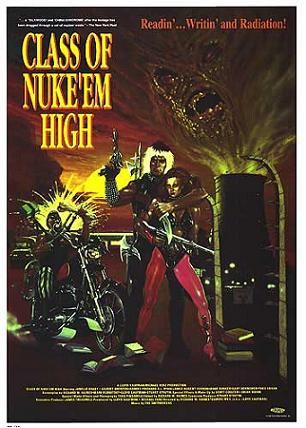 Class of Nuke 'Em High - 1986

More soon! I've been killin' it with semi-frequent posting, yeah?