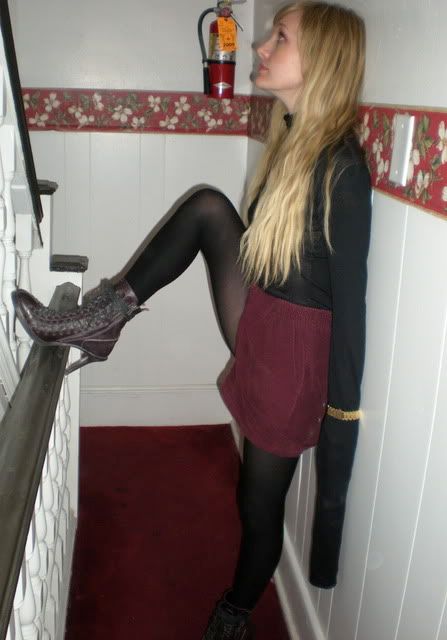 I used this camera today that I hate, but for now it's better than nothing! I wore these great maroon courderoy vintage overalls I got at a local vintage hole-in-the-wall called Sweet Jane. I love the cut of these, you can wear them with the straps off also, but my McQueen top was a little c-thru so I opted for the bib/straps up. It also has some cute functionless wooden buttons on the bib.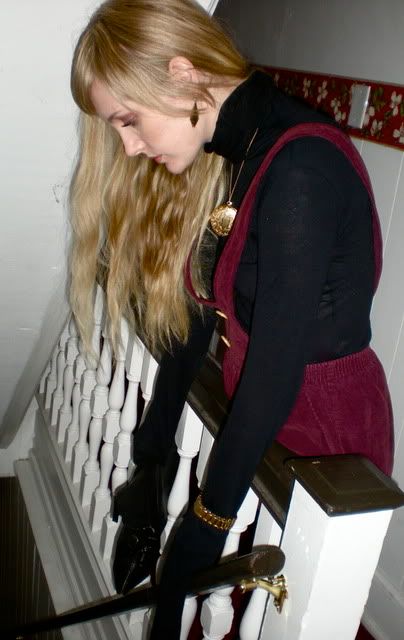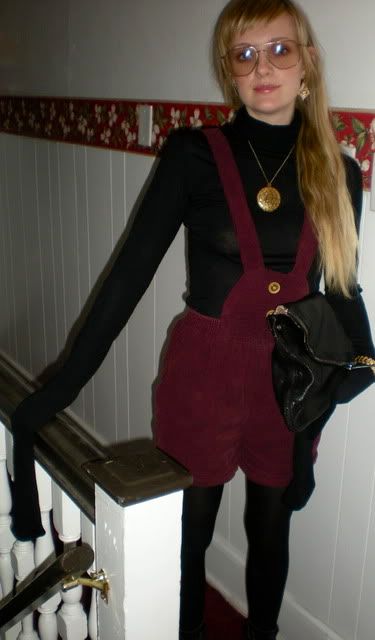 I totally forgot the BOYY Slash bag is reversible to be all black instead of the embossed snakeskin. Whoops. I wore it without the chain strap today, as a clutch. The aviator frames for the tinted glasses were bought on etsy and I later found out they were taken off of a dead dude or something. Oh well.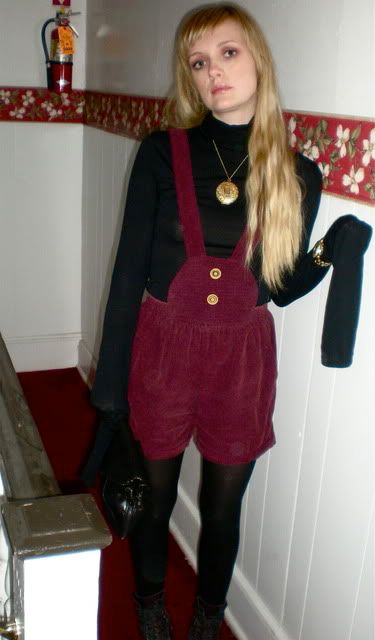 Since the overalls are maroon, it was a good excuse for me to wear these Ann D's again. I also wore this awesome huge gold vintage locket I got at the same shop as the overalls, and some cheap watch I bought in a hospital. Sorry for the creepy eye in some of the photos, I gave up on the redeye removal halfway through. When I get my new Nikon, my readers won't have to deal with that scary face. D: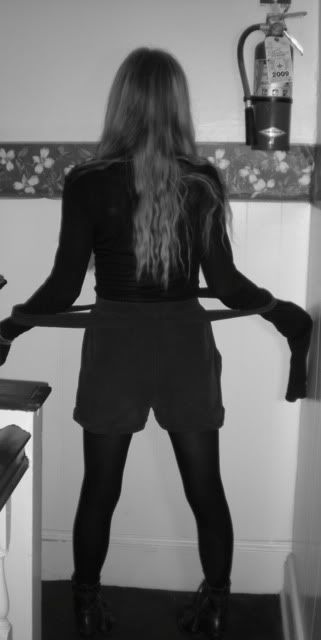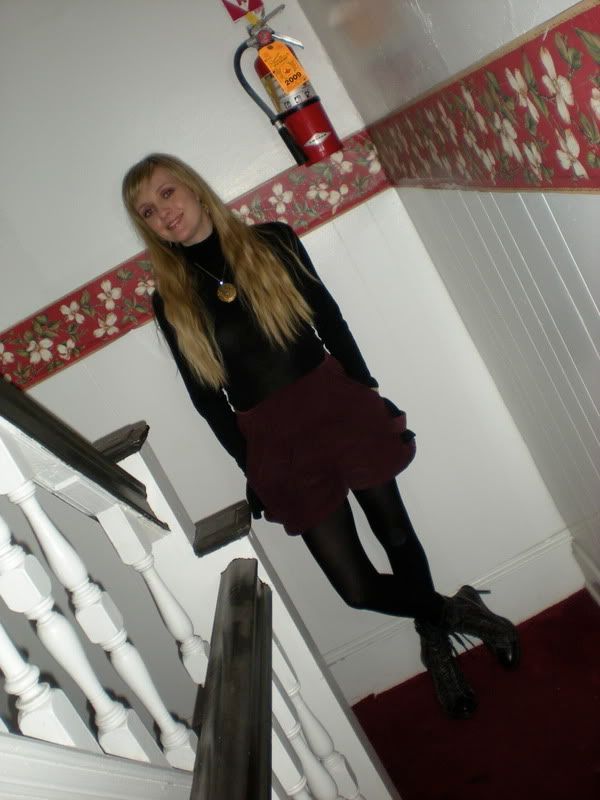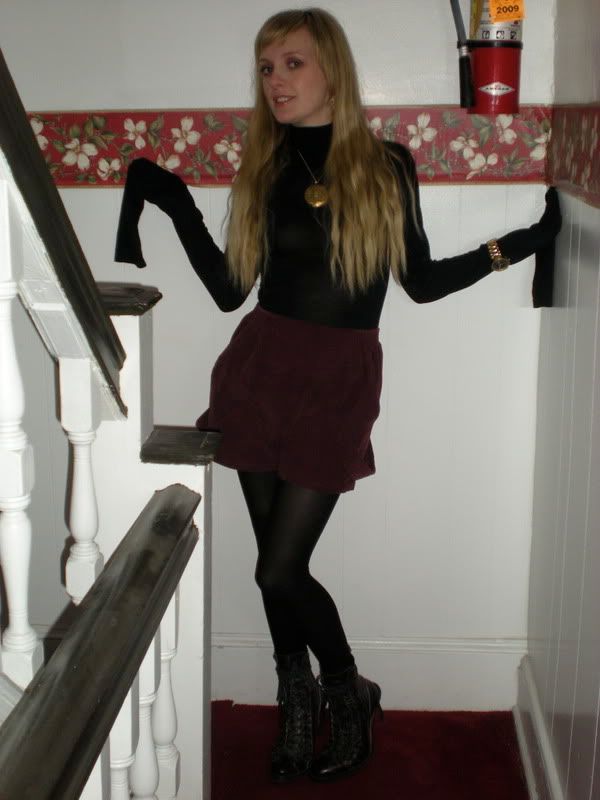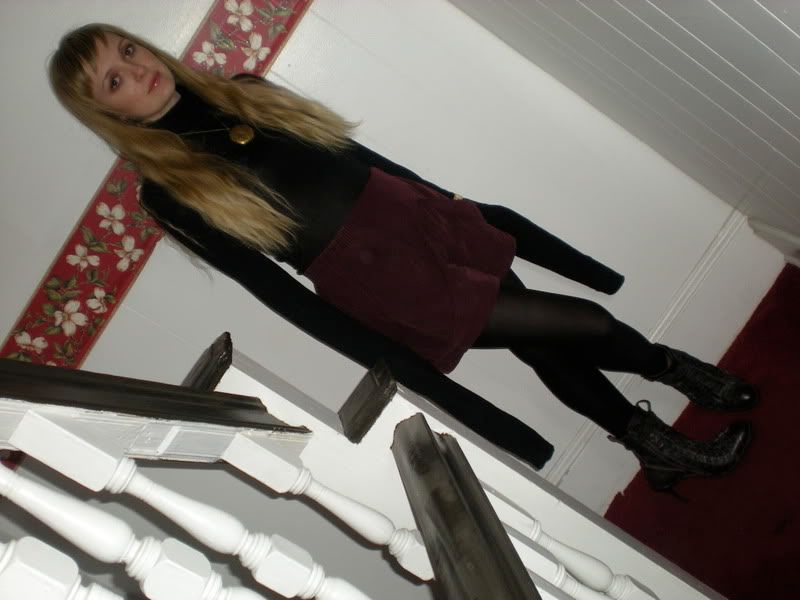 Fuck it, I didn't feel like editing the extinguisher out! So enjoy it please. These were taken in the hallway of my apartment building, I would never choose that hideous wallpaper for myself but I thought it was appropriate with the semi-hideous overalls.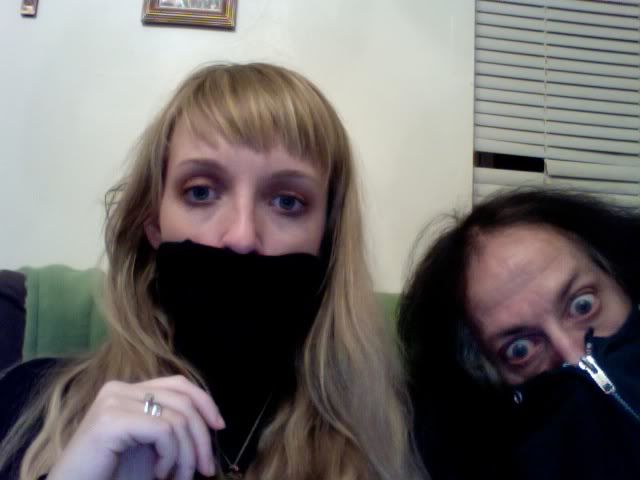 Speaking of scary faces, I'm married to that one.

Overalls: vintage
Turtleneck: Alexander McQueen
Shoes: Ann Demeulemeester
Jewelry: Vintage, costume
Bag: BOYY "Slash" bag

For those of you who read DECIBEL magazine, look for my Pentagram full-page tour ad in this month's upcoming issue. Also, look for a 7 page interview with my husband in February or March's issue. If you want to catch Pentagram on tour this month, click on the first Pentagram logo in the "affiliates" section and you can find the tour schedule and links to the Ticketmaster. I'll be there also doing hair/makeup, so say hi if you see me! xo