Here is sort of an FAQ, a collection of some questions I've been emailed recently ... since some of them were asked more than once, I figured I'd post them here. I picked 15 questions that are pretty commonly asked and some other odd or inappropriate ones I didn't post. Feel free to email with any others.

1. What part of Philly are you from? Are you originally from Philly?
- We live in South Philly right now and I have lived in the Philadelphia area my entire life, though I was not born here.

2. How tall are you?
- 5'4"

3. How old is your husband?
- 56

4. How long has your husband been playing music?
- My husband has been a professional musician since he was 10 years old.

5. How do you style your hair when it's down?
- I braid it when it's wet and sleep on it, then take them out in the morning.

6. How did you quit smoking? How long were you smoking before you quit?
- Nicorette, tobacco pouches, and a lot of patience. I smoked for nearly 8 years.

7. Do you work out?
- No.

8. What do you do for work?
- My husband works. I am a freelance writer and a trained cosmetologist, and I also do graphic design on the side.

9. Is it true that KISS tried to buy Pentagram songs and your husband wouldn't sell them?
- Yes.

10. What nationality are you and what nationality is your husband?
- I am Norwegian and Italian, he is Jewish.

11. How many tattoos do you have and what are they? Who did your tattoos? Do you have any piercings?
- I'm not sure how many I have. I have a half sleeve and about 4 or 5 other smaller ones. They're all pretty traditional designs. I've gone to a lot of different artists but most of them were done by T at Philadelphia Eddie's. I have both nostrils pierced and my septum pierced but I rarely wear jewelry anymore. I've had more piercings in the past that I've taken out over time.

12. Where do you shop?
- I shop mostly online, sites like net-a-porter.com and thecorner.com. I get a lot of stuff on eBay (except for leather bags which are usually never a good idea to buy on eBay, if I got $5 for every fake Givenchy Nightingale I saw listed I'd be a multi millionaire). I get some other stuff like pants and t-shirts at angryyoungandpoor.com. I've been a customer there for about 10 years and they have great basic clothes for cheap. Joan Shepp is probably my favorite shop in Philly. I also commission some local designers to make stuff for me.

13. What is your skincare routine? Have you always had good skin?
- Just Dove soap & moisturizer. I haven't always had good skin. I think the only real solution to acne is to wait it out until you're older. Unless it's really bad, then Accutane really works but I understand it badly dries out your skin.

14. When is the documentary coming out? How did you feel about cameras following you around to the doctor and stuff?
- Summer 2010. I don't like being photographed or filmed like Bobby does, but I didn't mind the cameras. The filmmakers are good friends of ours and always worked with our schedule. After awhile you just sort of forget they're around, unless it's an interview.

15. What kind of music do you listen to? What are your favorite bands?
- A lot of '68-'72 hard rock and heavy metal, a lot of punk rock from my youth. Some of my favorites are Aerosmith, Uriah Heep, Captain Beyond, Black Sabbath, Budgie, Charged G.B.H., Bathory, Oxymoron, Veruca Salt.

My husband went to go buy me a new memory card for my camera so I'll have some eye c@ndy in the next few days.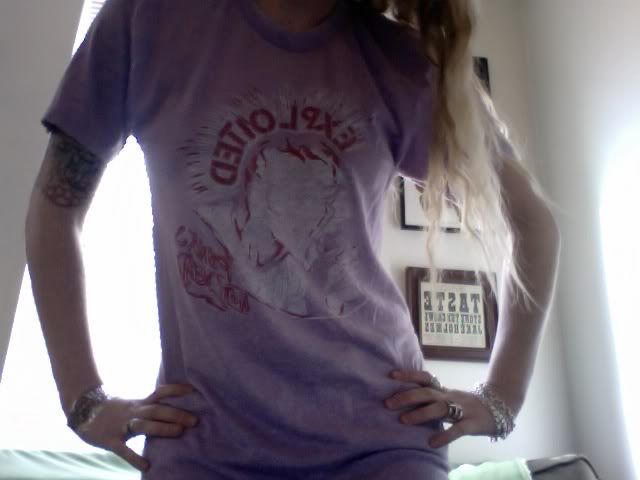 Really sweet purple Exploited shirt I found on eBay. Unline Lindsay Lohan, when I wear a shirt with a band logo, it usually means I listen to them.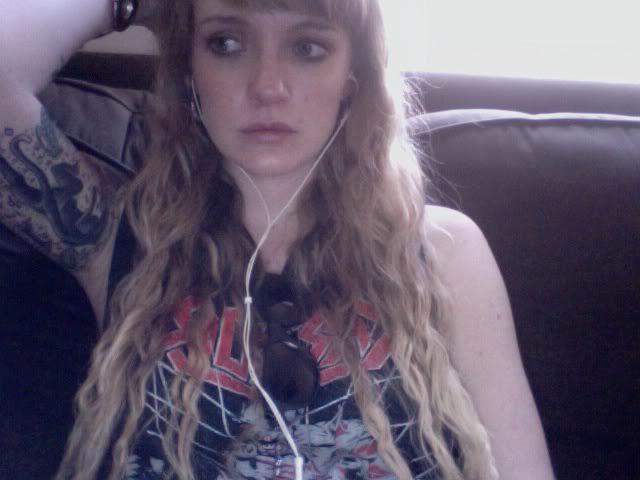 Vintage Kreator tour shirt, also from eBay ... it is ripped up with tons of holes, but I still love it. The panther on my arm thinks it's awesome, also. Jil Sander sunglasses.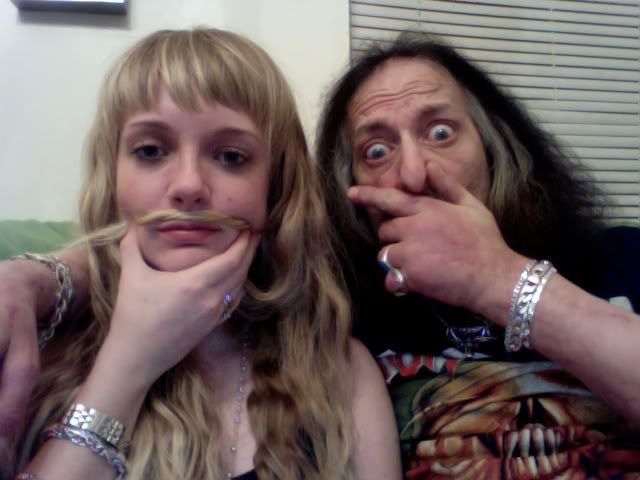 Hope everyone had a great weekend. xo