Here's an extraordinarily image-heavy post for your viewing pleasure, brought to you from Satyricon in Portland. Tour continues in its awesomeness. I'm completely proud of the band and entourage for making it all happen. Last night was the show in Seattle. My mom happened to be in town at the same time, so I got to see her briefly and give her a tour of the bus. It was so adorable and so much fun. Touring is my jam, but I can't help feeling a tinge of homesickness at times! Three nights ago (I identify time in this manner now...after about a week into touring, one doesn't even know what day of the week it is due to constantly bouncing around for hundreds of miles on a bus) was the show in San Francisco and the place was packed. The band sounded raw: old school rag-tag gypsy blues style, just how I like it!

It's been excellent to meet some of you readers at the gigs. As always, if you see me at a show, don't hesitate to come up and say hi, take pictures, exchange emails, etc.





Bobby and I had a little time to walk around Portland today. I like Portland a lot. It's kind of like D.C. if the whole city was Georgetown.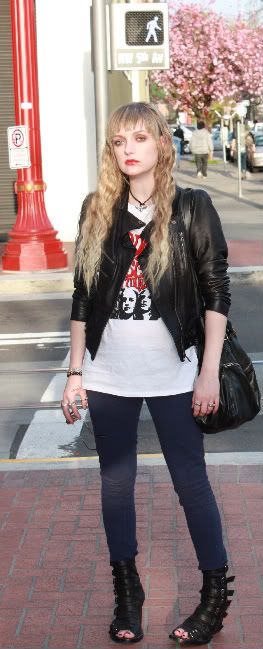 We first passed through here on our day off before the Seattle gig. We didn't roll in until later at night, so we and the tour manager, Jared, just went and grabbed some vegan chili at a really neat little joint called Bye and Bye. These photos, however, were taken a couple of blocks from Satyricon.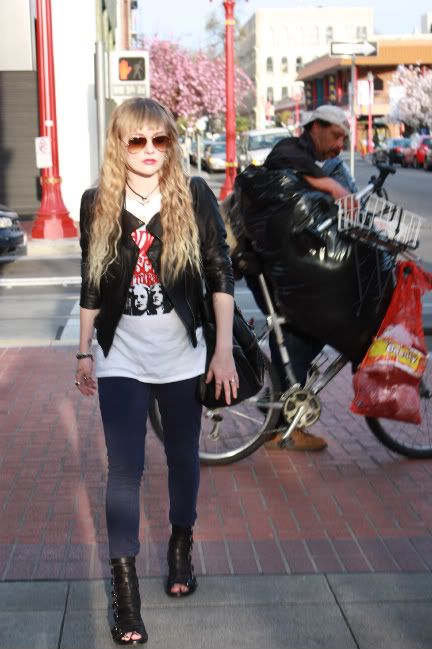 Bebe leather moto jacket, Radio Moscow shirt (courtesy of the band), Chrome Hearts necklace, Bebe leggings, Ann Demeulemeester wedge booties, Jas M.B. leather tote, Ray Ban aviators.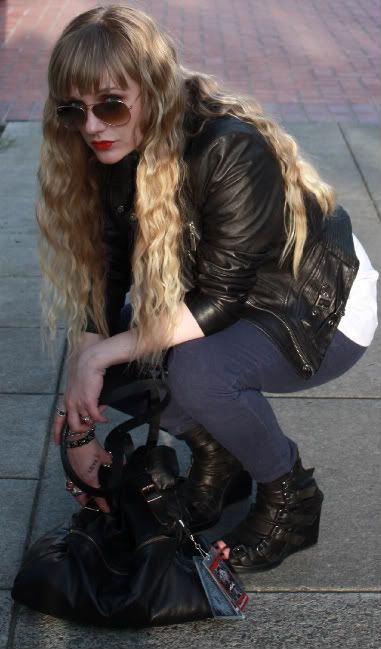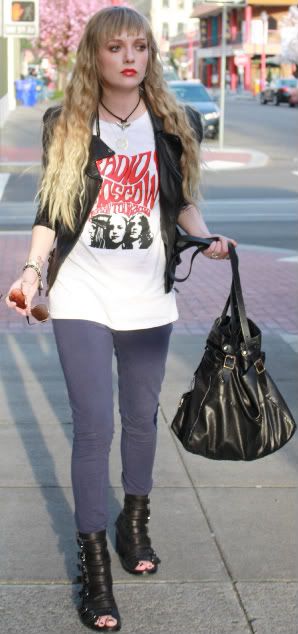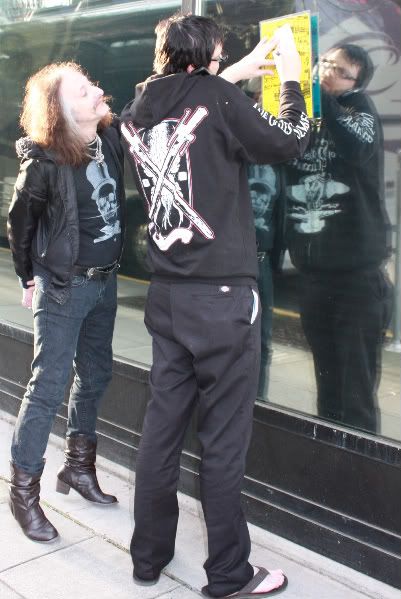 Bobby and our TM Jared checking out the dinner menu for tonight's show; I went with the garden burger. Jared is a vegetarian so our rider includes a veg option. Plus, he knows all the good spots to get the best veg and vegan grub. Bobby wears a skull print shirt by The Cast, my old bomber jacket, Lip Service jeans, and his own boots.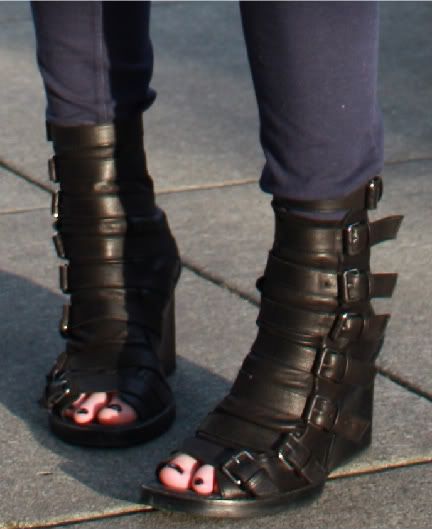 Taken in the back lounge of the "Purple Passion" (lol) the night of the San Francisco gig: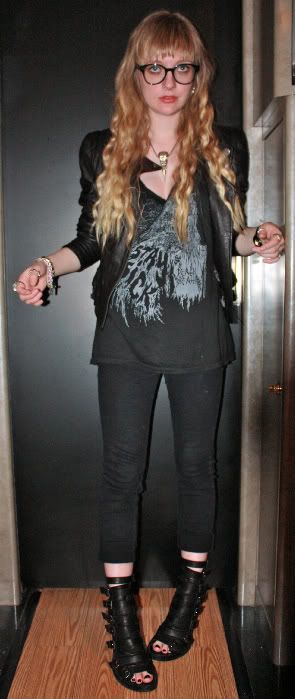 Bebe leather jacket, Obesity & Speed "Stay Sick" tank top, black skinny jeans, custom sterling crow skull necklace, Ray Ban glasses, Ann Demeulemeester wedge booties.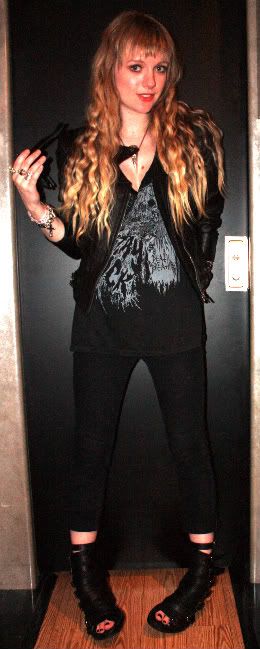 This shirt has garnered many compliments. The fact that the print says "death breath" had me sold. I adore all of my O&S pieces. They sent me a free tote that has gotten a lot of use on this tour.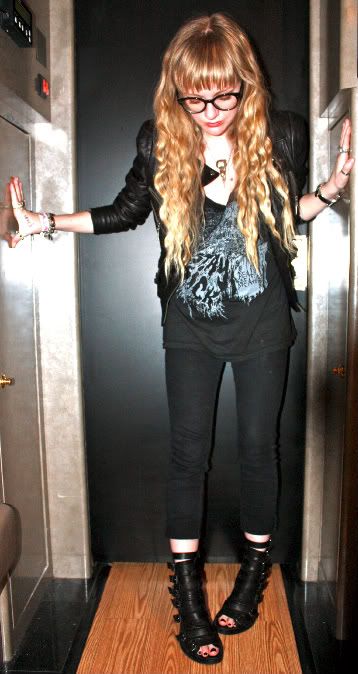 More rear lounge photos ... these were taken last night in Seattle: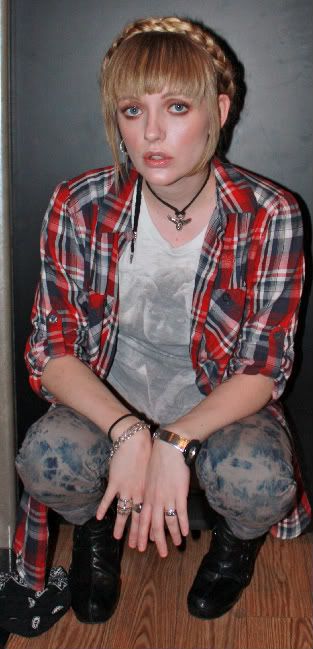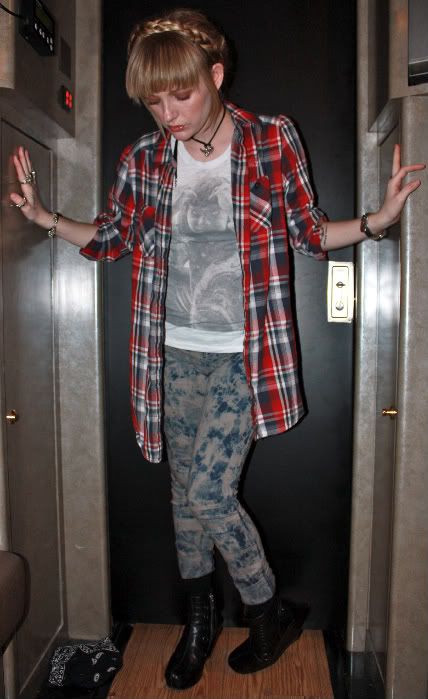 Rodarte t-shirt, long plaid shirt (??), Juicy Couture leggings, Rick Owens "fin" wedges, Chrome Hearts sterling skull w/ wings necklace. I love this necklace. The pendant is on a black braided leather rope with sterling stoppers at the ends and there is stamping all over. The detail is incredible.




I had a tough time getting a good photo of these shoes. They're so incredible with their eyelets and industrial zippers and those ridiculous, otherworldly fins sticking out of the back. Not to mention, they're comfortable as hell. Since hell is so comfy and all.




Sterling silver rings from left to right: Vintage rosary thumb ring, ram skull, weird-looking vintage ring with some blue stone, Pamela Love cross.




A better look at the Chrome Hearts necklace; I'll take more detailed shots soon.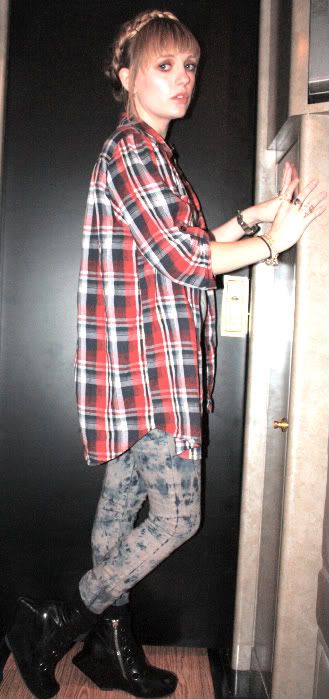 I also tried it with this Topshop blazer ...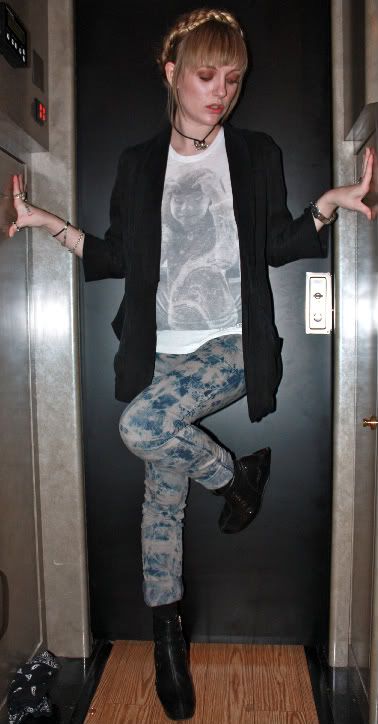 ... and my Obesity & Speed sweatshirt (like I said, I love their clothes).





We have to take off immediately after load-out tonight so we can make the two day drive to St. Paul. I've been writing this post from a packed club while the opening bands play, so I need to get back to the bus. See you on the road! xo