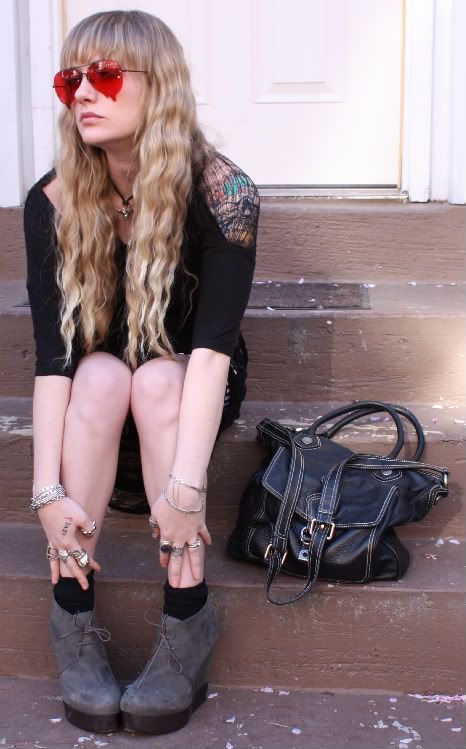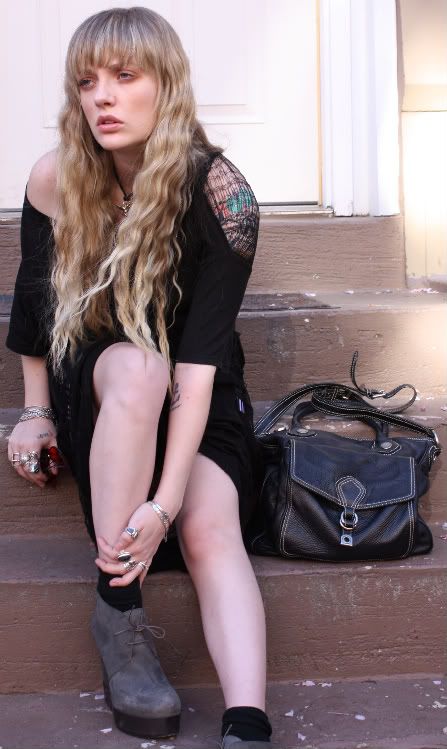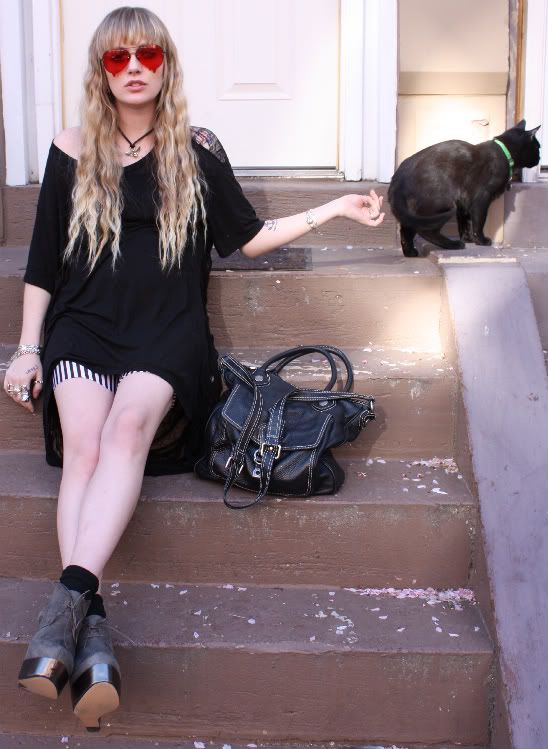 Obesity & Speed dress, Chrome Hearts tank top & necklace, Tripp NYC striped shorts, Marc Jacobs leather bag, Acne wedges, Pamela Love and other custom sterling silver, Ann-Sofie Back sunglasses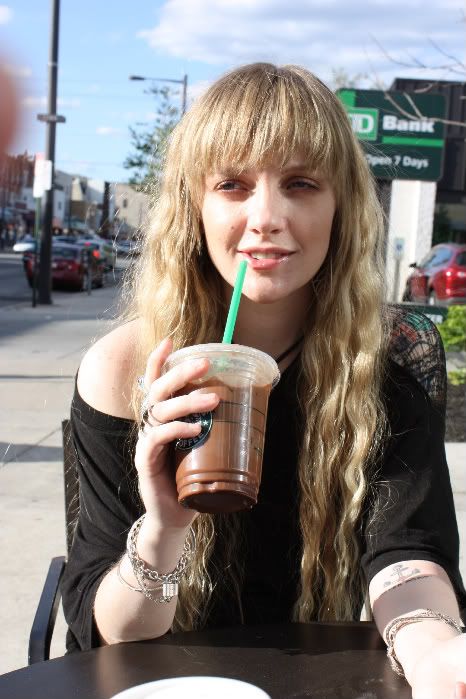 I allow myself two or three coffee treats a week. Dark cherry mocha is very tasty, even though I'm not a huge fan of mocha. Bobby always gets a white chocolate with peppermint.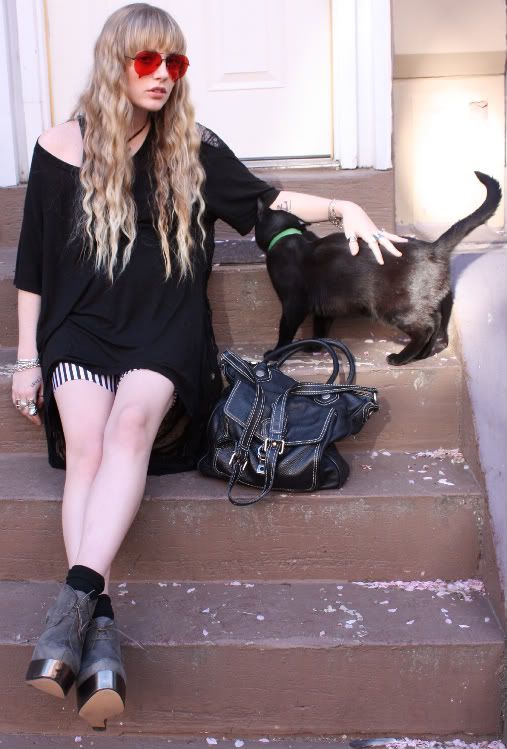 This little cat is not ours. He's a street cat named Buddy who likes to hang around and get fed. Unfortunately he harasses Peaches and can't come inside the house.




These remain the most difficult shoes to walk in that I own I take that back, my otk Phi boots are just begging for my ankles to be broken. However, I've gotten pretty good at it. Acne makes really beautiful footwear. My pair is in the "gunmetal" color scheme; the Acne website now offers a lighter gray color with different satin on the bottoms, among other fascinating and unique designs from this season. I love how they are subtly sueded and have really thin cord laces.




This nice long scarf was a gift from my little cousins. It is intricately embroidered instead of printed. I think it is from Neiman's.





It was windy outside this afternoon. Luckily I found this leather headband at the bottom of my purse. I forget where it is from; maybe Forever 21?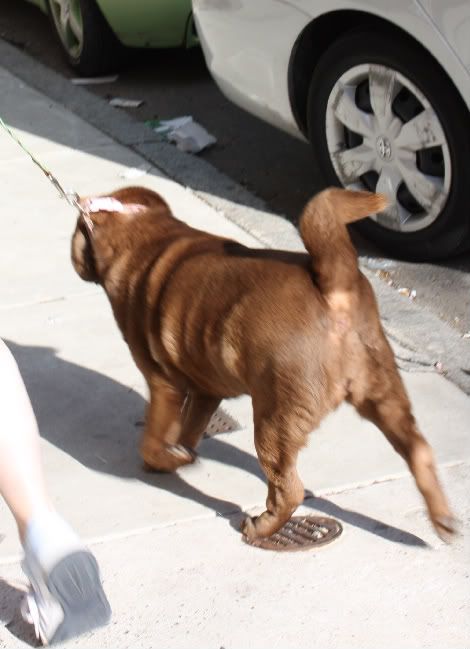 I'll try to get a better photo of this Chow-Chow next time I see her around. She's so adorable! I love wrinkly dogs.




Bobby hates this dress. He says it looks like I got caught on a barbed wire fence. Regardless, it has become a heavily-rotated basic in my wardrobe, along with my other various Obesity & Speed pieces.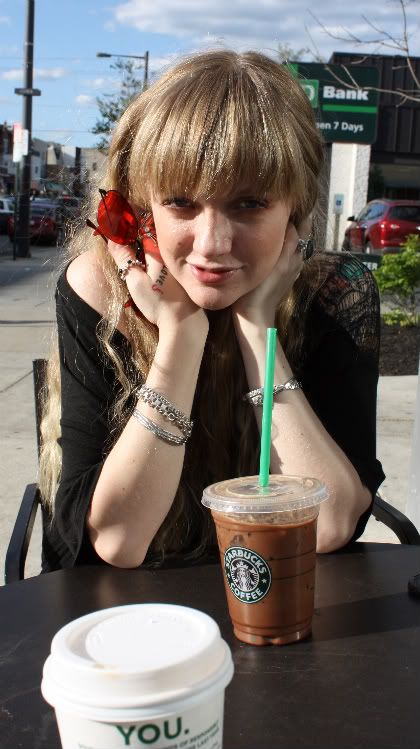 We had glorious weather today in Philly.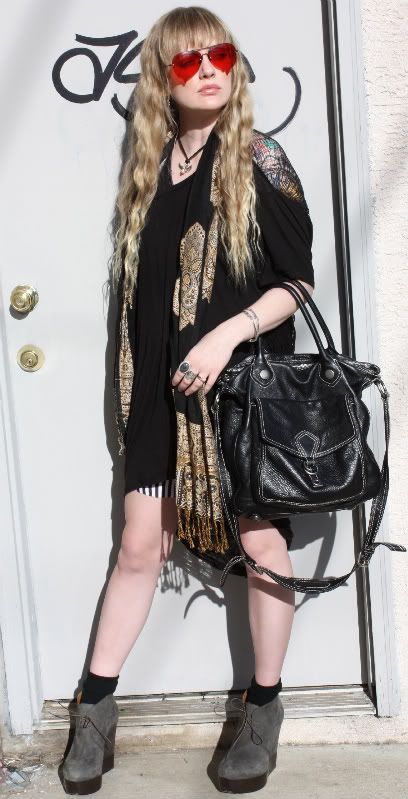 I got this Marc Jacobs bag about two years ago and it has held up beautifully. The MBMJ line is hit or miss ... this bag is not only of exquisite quality, but very durable and functional as well. The chunky hardware, thick pebbled leather, roomy front pocket with magnetic closure, and crossbody shoulder strap make it my go-to black bag over most of my others. The cute retro-inspired blue and red lining is an additional plus. I've been using a purple Marc Jacobs billfold lately as well. My husband has the same one in pink (lol). We picked them up in Vegas.





Can someone please help me with the maternity sizing for the jeans on Topshop.com USA? I NEED a pair of cute jeans but I don't understand the sizing at all. The size of my legs/butt hasn't changed, but none of my pants can fit my belly. I don't know if the sizing for those pants with the black belly band is different than the low-rise maternity pants, but that black band is outrageously hideous! Topshop has nice jeans for pregnant ladies that have a low-rise waistline without that ridiculous band, and are nice and fitted in the leg area. That's what I'm talking about!

I watched this movie called Temple Grandin the other night. Claire Danes plays the lead role, which is great because I hadn't seen her in anything since Shopgirl. I highly recommend the film. It is about an autistic woman who became a leading authority on livestock and the efficiency of slaughterhouses. It co-stars David Strathairn, who is an amazing actor, not to mention incredibly hot. I also watched this harrowing film called The Poker House which is directed by Lori Petty and is apparently based on her upbringing. Selma Blair plays one of the lead roles. Both movies can be found On Demand right now if you have Comcast digital cable.

My first blog post at Max's Kansas City will be up in the next few days. Hope you're all relaxing on this Monday evening. xo