Summer is nigh, and even though it always saddens me to put my tall leather boots on hiatus, I'm looking forward to wearing these: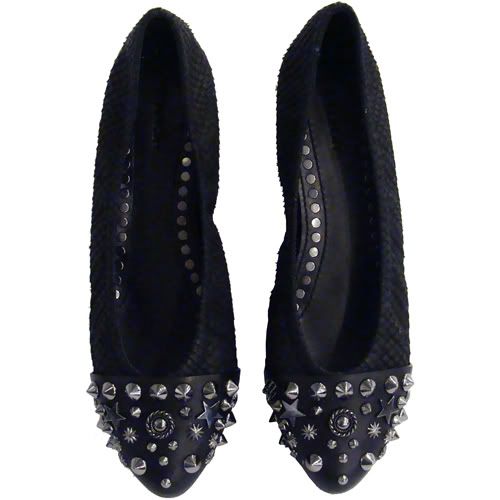 These black python print studded flats from Givenchy will surely come in handy on those days I just want to throw on cutoffs and a t-shirt, which will probably be most days this summer. Third trimester pregnancy and PA humidity are not a match made in heaven. I like how Givenchy strays away from just standard pyramid and cone studs and utilizes the little stars and bursts. If you're OD'd on black, these also come in a white version with tooled leather gores or a pinky-nude version, both with gold studs instead of silver.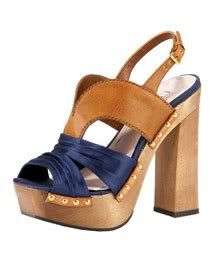 It's been interesting to see how clogs have gone through a sudden metamorphosis from socially unacceptable to trendy as hell. The hideous clogs of olde are nothing like the stunning ones that have dominated the fashion market this season (or anything like Crocs, thank god). These Miu Miu halter clogs are made for airy gauze frocks and blue skinny jeans. I've always been a sucker for a wooden sole; luckily these have rubber on the bottom for at least a minimal amount of traction. If you're loving them but aren't a fan of blue, they also come in red or white satin and a brown suede version. Plus, what girl doesn't like to show off a cute pedicure during the warm seasons? Unless you have ugly feet, of course.

What kind of footwear do you guys plan on donning this summer?