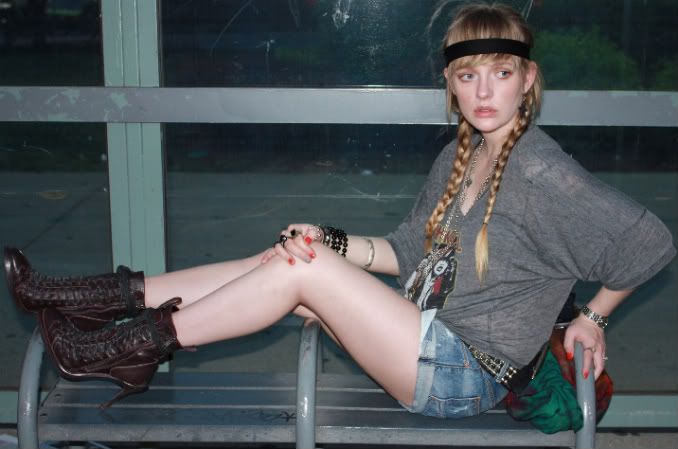 Vintage (?) AC/DC shirt, Zara denim shorts, Ann Demeulemeester triple-lace boots, leather 3-row cone stud belt, Pamela Love dagger rosary, vintage faux pearl crucifix, Culture Shop tie dye XL hobo bag.




It was so sweltering hot in Philly today, so I tried to dress primarily for comfort. For those of you who asked, my watch is custom Swiss Army and I've had it for years. I forget the name of the model, but I wanted chrome links with a black face and a nude SA logo.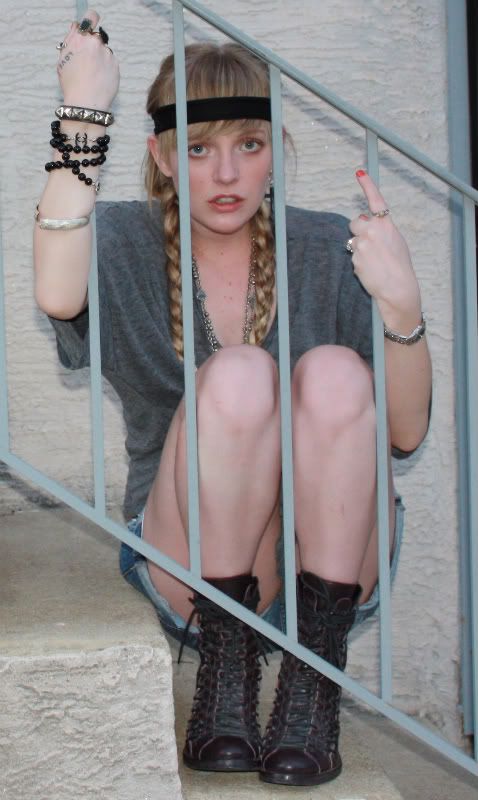 I got the denim cutoffs at Zara for my birthday. I never even knew there was a Zara in Center City, and the high rise where I used to live is only a few blocks from there. Maybe it opened recently, or maybe I just have my head up my ass. Either way, I picked up a few cute basics during my visit. I really needed a new pair of denim shorts, since none of my old ones fit my new belly.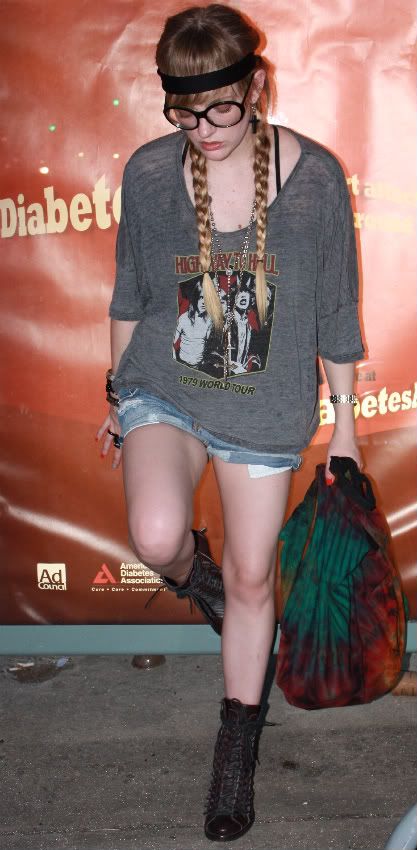 This slouchy tie dyed hobo is a find from the Culture Shop in Pittsburgh. Even though I bought it on the last day of the tour, it came very much in handy when I needed a large bag to bring home the new things I acquired on the trip. It has a full-length industrial zipper and holds TONS of stuff. Totally unlined, endearingly shapeless, and good for adding a bizarre pop of color to a laid-back outfit. Plus, it's a great overnight bag. Oversized glasses by Ralph Lauren.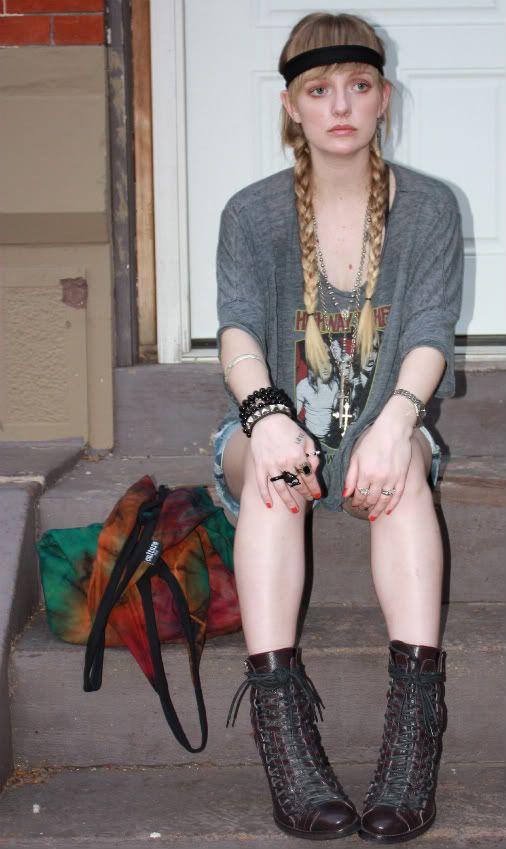 Even though I've had them for awhile, I am still smitten with these boots. The deep burgundy color is divine and matches everything. They're good for giving a subdued addition of color to an otherwise monochrome ensemble. Not to mention, like all Ann D's, the craftsmanship is exceptional. The caliber of leather is superior and the hardware could survive the apocalypse, no lie. I've walked in 2+ feet of snow in this pair! In terms of comfort on a scale from 1-10, they rank about a 7. They have very good arch and ankle support, but the lack of a platform will eventually make the balls of your feet hurt if you're planning on walking a lot. My black buckled wedges are significantly more comfortable, but in terms of quality, they are both solid 10s.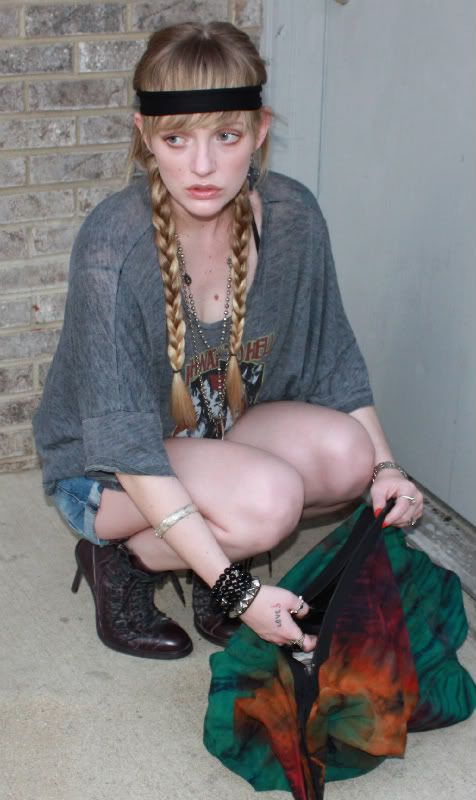 A very convenient feature on these shoes is that they zip up the sides so you don't have to spend a half hour tying the copious amount of laces. As most of you probably know, since these are several seasons old, this boot came in two different shaft heights (mine are the low style) and three different heels: an offset chunky heel, flat, and stiletto. I opted for the stilettos, and they're remarkably easy to walk in. This is coming from a very klutzy woman who owns absolutely no stilettos other than these. I can't say enough about how much Demeulemeester is SO worth it. If you're going to invest in one really nice pair of shoes, I implore you to go with one of her designs. Her shoes are synchronously on-trend and timeless; they will last you a lifetime.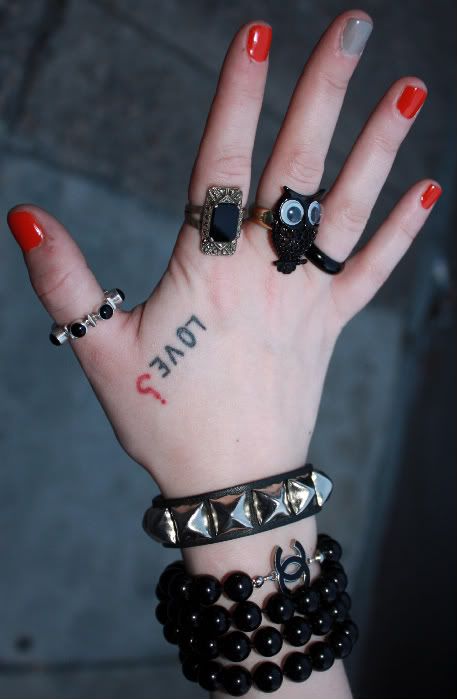 Black beaded Chanel necklace paired with my old pyramid studded leather bracelet. Rings L to R: sterling silver rosary, antique sterling silver & onyx, Betsey Johnson owl, simple black jade band. How aptly ridiculous is that owl? I got it as a birthday gift last year; I wear it on those days when my accessories need a little touch of quirkiness.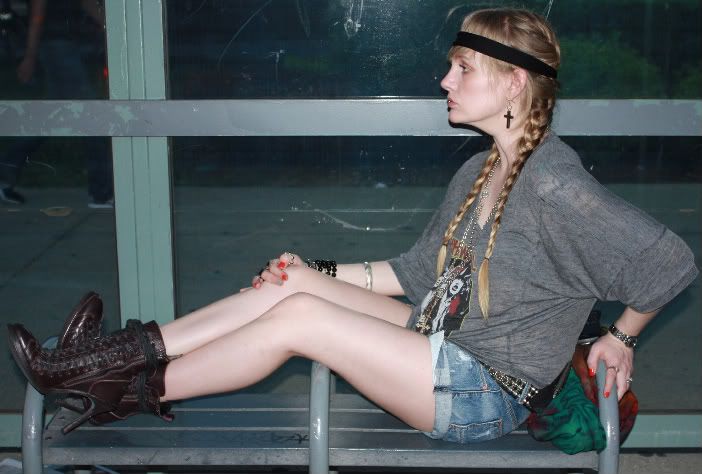 I've gotten a few emails about where I got this steel cross earring. I grabbed another one to give away on here very soon, so keep checking back.






For your pleasure, the song that runs through my head literally every Saturday night:



Skyhooks "Saturday Night" promo video circa 1975 from their "Ego is Not a Dirty Word" LP. I love Skyhooks' gaudy charm; they always made those goofy faces in their promo videos.

A lot of people have been emailing me inquiring about the lineup for the Pentagram tour in May. The musicians performing during this tour are as follows:

Bobby Liebling: vocals
Victor Griffin: guitar
Greg Turley: bass
Gary Isom: drums

If you know the history of the band, this will be a momentous tour for Pentagram. Victor Griffin is the man behind the soul-shattering guitar work on Pentagram's first three albums: Relentless, Day of Reckoning, and Be Forewarned; he subsequently went on to form the highly acclaimed, much-loved TN doom metal band Place of Skulls. Victor is considered by many to be a pioneer of the grinding, crushingly heavy tone that is now emulated by many doom musicians. I personally feel no one can imitate Victor's raw, distinguished axe stylings and believe he is in a class of his own. My husband and I both consider him a dear friend and are profoundly excited that he will be onstage with Pentagram once more to deliver this special breed of music that means so much to so many people. With the immensely talented Greg Turley holding down the fat bottom end, Gary Isom violently pounding the skins as usual, and Bobby's resonant, soulful vocals, this is not a tour to be missed! Tickets are on sale now; please see The Pentagram Archives for more info regarding this tour.

Have a safe, fun Saturday night! &hearts