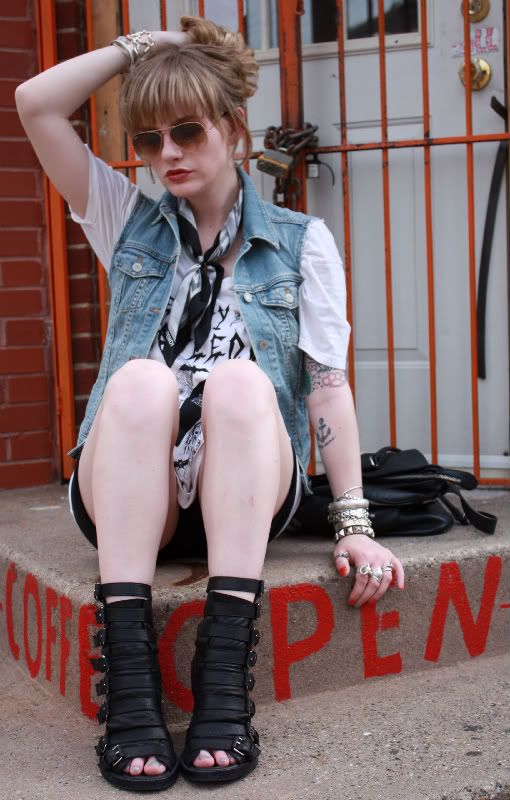 Natural printed t-shirt courtesy of Obesity & Speed, Gap "1969" denim vest, Ann Demeulemeester s/s '10 covered multi buckle wedges, silk Fendi scarf, Furla pebbled leather bag, Ray Ban aviators, American Apparel biker shorts, Bebe bowler hat, tons of custom sterling silver & white gold accessories.




The weather in Philly has been unbearably humid for the past three days. It's been tempting to not walk around in a bikini top and play in the fire hydrants with the local kids.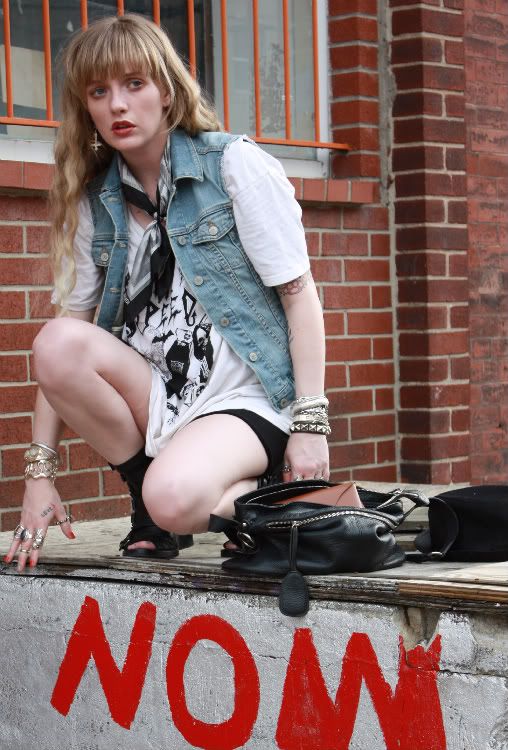 I've had this Furla bag for at least five years and it has held up beautifully. With its lovely pebbled leather, thick strap, and striking chrome hardware, it has absolutely earned its keep. I love the round buckles at the bottoms of the straps and its charming pseudo-shapelessness.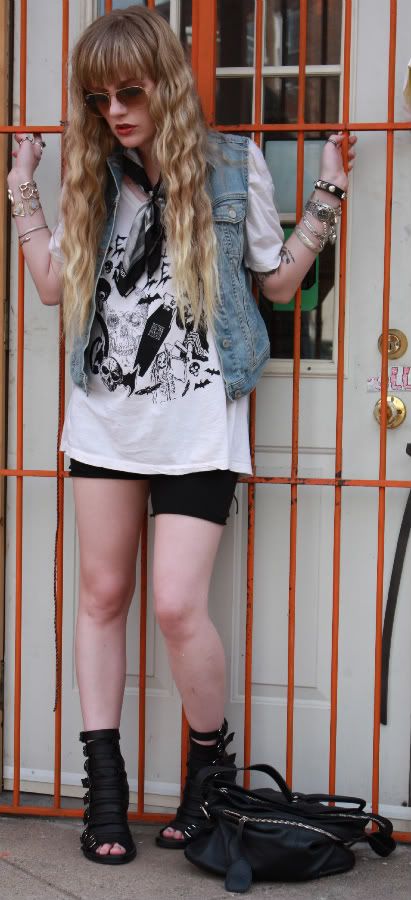 I haven't worn my all-time favorite kicks since we got home from the last tour. I definitely missed them! They're by far the most comfortable shoes in my collection, not to mention very multi-seasonal.




These boots are so deliciously black; they must be triple-dyed or something. The only downside of this is that the dye sometimes rubs off on your feet, so don't plan on wearing them on the fifth date, haha! It's a small price to pay for the unexcelled quality of Ann D's leather.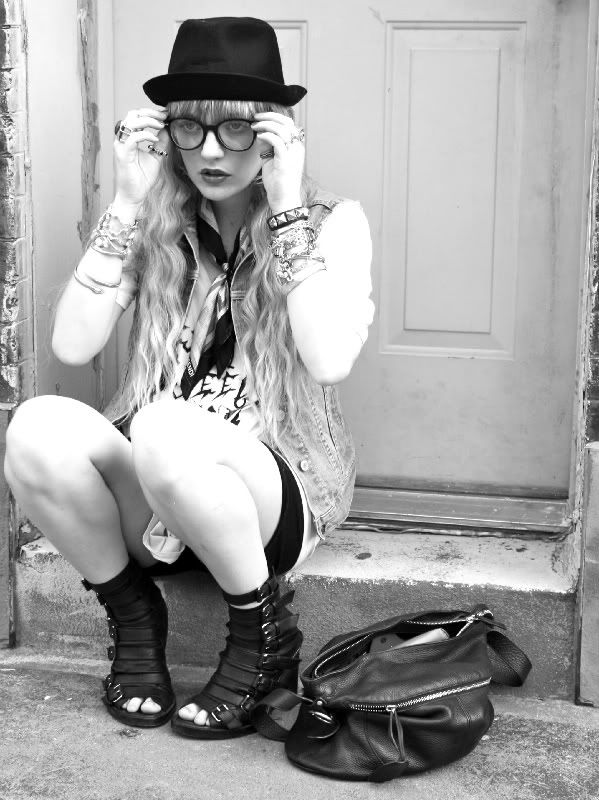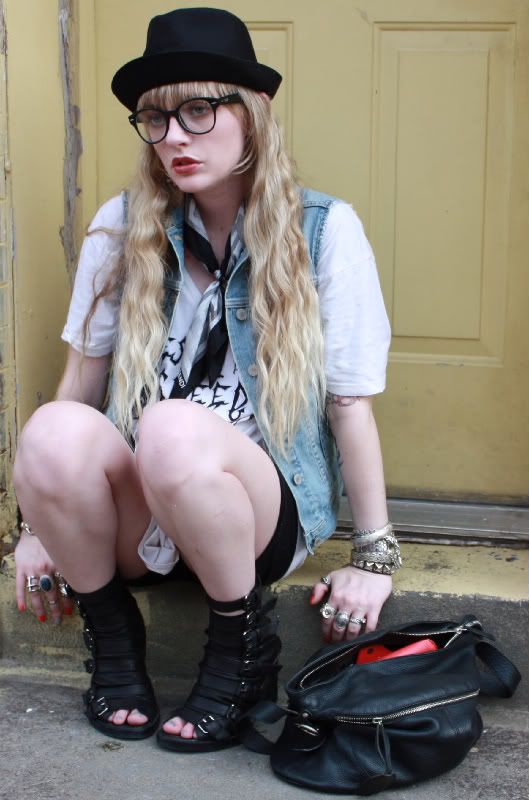 Glasses are prescription Ray-Bans. I've had this vest for quite some time. Unlike most if not all of my others, I left it virtually untouched, save for this original Procol Harum patch I found on eBay several years ago: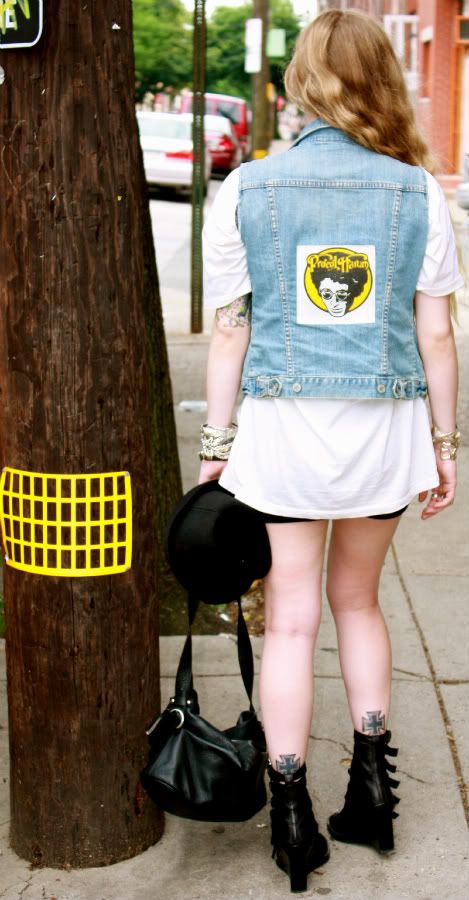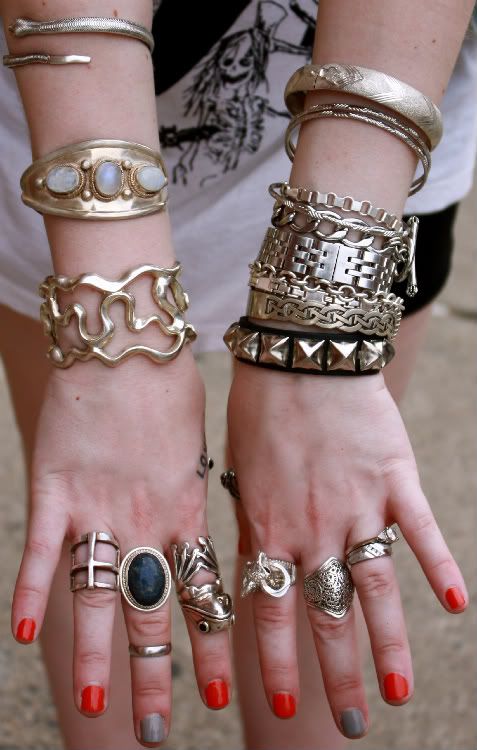 My hands/veins looked so gross yesterday from the sweltering heat. Regardless, I piled on a ton of my silver statement pieces to finish off this ensemble. Right arm bracelets: custom snake, custom opal cuff from my mother-in-law, custom "squiggle" cuff from Donald Pywell; rings L to R: Pamela Love cross, XL lapis w/ white gold band (gift from JF), sterling/onyx frog knuckle ring. Left arm: bracelets are Tiffany's, Juicy Couture, family heirlooms from Bobby's side, custom sterling Bobby brought home from Europe, Swiss Army watch, small leather studded cuff; rings L to R: ram skull (gift from Summer Adeline), large custom "armor" ring, my engagement ring & wedding band. I'm ready to get a color change for this nailpolish ...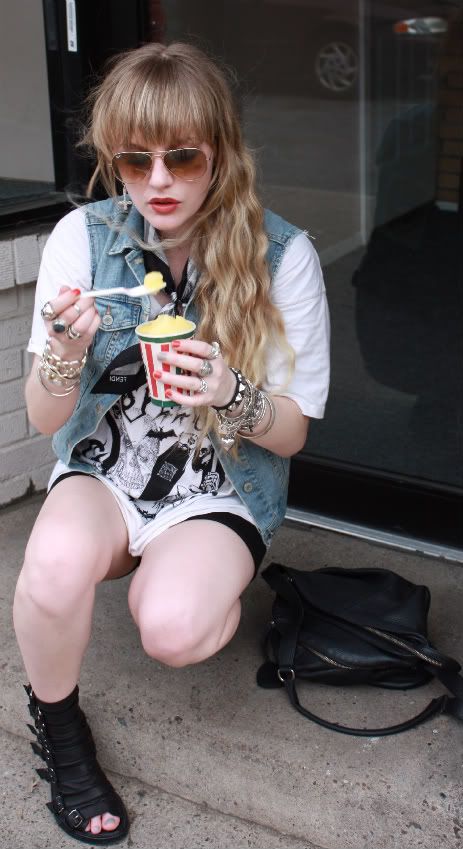 Water ice is the quintessential Philadelphia summer dessert. Or if you're like me, a daily necessity. Yesterday they were out of my favorite cotton candy flavor, so I settled for pineapple.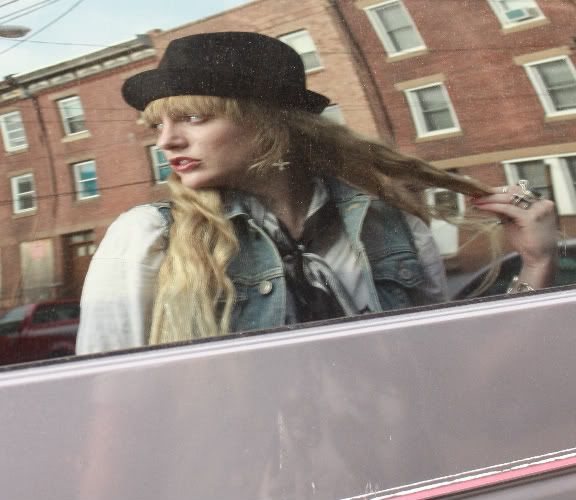 I actually really hate this hat, but it seemed fitting with the rest of the outfit. This photo was taken in the reflection of some van window; I thought it came out sort of interesting. The sterling silver cross earring was a gift from Jinx Dawson of Coven. Once again, I would like to note that I, my husband, and his colleagues and/or friends do not endorse any anti-Christian ideals whatsoever. Here is Jinx with her bandmates on the album cover of Coven's 1969 LP, Witchcraft Destroys Minds and Reaps Souls:




Very beautiful woman! She reminds me a little of Electric Wizard's guitarist, Liz Buckingham. Coven's album covers were shockingly blasphemous for their time. I have a lot of other interesting images of Ms. Dawson & Coven in my '69-'72 photo collection.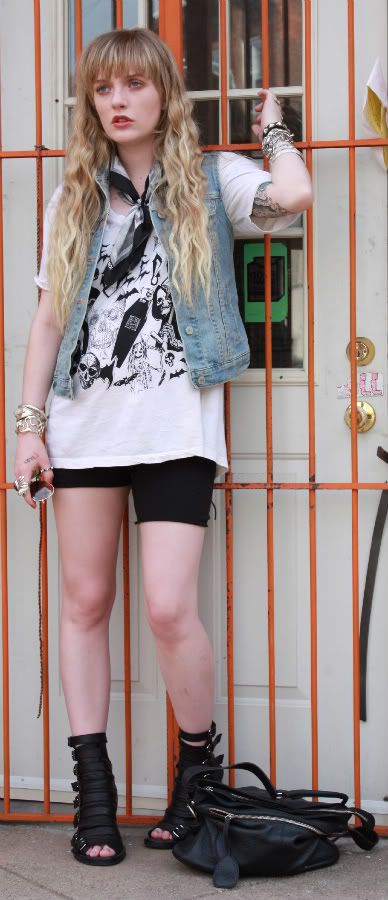 The Fendi scarf was a 23rd birthday gift from my mom. I utilize it in many ways: hair, purse, neck, wrist ... it's a great length and one of my favorites in my [unmanageably] vast collection.






Procol Harum's 1967 classic, "A Whiter Shade of Pale" from their s/t release of the same year. Along with Family and Gentle Giant, Procol Harum are one of my longtime favorite progressive bands of this era.

Additionally, I've received several emails about link exchanges. I am always open to link exchanges for my blogroll; if you are interested in swapping links with me, please comment or shoot me an email at halcoholic@gmail.com.

I'd like to thank my husband for his ceaseless dedication in helping me maintain this site. Despite his extraordinarily busy schedule, he always makes time to patiently snap photos for me and ensure they turn out in a presentable manner. Considering he's never used a DSLR before in his life, he's been doing a wonderful job and it means the world to me.

Hope everyone is having at least a tolerable Monday; try to stay cool (in all senses of the word)! &hearts