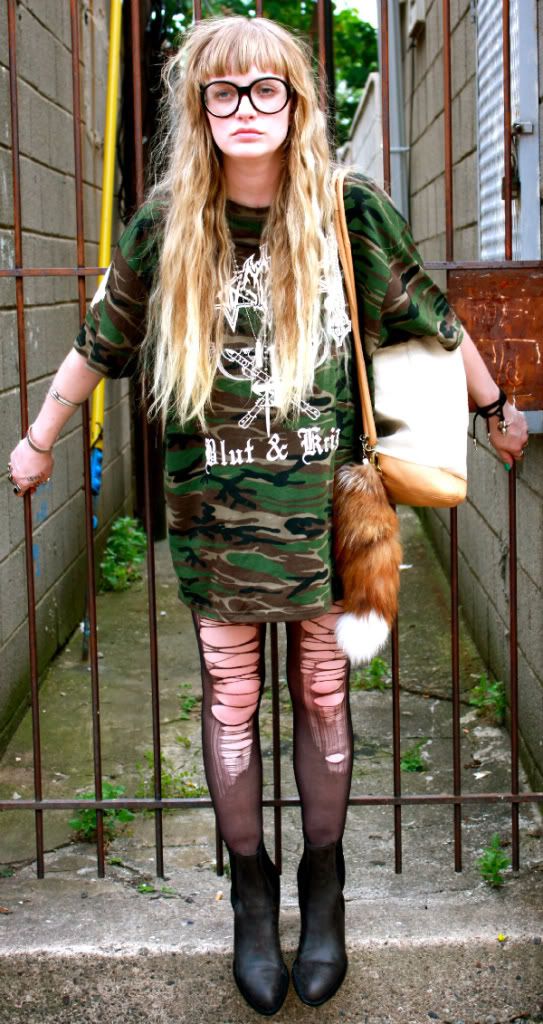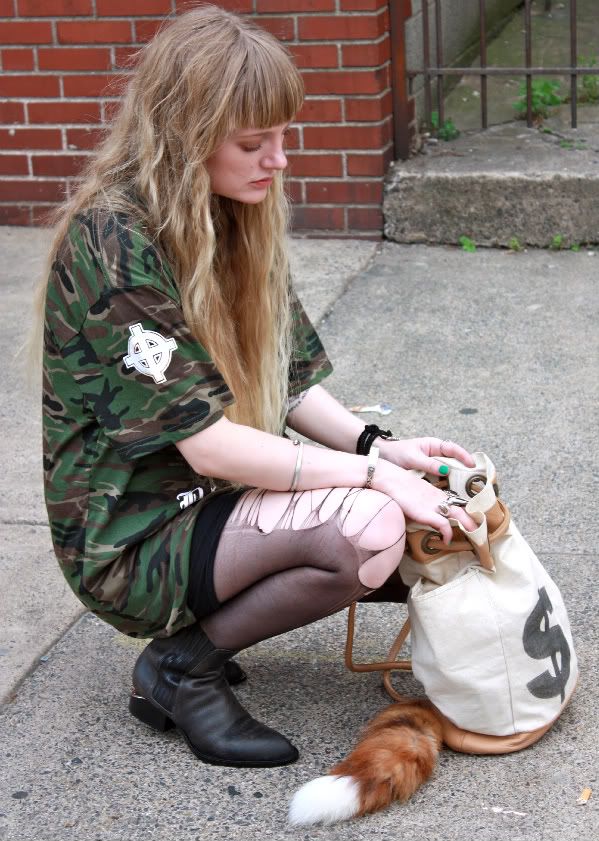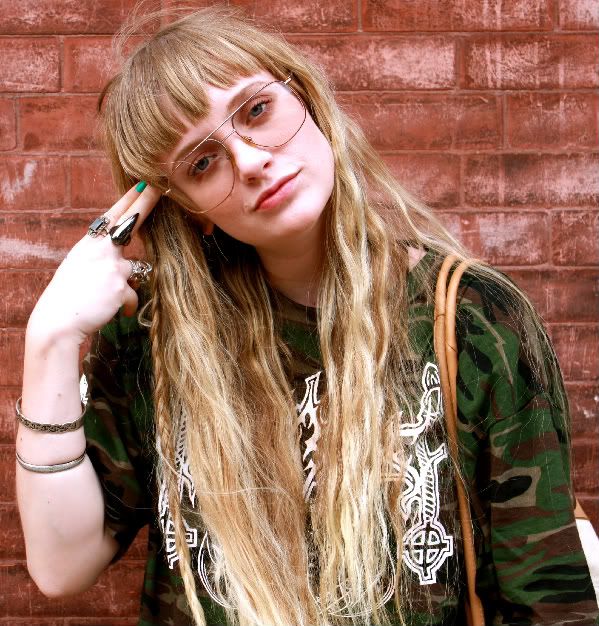 Alexander Wang "Anouck" beatle boots, Alexandra Cassaniti money bag, camo Moonblood shirt, DIY shredded stockings, custom Ralph Lauren oversized glasses (1st photo), custom vintage bronze-tinted wire aviators (4th photo); Accessories: Pamela Love dagger rosary, gifted Leviticus, gifted Summer Adeline, Blood Milk (brass talon earrings), Foti by Chrome Hearts, Forever 21, vintage & other custom designs.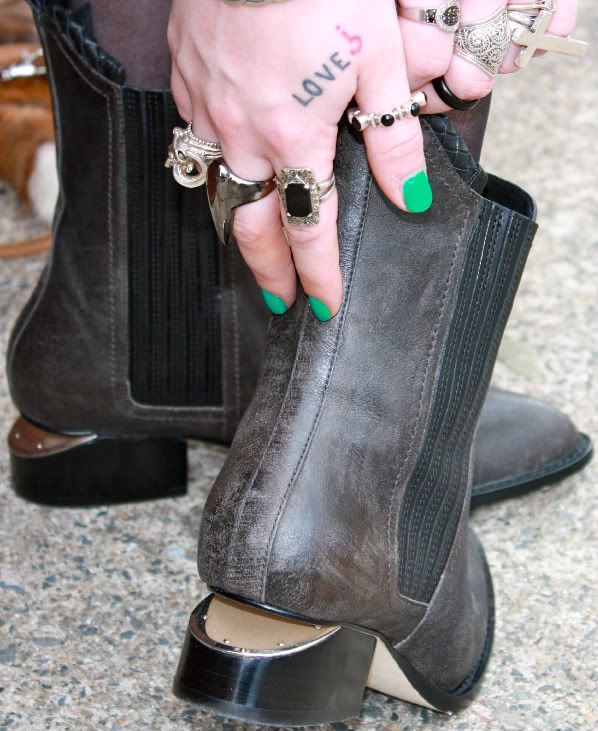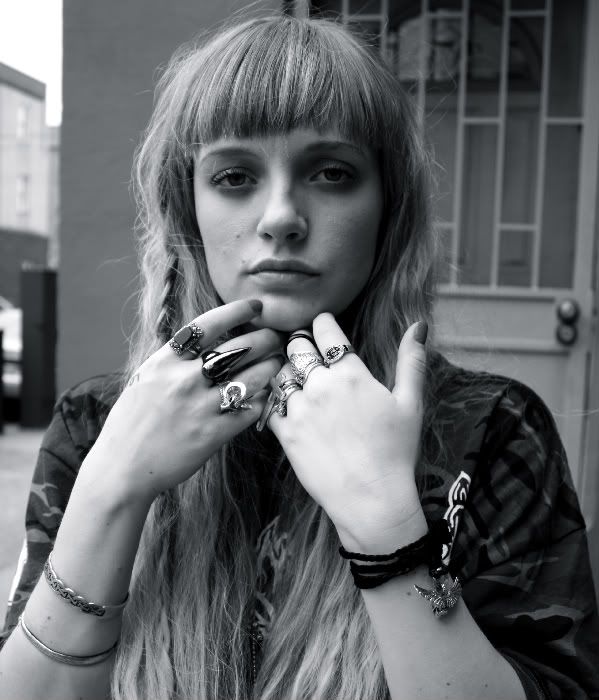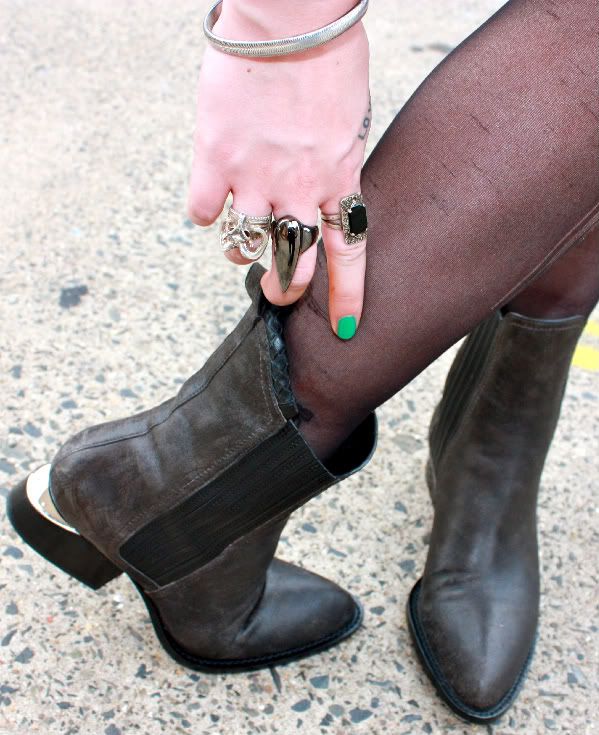 Right-hand rings L to R: gifted sterling silver ram head courtesy of Summer Adeline, gifted black gold "talon" ring courtesy of Leviticus, vintage sterling/onyx, vintage sterling/onyx rosary thumb ring. Left-hand rings L to R: Forever 21 cross, custom sterling "armor" knuckle ring, white gold black & white diamond buckle ring. Foti by Chrome Hearts leather/sterling silver necklace (as bracelet).

I haven't taken the Leviticus ring off since I received it; thank you so very much to Tara for sending it to me. The oxidized finish wears off to reveal the gold underneath, achieving a very cool patina. This design also comes in plain sterling silver. Leviticus' creations are absolutely stunning and very versatile. I can't wait to see what they plan on offering in the future.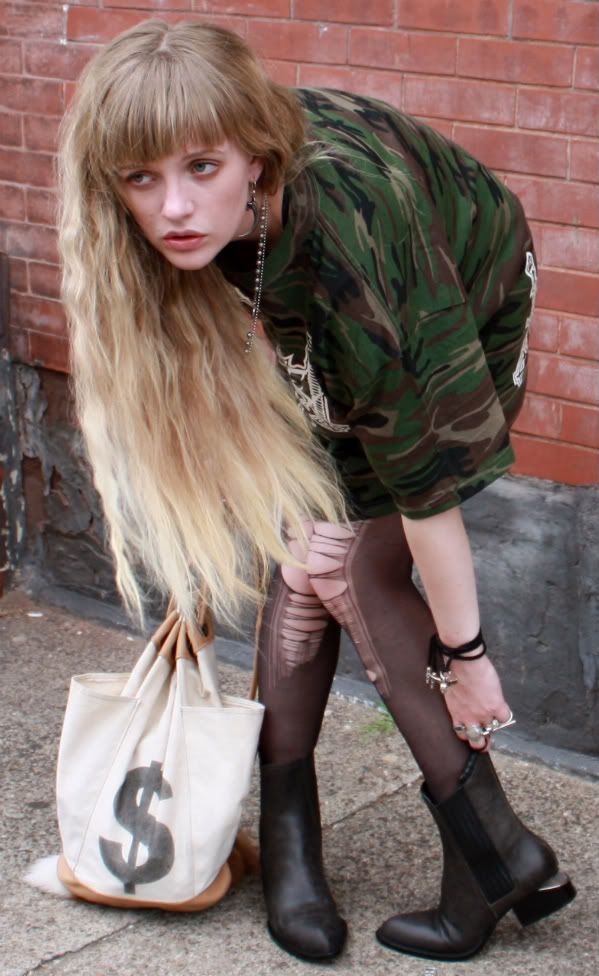 I just got these Alex Wang boots, and I have to say they're probably my new favorite shoes next to my Ann D strappy wedges. My pair is in the brown/gray distressed color scheme, but they also come in regular black. The leather is so supple -- not droopy, just really soft -- and the cut-out heel with the chrome panel nailed ontop sets them apart from any other standard pair of beatle boots. They also have an elastic panel with black leather strips sewn on for flexibility, and black braided leather detail at the back, behind the pull-on tabs. Just as one would think they couldn't get any better, they also have arch support for optimum comfort.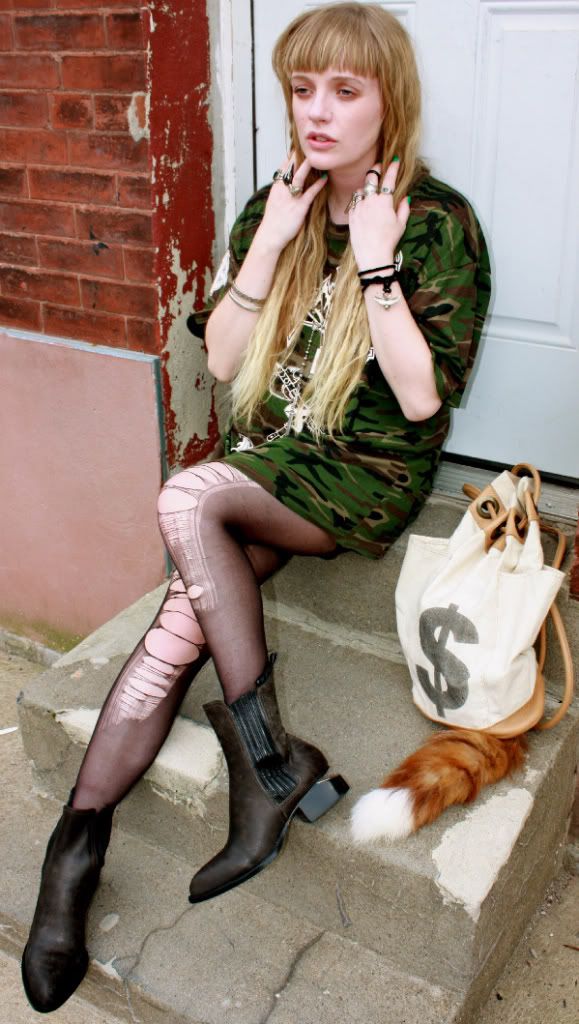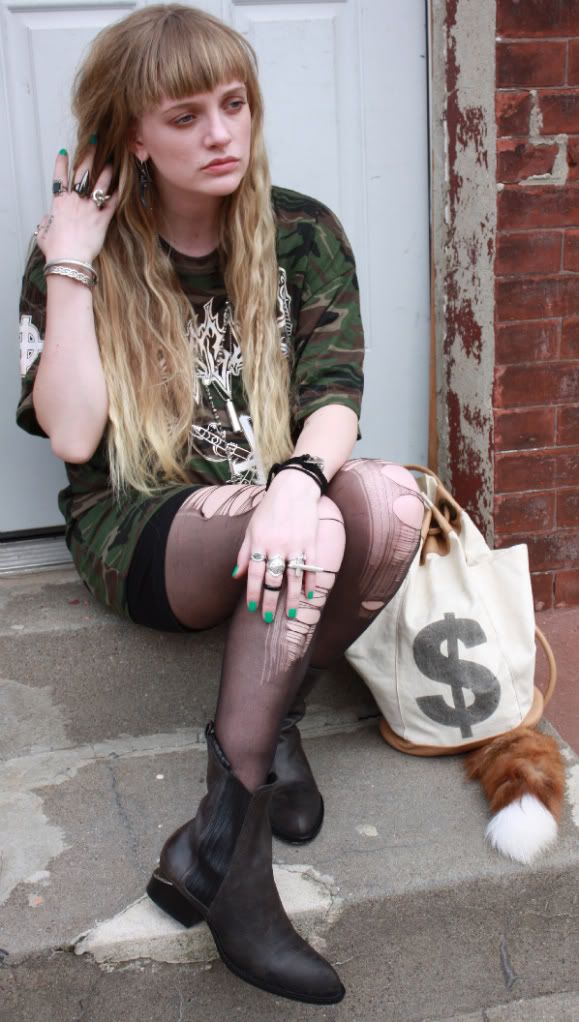 These kicks are my first piece of Alex Wang, and I'm totally sold. Just a warning if you're planning on purchasing: size up one whole size. They run VERY small. I normally take a 37.5 or a 38, and these are a 39 and fit perfectly. They're such exquisite boots; I just adore them.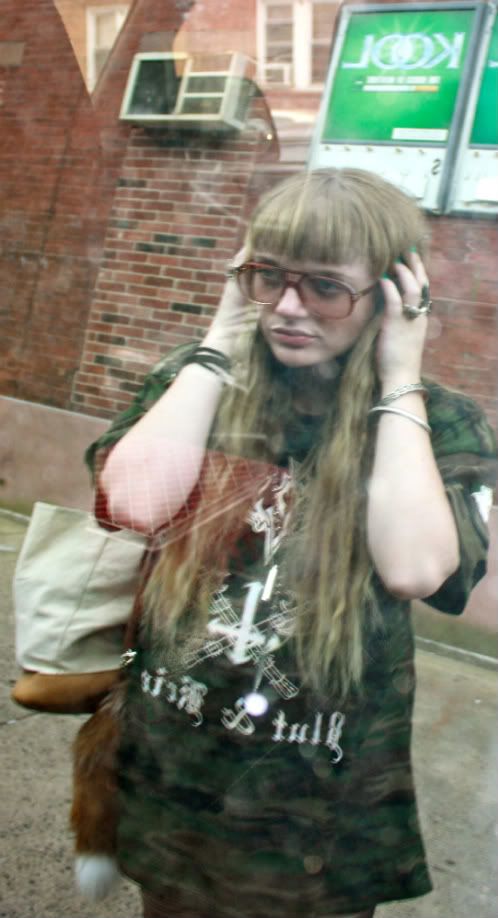 I attached this cheesy fur fox tail to my Alexandra Cassaniti money bag, just to enhance the tackiness factor and make it even more conspicuous. Don't get too excited: if you robbed me, all you'd get is about 20 lip glosses, a medical insurance card, a Starbucks gift card, my husband's old lyric sheets, and about 5 pairs of glasses.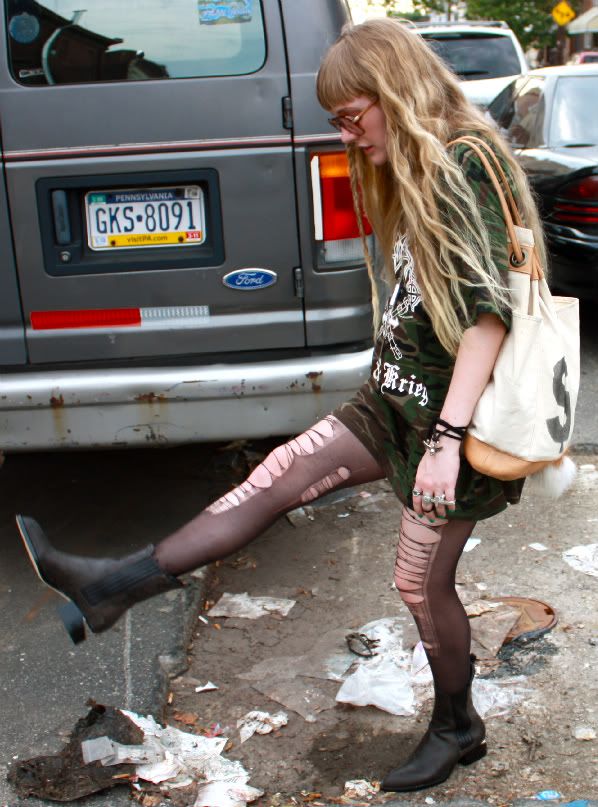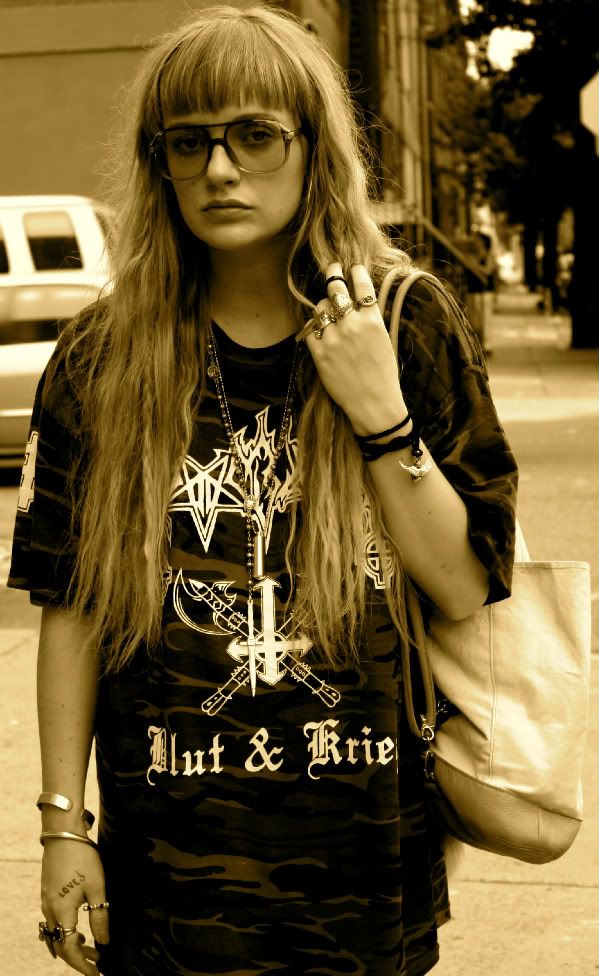 Custom Ray Ban tinted aviators. Yes, black metal elitists, I'm wearing a Moonblood shirt. Yes I actually listen to Moonblood. Sorry if this isn't kvlt enough for your liking. FOAD &hearts And no, I'm not racist. Come on, seriously.

My dear friend Amanda has started a blog, The Malcontent Yogini. If you're into yoga or just good, sardonic writing in general, check her out.

Also, don't forget you can keep track of Halcoholic on Facebook; this includes site update notifications, unseen photos, and updates on MeineLiebe (which will have its own site very soon: shopmeineliebe.com). On the topic of MeineLiebe, I am floored at the designs so far and am so excited to see them worn on other people (and myself, of course). We have made vast progress and are just working on some finishing touches, so our webshop will be up sooner than we had originally thought. I vow to keep you updated!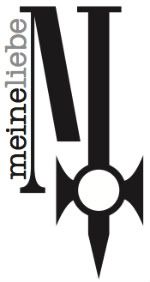 Lastly, I am very honored to have been chosen for the June/July "Blogger of the Moment" (issue #11) for Fringe Indie Magazine. Keep checking back with Fringe to see the feature on Halcoholic, which includes an interview and photos.

Have a safe, fantastic weekend! xo