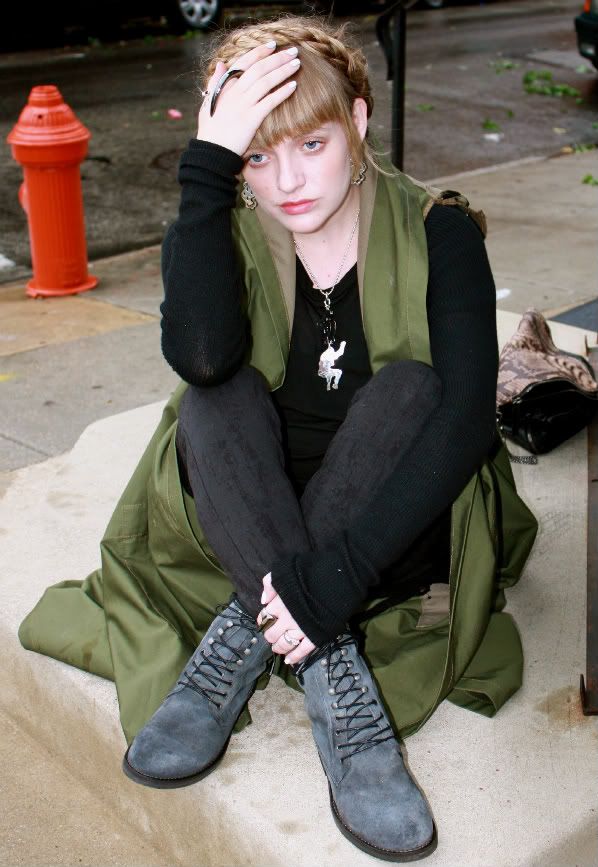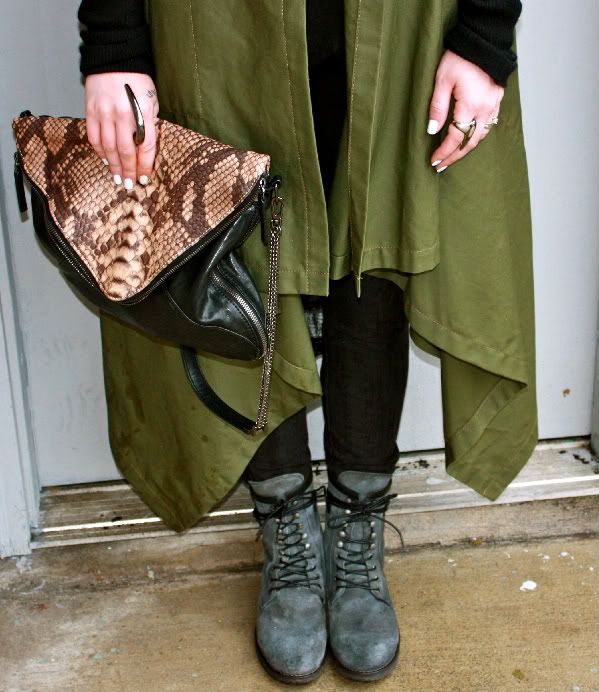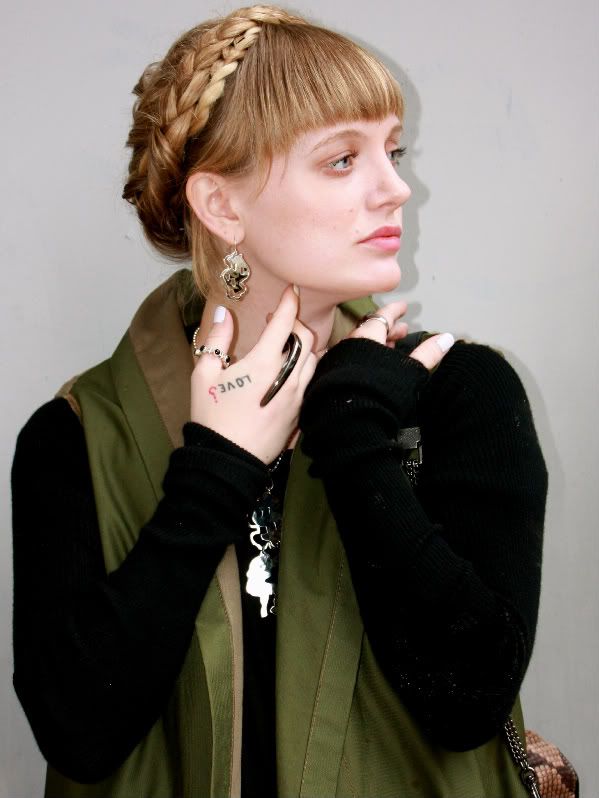 Comme des Garcons coat, Rick Owens cropped cardigan, Obesity and Speed shredded t-shirt, Ksubi "Kruger" suede work boots, vintage distressed leggings, Gareth Pugh scythe ring, gifted Leviticus black gold/sterling "talon" ring, vintage sterling/onyx rosary thumb ring, Robert Lee Morris Warhol Collection pendant & earrings, BOYY "Slash" bag.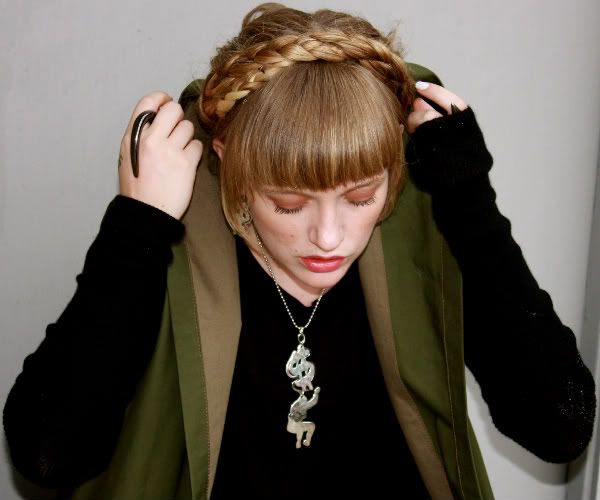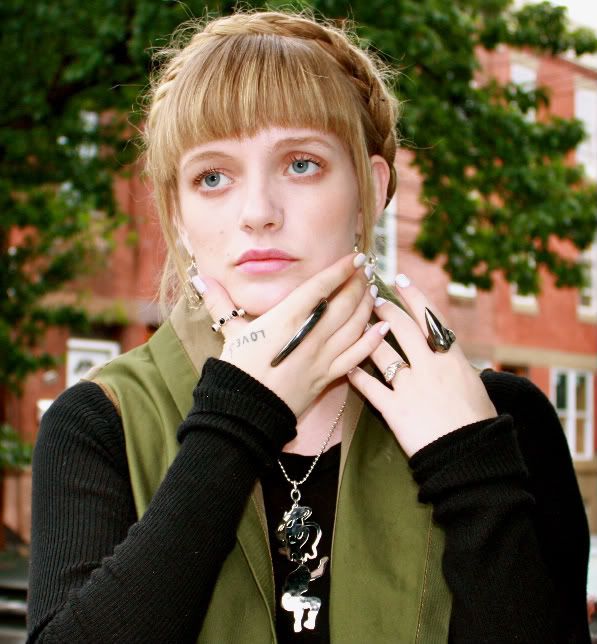 I've been stalking this Gareth Pugh scythe ring ever since I saw it on withasianstereotypes, and I finally captured my prey. This ring is completely different from any jewelry I own. Despite the fact that it is worn between the fingers, it is surprisingly comfortable. I love the brushed chrome and the leather-wrapped handle, which lays on the palm. Fuck it, I just love everything about this completely insane ring. Who else other than Pugh could've borne something of this nature? Even though it is hard for me to refrain from wearing a shit-ton of rings, this one deserved to stand alone today.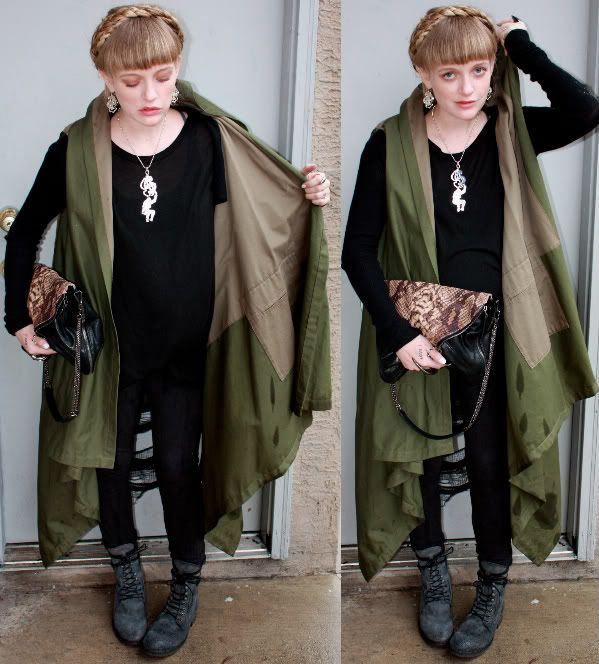 The only good thing about the shitty, rainy weather today is that it warranted donning my Comme des Garcons "army" coat before Filthadelphia humidity rears its ugly head again. The great thing about this coat is that the sleeves and heavy wool can be buttoned in the back and it becomes a canvas "vest." This is the first time I've worn it in this fashion, and it just makes me adore CdG even more. So functional, so versatile, so thoroughly badass. Pared with my extra long-sleeved Rick Owens cropped cardigan, it was the perfect choice of outerwear on a day like today.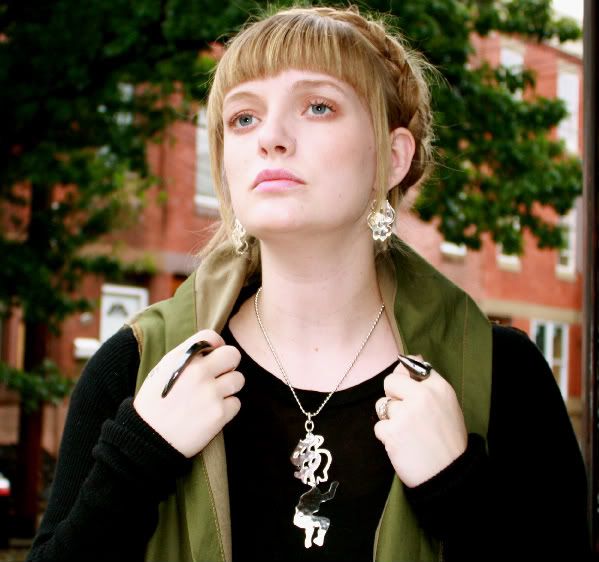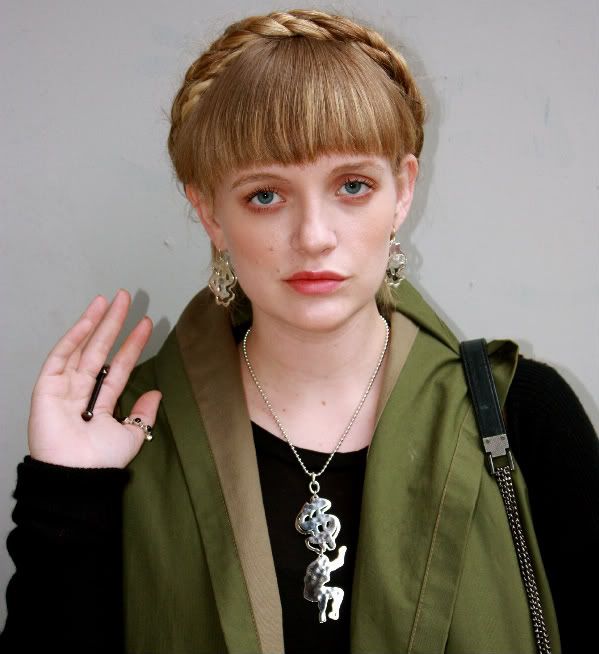 The earrings and necklace are by Robert Lee Morris and were a gift from Mom. She snagged them at the Robert Lee Morris boutique on West Broadway in NYC. These exquisitely detailed pieces are both from RLM's Warhol Collection. The necklace is the "suicide jumper" pendant. The "jumper" is hammered sterling and engraved on the back: "I never fall apart because I never fall together" - A.W. He hangs from a framed dollar charm; there is also a small dollar charm on the clasp at the back. The earrings are the same framed sterling dollar charms and are engraved on the backsides as well: "I am a deeply superficial person" -A.W. I had a difficult time capturing the subtle embellishments of the RLM jewelry in the photos due to the fact that they're one-dimensional and the sterling is so brilliant (luckily they came beautifully packaged in a really cool "handle with caution" box which included embroidered pouches and polishing cloths). Thank you, Mom, for such a lovely, thoughtful gift. You know me all too well. &hearts &hearts




I love the distressed suede, waxed leather laces, and the small, sturdy heel on these Ksubi boots. They're the perfect alternative to my 10-year-old 14-eye Docs, which are on a much-needed hiatus.




Even though my Alexandra Cassaniti money bag has pretty much been an extra appendage since I received it, I switched it up today to my trusty BOYY bag. I really love BOYY and can't wait to see what they have to offer for F/W '10.

I need to get to bed early tonight, because tomorrow we have appointments to look at houses in the suburbs. Since baby boy will be arriving in two months, we've made the decision to move out of South Philly and rent a nice little crib for a couple of years in the safe suburbs, about fifteen minutes away from where we are now. I can't wait! I am pretty much done with South Philly and we're going to need much more room ... not to mention, I can actually have my Acura in the 'burbs. It will be so great to finally be able to drive a car again and not have to deal with double-parking or people busting in your windows.

More soon; goodnight! xo