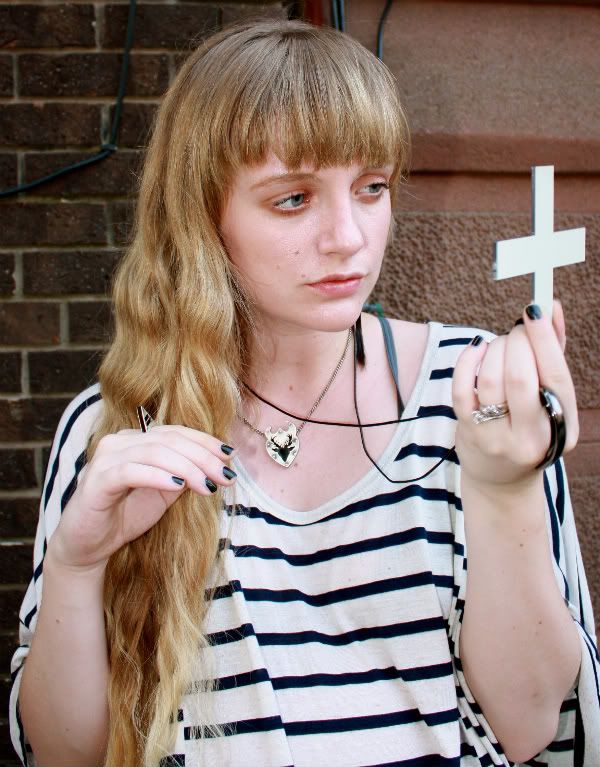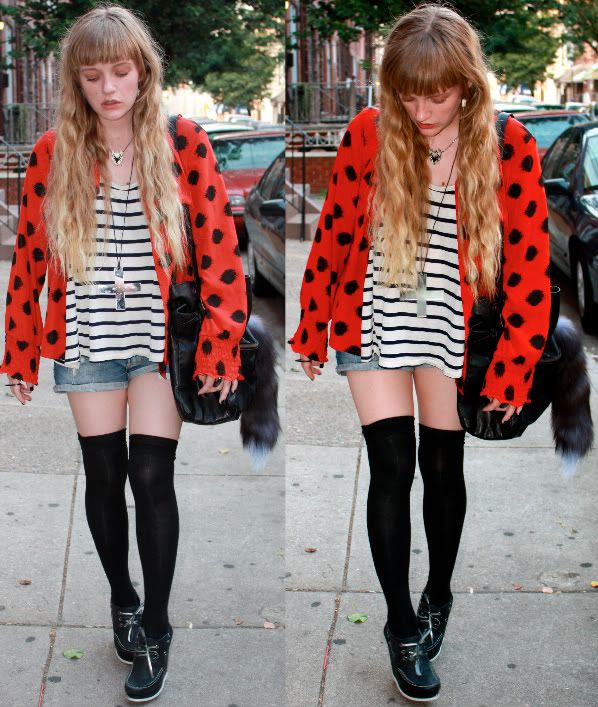 Striped top from Nasty Gal, vintage red polka-dot silk blend blouse, Balenciaga boat wedges, Topshop thigh-highs, Zara cutoffs, mirrored XL cross pendant from Antti Asplund Block; gifted stag shield pendant, eye tooth/hair earring, and = pyramid ring by L.S.D. (Little Sister Designs), Gareth Pugh scythe ring, Jas M.B. leather tote.

It's hard to make an effort with clothing while over 7 months pregnant in 95 degree humidity, but I had a business meeting today, not to mention a few new pieces I wanted to share ..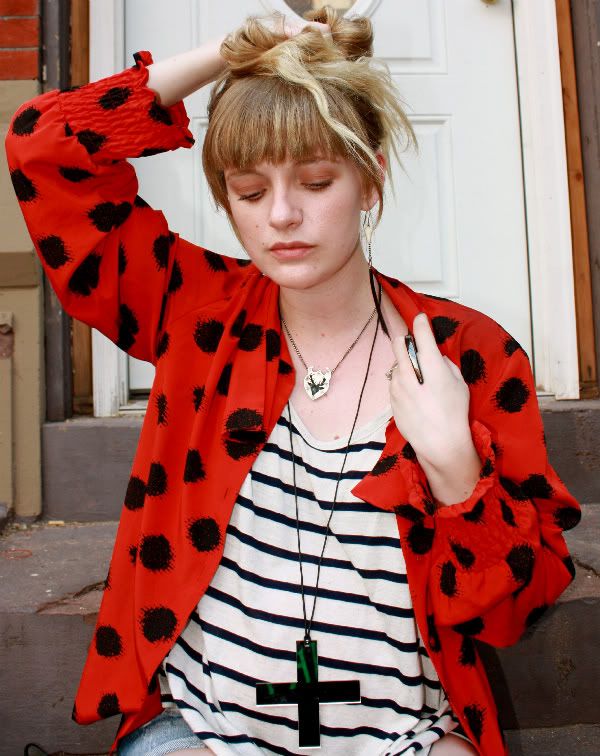 A Finnish reader emailed me a link to the Antti Asplund webshop a couple of weeks ago, where I ordered the mirrored cross pendant. Such a beautifully designed, simple statement piece -- it's also very lightweight and not cumbersome whatsoever. For some reason the link to the webshop wasn't working for me tonight, but I remember this pendant comes in a variety of different colors. The mirrored one is good for lazy people like myself who don't want to rummage around in their bag for a compact mirror.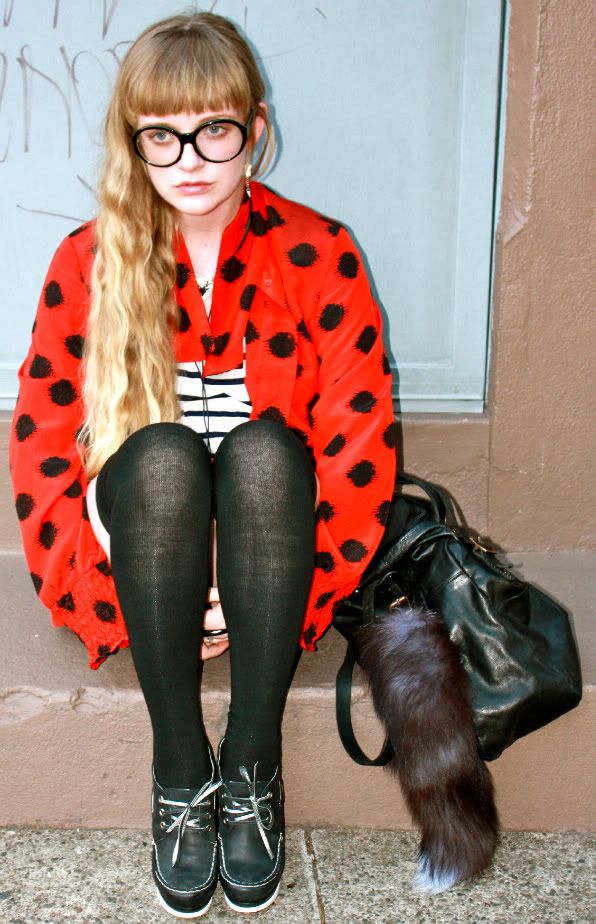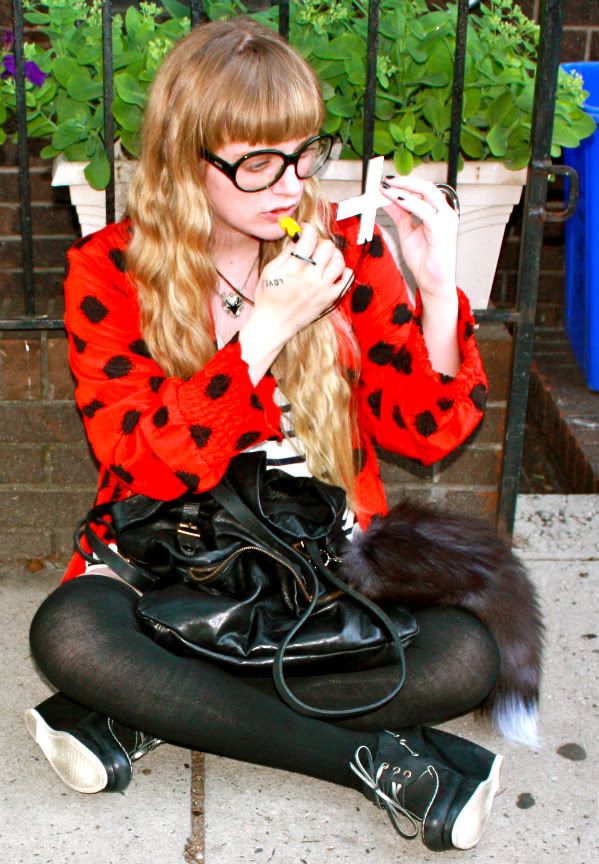 Victor Griffin gave my husband the red blouse on their last tour. Victor and his wife are great at finding amazing vintage pieces. I'm not sure who the designer is, but I love the "airbrushed" polka-dot effect and the ruffled sleeves. The lightweight silk blend fabric allows it to be worn in the heat without any discomfort. The Balenciaga kicks are from a couple of seasons ago. I don't get a ton of wear out of them due to the platform-to-heel ratio, but they're very versatile nonetheless, and still fall into my "must-have" category. Custom Ralph Lauren glasses.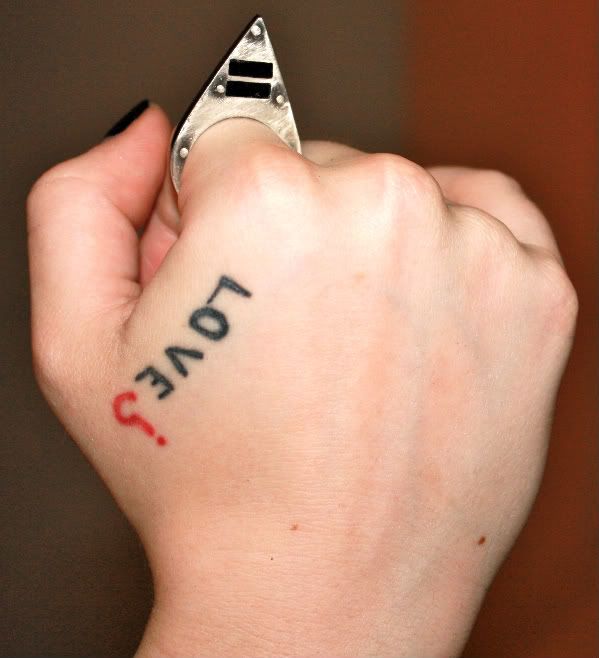 I recently received the sterling stag shield pendant, the equals ring, and the eye tooth/hair earring from L.S.D. ... I so adore these pieces. They're completely appropriate to my style, yet simultaneously unexpected. The earring (not yet sold on the L.S.D. webshop) is a real bleached human eye tooth attached to a lock of brown hair ... creepy to some, but to creepy people like myself, more on the "voodoo-cool" side (the designer sent me the cutest note with it, reading: "if the hair kinks up a bit, just run a straightener through it").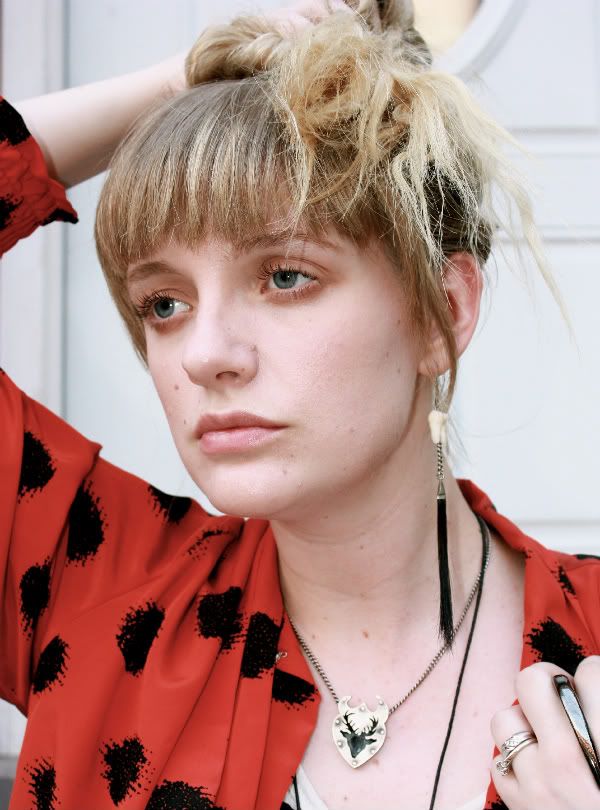 When I first discovered L.S.D. (Little Sister Designs), a one-woman jewelry label out of New Zealand, I was immediately drawn to the dauntless sterling/metal statement pieces. The designs are what I would deem as "appropriately offensive" -- subtle enough that one takes a second glance as opposed to blatantly gawking. From the Area 51 knuckle duster (a massive two-finger ring with a sterling silver UFO atop a green "grass" disc) to the shield pendants/brooches (customers may choose from the stag head I wore in this post to a pair of kidneys, among many other designs), L.S.D. are quirky, brash, beautifully detailed, and vastly unlike anything else I had seen before. Seldom do I take such a liking to a line that I feel compelled to contact its founder, but I found myself immediately emailing Charlotte Burkhart, the designer behind L.S.D., after thoroughly perusing the webshop in its entirety. As it turned out, Charlotte is a total sweetheart; she was generous enough to send me the three beautiful pieces pictured here, and give me an interview focusing on the conception of the line and what motivates her to create such striking designs.

1. How long have you been making jewelry and when did you launch Little Sister Designs?

I started making jewelry when I was about 10 (11 years ago). In the past year I have only started making things I actually love and treasure. It has taken a while for me to get to that place. I changed the name of Little Sister Jewellery to L.S.D (little sister designs) at the beginning of the year.

2. What prompted you to call your label LSD? What is the significance behind the name, if there is any?

It used to be called Little Sister Jewelry, but it never felt edgy enough. The reason I called it Little Sister is because I am the little sister of the family, my fav song was called "Little Sister" by Queens of the stone age, and it just sounded cool. But as my work progressed I felt it grew away from Little Sister. I was contemplating changing the name when my sister said "Why don't You call it LSD??" Short for Little sister designs... it just felt right. It still had elements of the name I love.



Sterling silver "shields" by L.S.D.

3. From where do you draw inspiration for your designs?

I have a strong attachment to pop culture, and draw inspiration from different movies, t.v programs, and symbols. At the moment my jewelry is heavily influenced by the fantasy world of Harry Potter, and elements of True Blood, Star Trek (haha), Rocky Horror Picture show and Dexter. I love the quirky and gloomy side of jewelry but with added humour.

4. Describe the process, both creative and manual, involved in producing such striking statement pieces.

I do a lot of research and planning for most of my work. Lots of drawings help to finalise ideas. Sometimes I just get random ideas and draw them down and come back to them months later. I just think you need to draw or write things down, no matter where you are, or you will forget them. When I have drawn several versions of what I want to make, I will settle on one and photocopy it so i have a few templates to work with.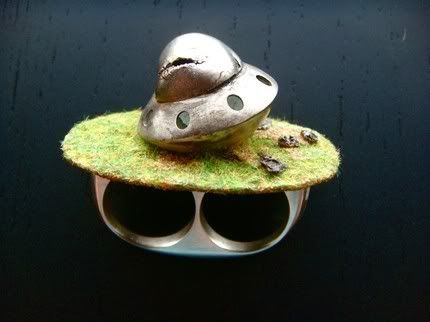 Area 51 knuckle duster.

5. On what type of person do you picture Little Sister Designs being worn?

I can see people with an edgy style wearing my pieces. A lot of my jewelry can be worn by male or female, and I hope men realize that. My dad rocks the shield brooches!

6. Which is/was your favorite LSD piece and why?

It's hard to say as i am continually making pieces I love (not to sound up myself or anything, I just think if you don't like what you make, what's the point?). I would have to say my favorite piece I have made is probably the stag shield, or my eye tooth earrings. I also love my space ship rings.

7. What was the biggest challenge or obstacle you faced at any point in time involving LSD? How did you deal with it?

I haven't been doing this full time for very long so I haven't faced many obstacles, but at the moment I would probably say the need to prove to people that I want to be successful with my jewelry, and it isn't just a hobby for me; it's my life. And I love what I do. I think I am slowly proving that by being totally committed to what I do.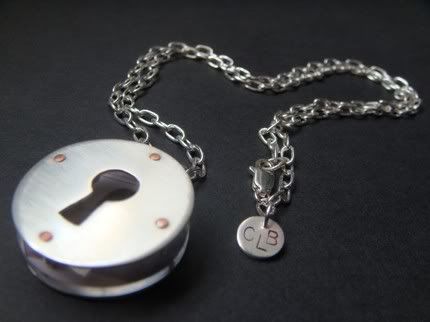 Peek-A-Boo pendant.

8. If you could choose anyone in the world to wear one of your pieces, who would it be and what piece would you choose?

Oh man that is such a hard choice. I would probably have to choose two! for artistic sake and for advertising's sake I would have to say Lady Gaga, and my area 51 ring (not that i am a fan or anything, but her style is pretty cool!). And for my own personal satisfaction I would want to see J.K. Rowling wearing my Stag Brooch or necklace. I would be the happiest girl in the world, as she is a real inspiration to me.

9. Who is your favorite independent jewelry designer right now whose work you feel is underexposed and under appreciated? Which jewelry designer do you feel is totally overrated?

My favorite independent jewellery designer at the moment is Margaux Lange. She makes the most amazing jewellery out of Barbie dolls! At the moment I am in love with jewellery and items from beetle and flor, i am not sure if they are under exposed but I think they deserve more fame! I am not sure which jewellery designer I see to be over rated, but I know I am REALLY OVER acrylic laser cut jewellery. I find it really plain and lacking elements of coolness. Its too one dimensional!

10. Where do you see LSD two years from now?

I would love to see my jewellery in stores around the world, as well as my home land New Zealand. Of courseIi want it to do well but I also want it to always have the one off, hand made feel - unlike mass-produced jewellery. It would just make me so happy if I can make things people love and treasure.

Thanks to Charlotte for the wonderful treasures -- I can't take them off! -- and the interview. You can currently shop L.S.D. on Etsy, or stay updated with Facebook.

More soon ... in the meantime and to your advantage, I've obviously been on a jewelry kick -- get in your submissions for my Blood Milk "joan of arc as duelist part iii" pendant giveaway. Have a great day. &hearts