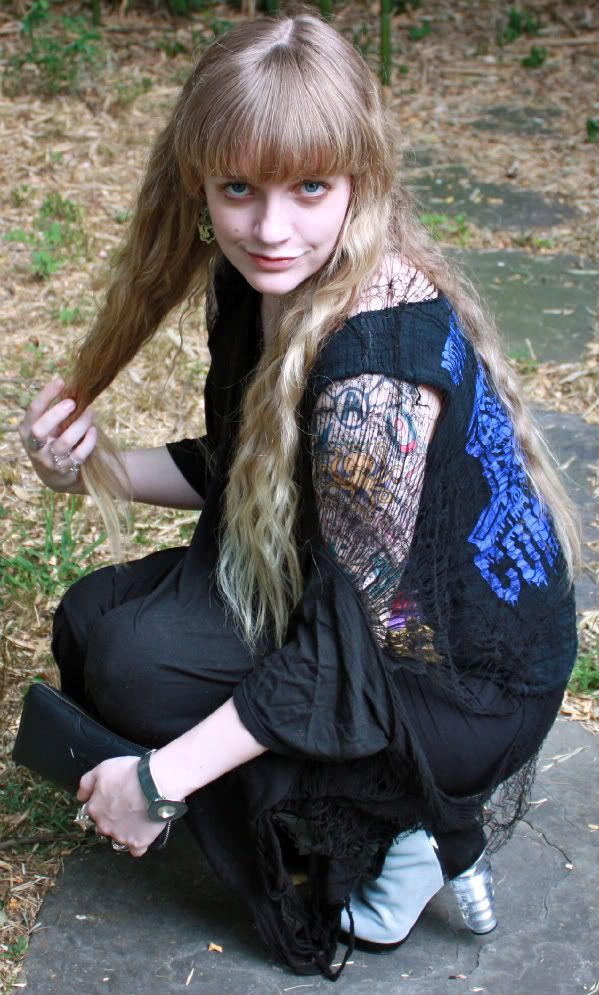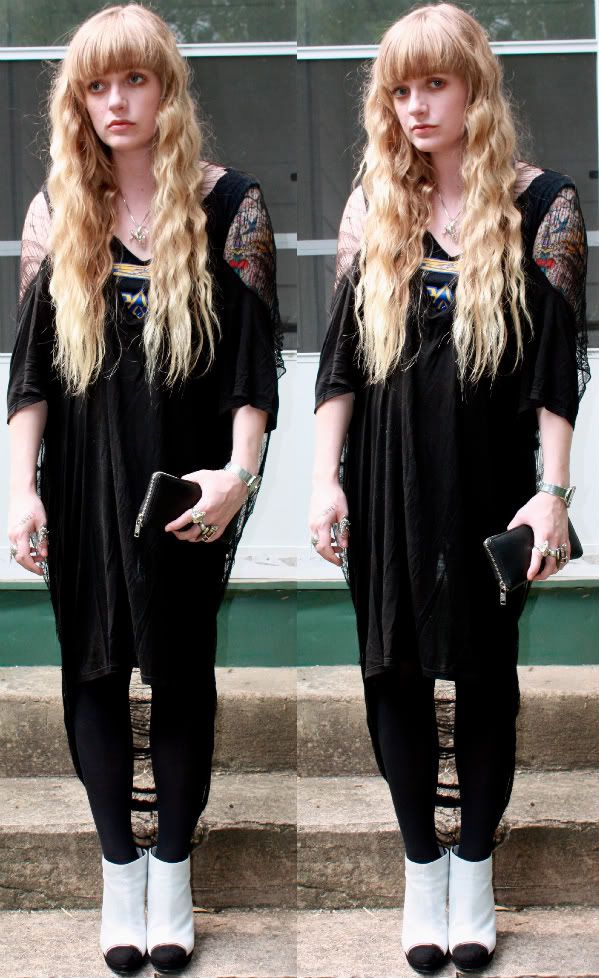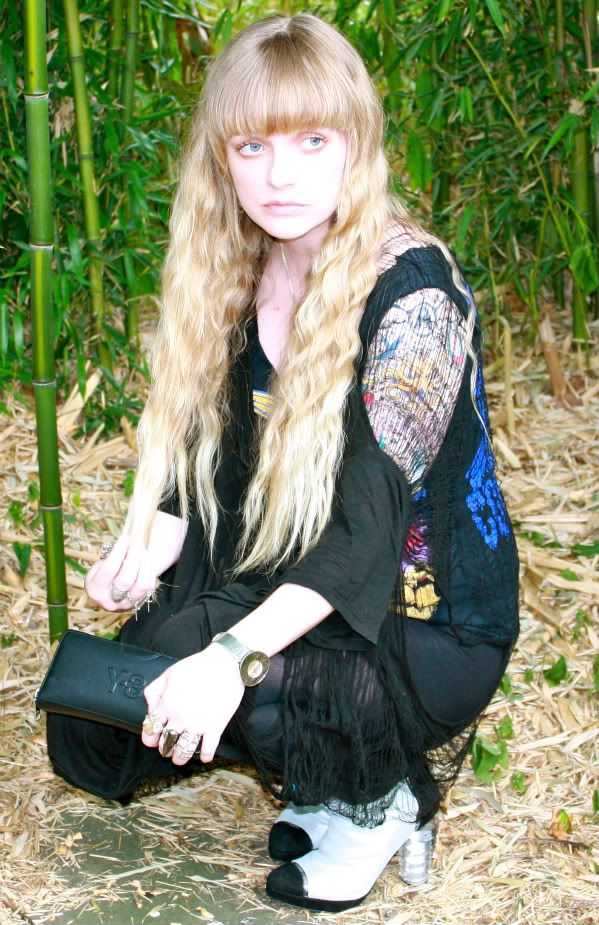 Leather/lucite Chanel booties, Obesity and Speed shreddy dress, DIY Death shirt, Y-3 leather clutch, Alexandra Cassaniti money bag, various accessories:

Gifted sterling silver eagle knuckle/thumb ring by AlbertoJuan, custom sterling "shield," gifted double-finger dagger chain ring by Ferociter, gifted sterling falcon skull ring and sterling ram skull pendant by Blue Bayer, gifted black gold/sterling talon ring by Leviticus, Pamela Love cross ring, Robert Lee Morris x Andy Warhol $$$ earrings, custom silver leather/glass watch.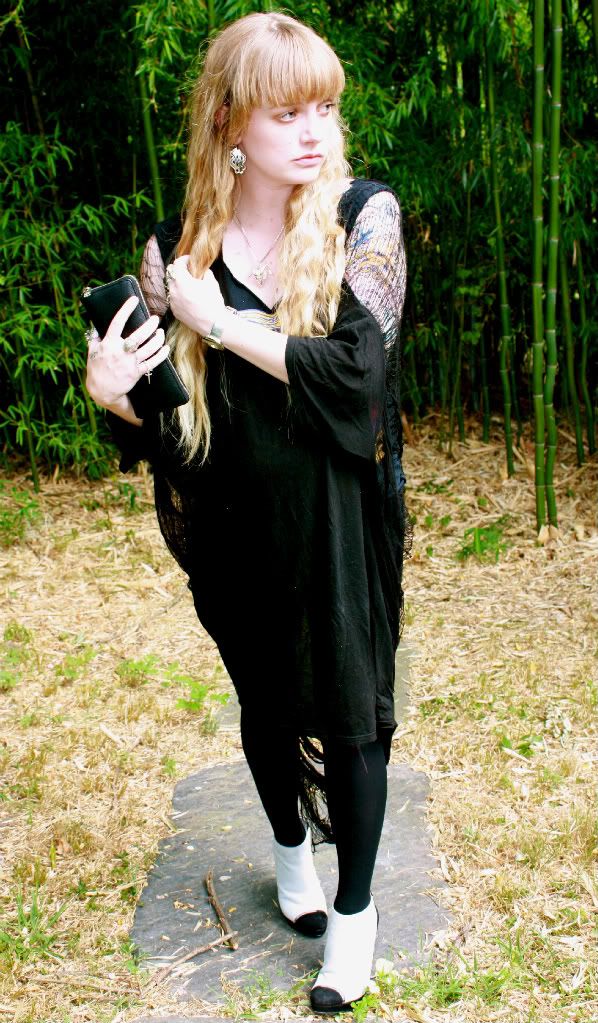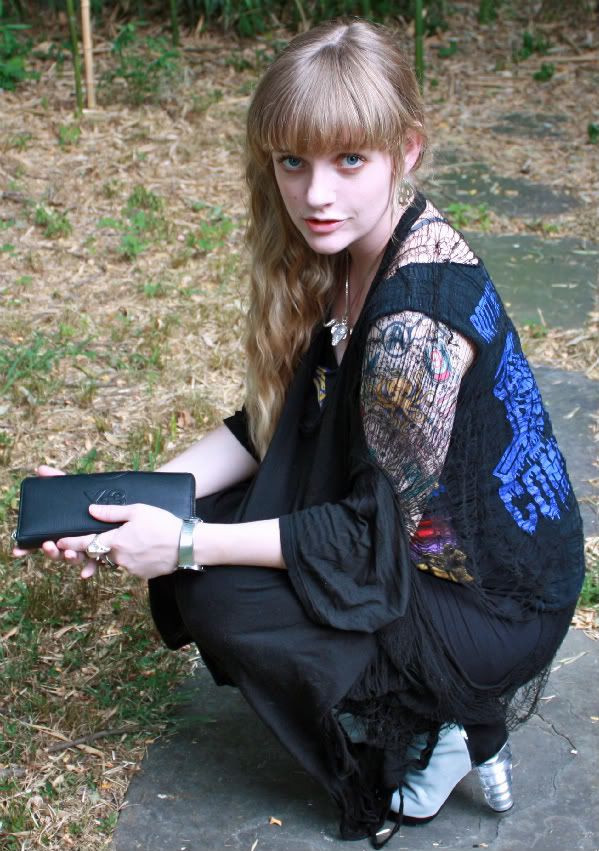 I thought an appropriate way to return to regular posting would be to shoot these spectacular Chanel booties in our new bamboo jungle/backyard. These shoes arrived from Jayne (Stop it Right Now) just today, and both Bobby and I are totally in awe of them.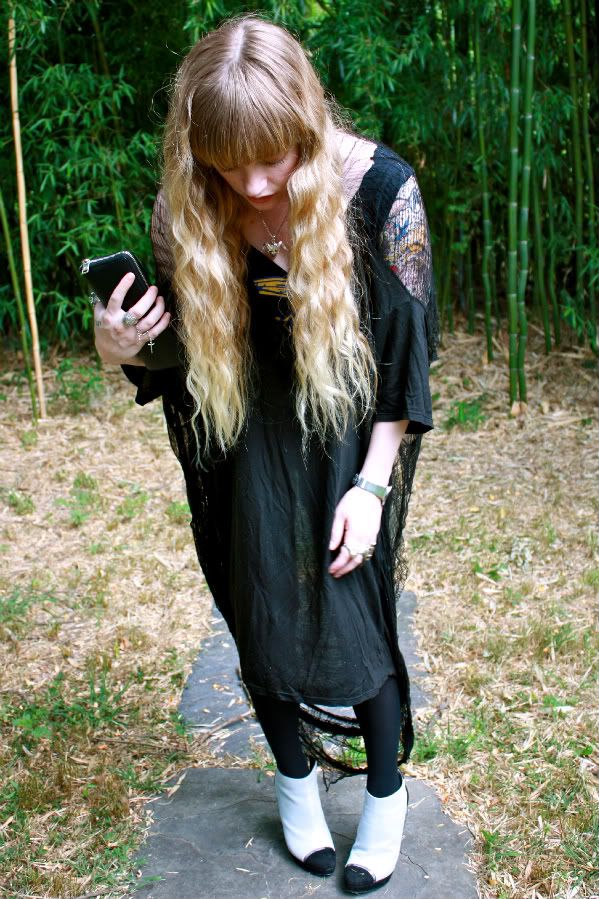 The lucite heel, silver leather, and clear vinyl cut-outs against the color-blocking make for a really exquisite bootie out of which I can see myself getting a lot of wear. Not to mention, they're very comfortable. Thanks, Jayne!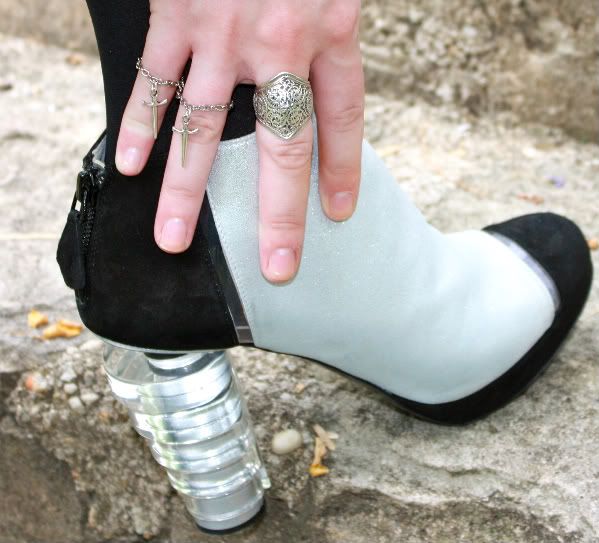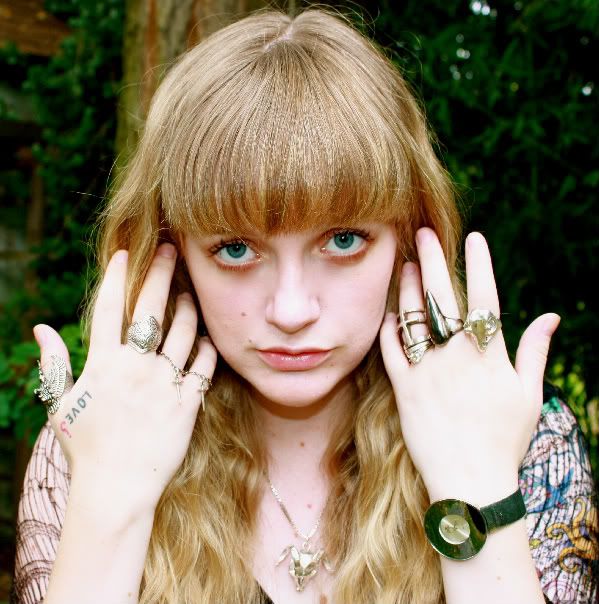 The double-finger dagger chain ring was a gift from Ferociter. I'm very excited about this piece; it is subtle yet totally unique, and allows for complete movement of the fingers (as a matter of fact, I don't even notice it's there).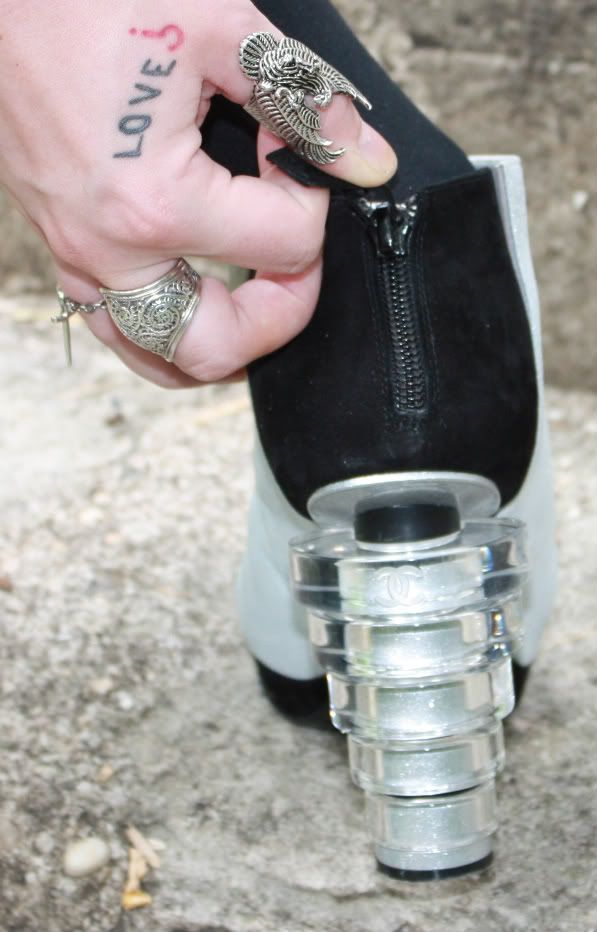 The sterling silver eagle knuckle ring was a gift from AlbertoJuan, an independent one-man jewelry label that caught my eye when I got a load of his outstanding collection of sterling ram head pieces. The craftsmanship and quality is impeccable, down to the detail on the feathers and the careful oxidization.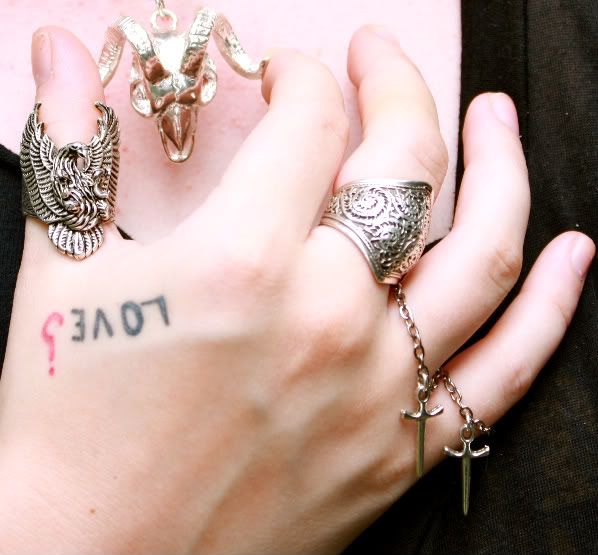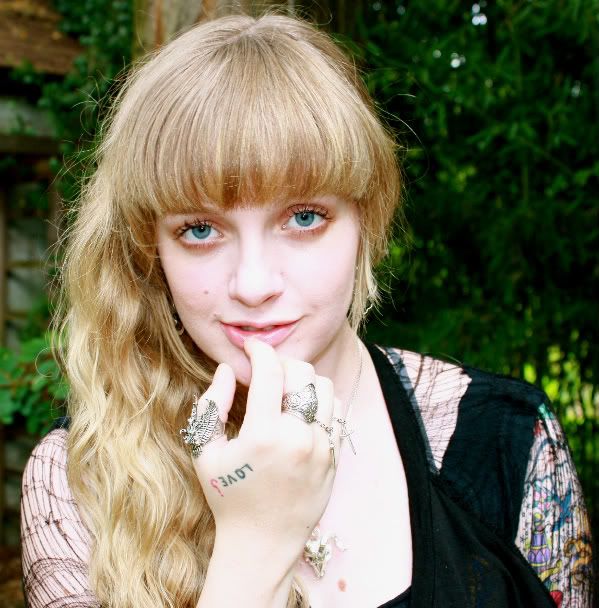 Bruce, the man behind AlbertoJuan, was generous enough to send me this stunning piece and also give me a comprehensive interview focusing on everything from the inspiration behind his designs, his internship-gone-wrong with David Yurman, and where he'd like to see AlbertoJuan in the future:

1. How long have you been designing jewelry and when did you start Alberto Juan?
I've been designing jewelry since middle school; about 6th grade. I remember making jewelry from different color electrical wire and glass seed beads. Also from natural coral and other things that I found like hemp. In June of 2007, the first collection of ram motif jewelry was cast, and in early 2008, I incorporated the Alberto Juan LCC.

2. Why did you name your label Alberto Juan?
Alberto Juan became an alternate name for me as I searched to re-identify with my spanish heritage, so in middle and high school Spanish classes I used it as my name. Throughout those years many of my Spanish and Latin friends used to call me variations of that name. When it came time to incorporate, it felt very natural to use it to reflect my perception of design.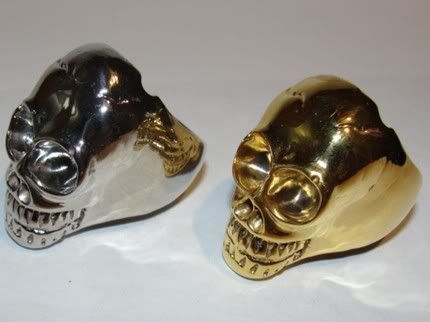 Sterling-plated and 14kt-plated skull rings.

3. From where do you draw inspiration for your designs?
I draw my inspiration from my passion in capturing the beauty of different real periods from the distant past to modern times -- recreating them fresh, modern, and timeless.

4. What was the biggest challenge you faced since launching AJ and how did you overcome this challenge?
The biggest challenge in launching Alberto Juan was accepting that I wasn't in control of all aspects of my company, because I am only one person. I want it to be a true reflection of how I feel about the way people should wear jewelry and the way I have overcome this feeling is by simply letting go and trusting that as opposition comes an opportunity will arise to meet that adversity.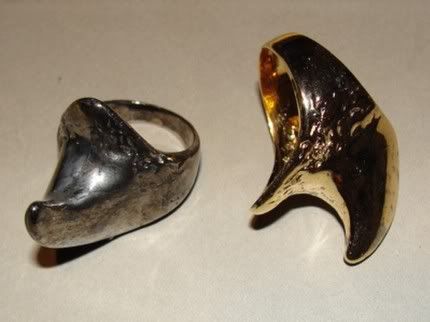 Sterling & 14kt-plated rhino horn rings.

5. What is your favorite piece in your current line and why?
It's so hard to pick a piece that's a favorite at any given time, because alot of my jewelry has an ancient significance that we all relate to at different points in our lifetime.

6. You have a lot of ram head pieces in your collection; what compelled you to utilize the ram in these pieces? Was it simply the aesthetic appeal, or is there more to it than that?
Designing jewelry really came out of my search for Divine truth and spirituality. As I researched the ancient Egpytian religion, I realized how the ram was a representation of the God of all Gods, as well as a symbol of many crucial principles of society: defense, war, and fertility. After visiting the Metropolitan Museum of Art in New York, I realized how many other cultures, like the Greeks and the Romans utilized the ram as a symbol in art, jewelry, and religion. This overwhelmingly convinced me how my first collection had to be the ram and how great the need is for it to stay alive today.



Sterling silver large ram head cuff with antique finish.

7. Which independent jewelry designer do you feel should receive more recognition? Which artist (independent or not) do you feel is totally overrated?
It's hard for me to say, which independant jewelry designer I believe deserves more recognition because my design aesthetic is very different from most other jewelry designers that I know and I weigh recognition based on design point of view. As for jewelry companies that I believe are over rated or not reasonably priced, though I don't like to focus on negativity I must say I'm not impressed with David Yurman design. Mainly, because I had the invitation to work with his head designer several years ago for a free internship. She was very rude, impersonal, moody, and self serving. I decided that no internship especially a free one was worth being talked to like a dog no matter where the experience was coming from, so I quit after only 3 days. Her attitude was an exact opposite representation of what a balanced, artistic, and cultured person's should be.

8. On what type of customer do you see your designs being worn?
My customer base changes with each collection as well as with my one of a kind pieces. My one-of-a-kind pieces are designed for celebrity clients and event-goers. My regular casted and custom pieces are for the more everyday lifestyle. I love this well-rounded diversity of service.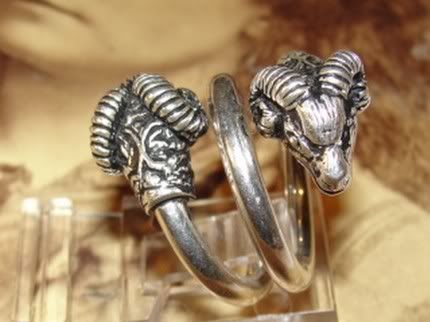 Sterling silver double-headed ram coil ring.

9. If you could pick one person in the world to wear your designs, who would it be?
This is a hard one...but at the same time it's very easy. I'd pick the general public as whole entity to wear my pieces. I want the regular everyday person to relate to pieces of my jewelry from various collections and incorporate them into their daily life. Being a part of someone's real life and having them live in my jewelry continues to bring me the greastest satisfaction.

10. Where do you see Alberto Juan in 2 years and what do you hope for in the future?
I hope Alberto Juan continues to grow and is housed in many independantly owned stores, as with it's diversity I hope it's sold on a multi-faceted level from department store level to one on one, piece by piece.

---------------------------------------------------------------

Thanks again to Bruce for his beautiful gift and honest, endearing interview. To see more of his designs, you can shop AlbertoJuan on Etsy.

Thanks to everyone for your patience in waiting for a proper post and your continued support; more soon! &hearts