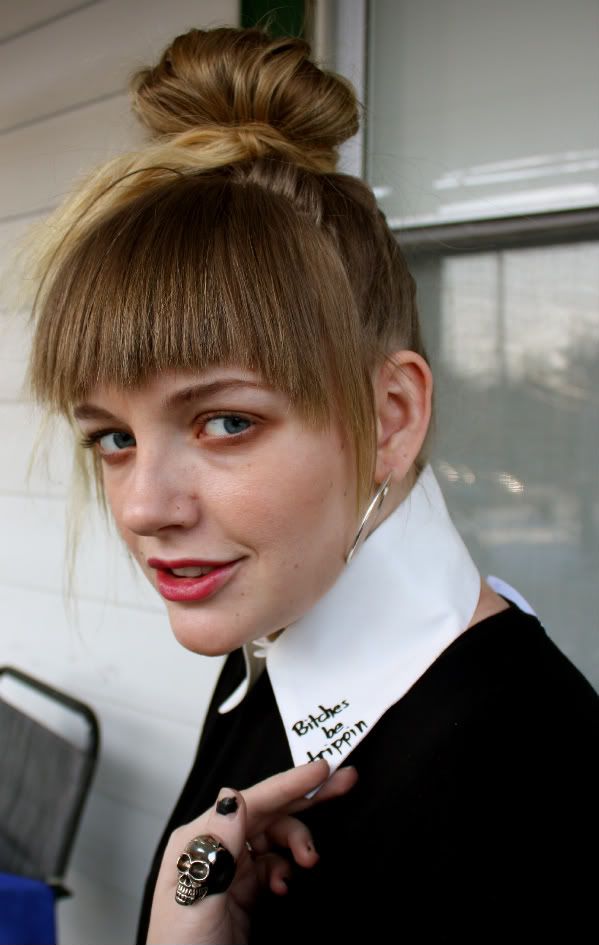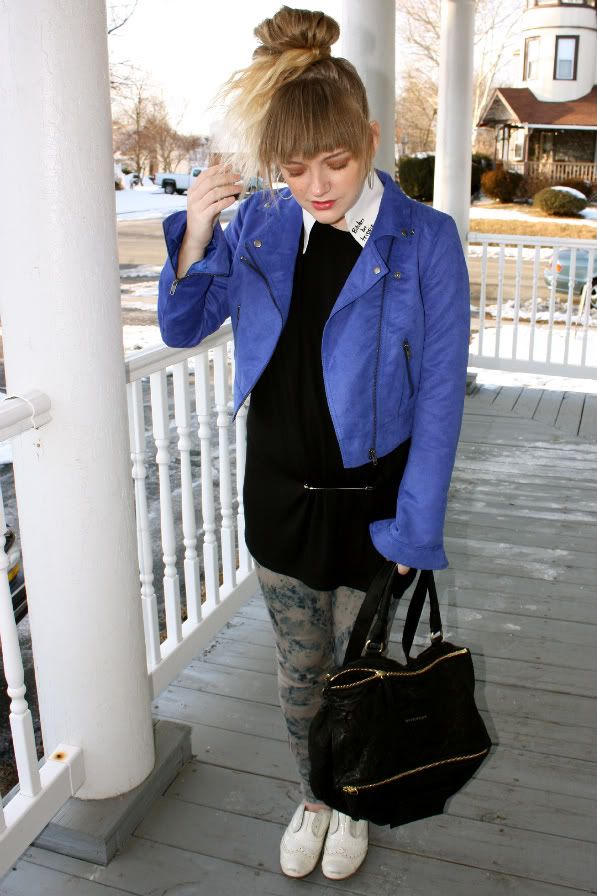 Ann Sofie-Back safety pin shirt, "Bitches be Trippin'" collar by Dimepiece, Marséll patent leather laceless brogues, Juicy Couture pants, blue suede H&M cropped moto jacket, Givenchy Pandora bag, sterling plated skull ring courtesy of Alberto Juan.




I flipped when I saw these Dimepiece collars. I got a black one with white crosses, and couldn't resist this one either. When my friend Josh first saw me wearing one of these, he laughed his ass off: "Is that a fake collar?! Like a dickie?!" But seriously, these go with everything -- well, maybe everything except dresses, but I rarely wear dresses.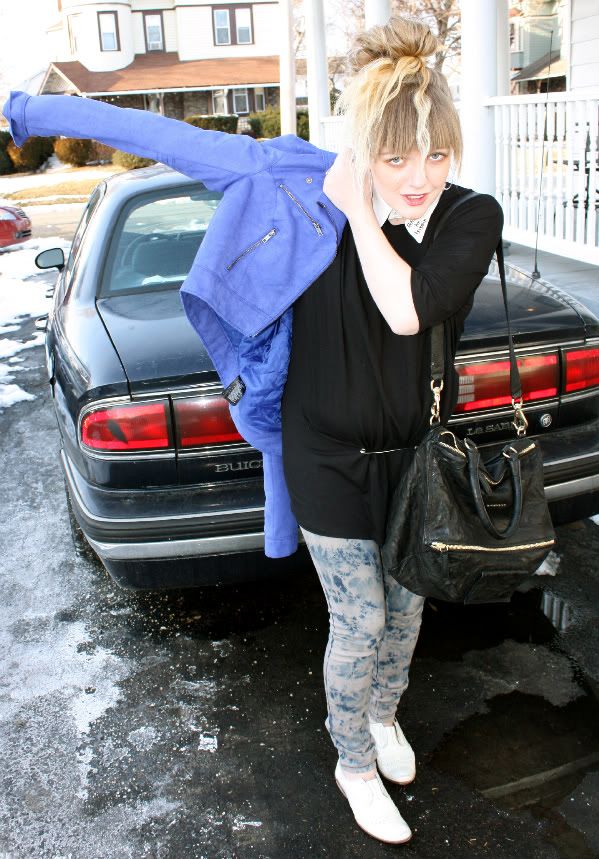 I've had this suede moto jacket for eons. It's one of those pieces out of which I don't get much wear, but I love it so much that I could never part with it. It's the most unusual shade of blue; I guess I'd classify it as periwinkle. I felt it suited this ensemble today, for whatever reason. I think it adds to the intentional goofiness of the "Bitches Be Trippin'" collar. I hate it when people are all like "I NEVER try to be ironic in the way I dress! Fashion is ~serious business~" Come on, guys -- it's clothes. What's the deal with everyone wanting to look "timeless"? Sure, I own some stuff I'd consider timeless, but most of my things have playful elements. Hey, I'm milking my youth as long as I possibly can, and that does not entail wearing skirt suits.




I LOVE Marséll. Love. Interestingly enough, I've had these shoes for over a year now. Just recently have I felt it was the "right" time to start wearing them, nomsane? They are truly stunning -- the distressing on the white patent leather has sort of an indigo hue, and they have just the right amount of extra toe space so they look appropriately dorky, but not like I'm preparing to enroll in clown training. Not that there's anything wrong with being a clown, but if you are a clown, you should go all out. So clowns, these are not the right shoes for you. And even if you felt they were, sorry ... they're from several seasons ago.




Against my will, these shoes are the only Marséll I own. A year ago, I ordered a gorgeous black leather backpack that was stolen by a temporary UPS worker (along with *that* Christopher Kane atomic print dress). It pains me to even type this story, because that backpack and incredible dress would be in my closet RIGHT THIS SECOND had some UPS worker not gotten greedy around the 2009 holiday season. So, thanks, UPS asshole. If you ever feel like returning the items to me or even apologizing, feel free to shoot me an email. I'll hold my breath until you do! :D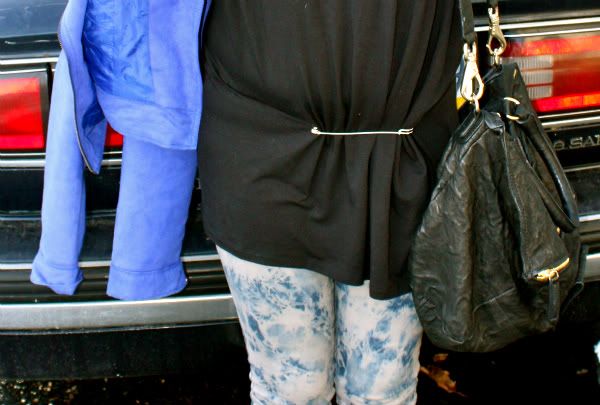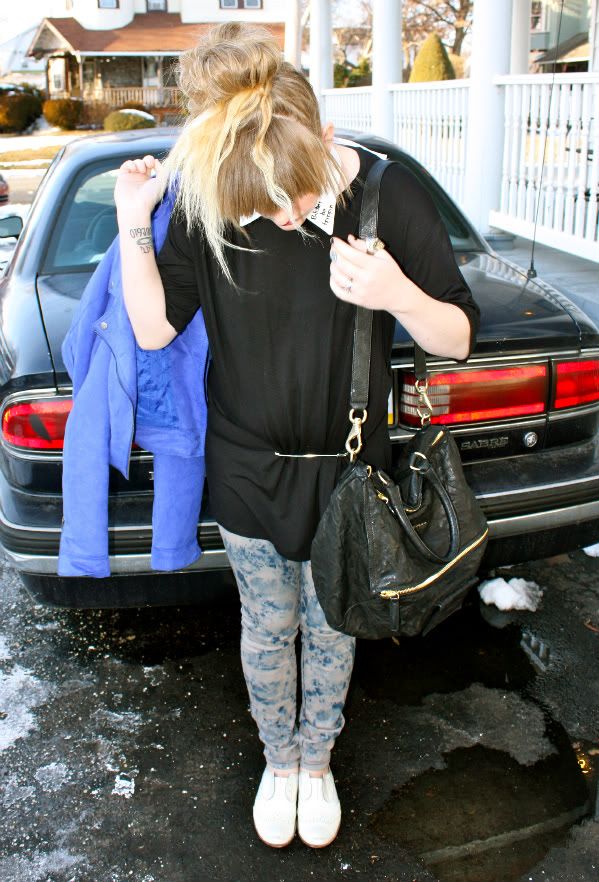 Ann Sofie-Back never fails to astound me. I got this relatively simple little number from one of my favorite online stores, Stand Up Comedy. Obviously what sold me on it was the gigantic safety pin on the front, which makes the piece drape on the wearer's body in a really unique way. When I first ordered this, I was worried the safety pin would eventually rip large holes in the fabric (which is ~silkeh~ soft, by the way). Silly me for thinking ASB could produce anything even remotely inferior -- the holes where the safety pin enters are re-inforced, sort of grommet-style, but done in fabric because grommets on a t-shirt are yucky. Point being, this piece is a must-have basic for me, and I fucking love it.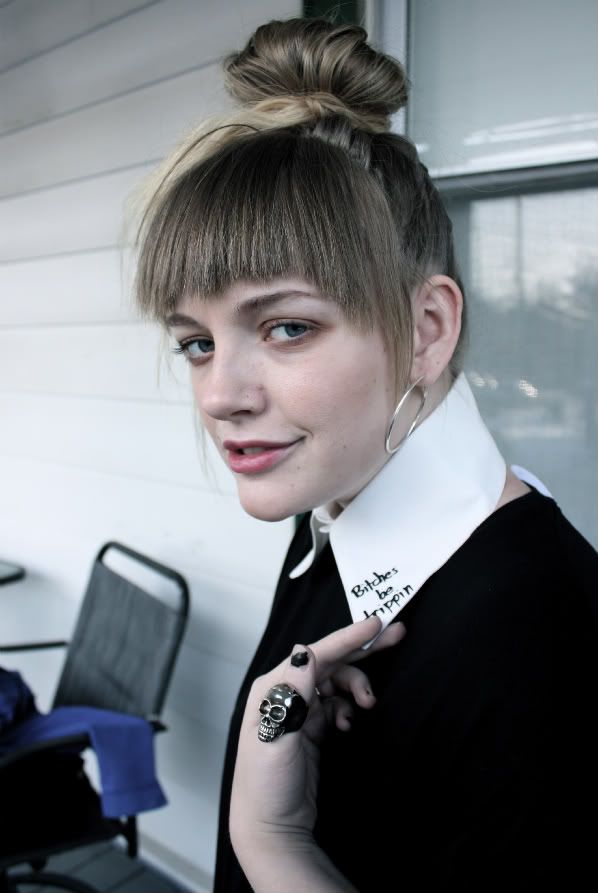 Trip on, bitches &hearts