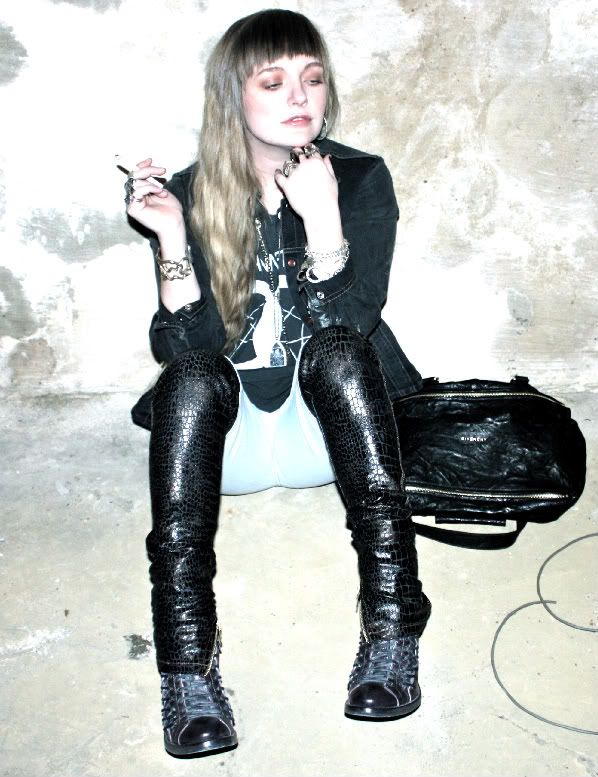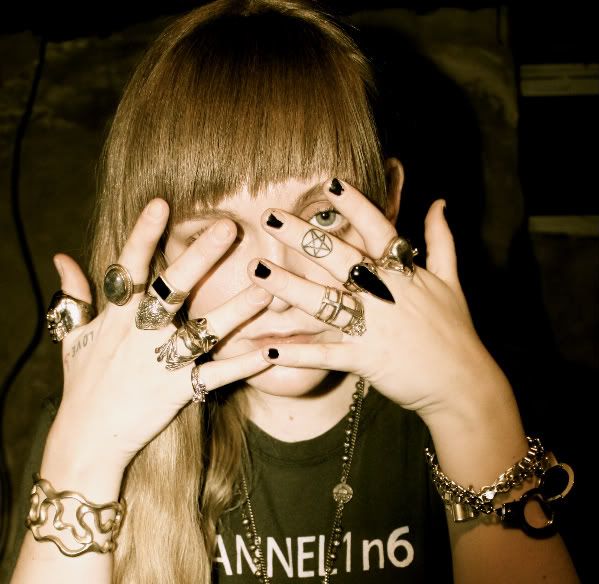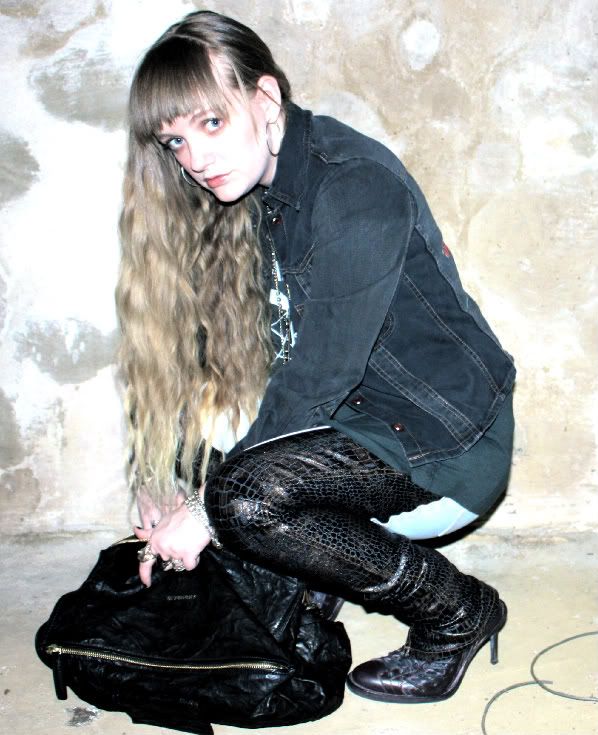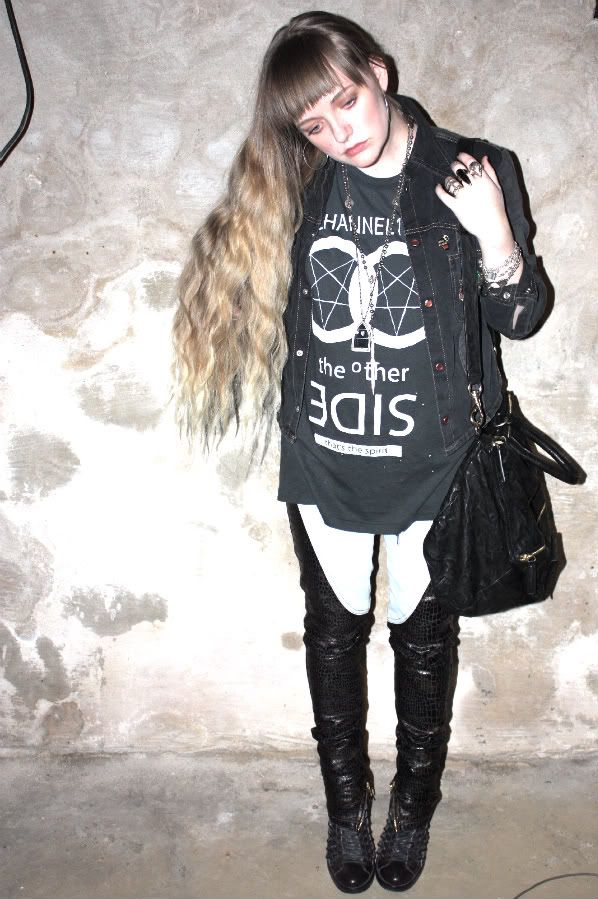 "Channeling" shirt courtesy of UNIF, Stolen Girlfriends Club croc-embossed leather detail jeans, vintage 70s custom embroidered denim jacket, Ann Demeulemeester triple lace burgundy boots, Givenchy large Pandora bag in black.

Junk yard: Pamela love dagger rosary, Nosferatu pendant courtesy of L.S.D., sterling plated large skull ring courtesy of Alberto Juan, sterling large lapis stone ring, sterling "armor" knuckle ring w/ rectangular sterling & onyx ring, sterling & onyx frog knuckle ring, Pamela Love cage ring, black gold talon ring courtesy of Leviticus, sterling falcon skull ring courtesy of Blue Bayer. Large sterling "squiggle" cuff custom design by Donald Pywell; all others custom designs or Tiffanys.

The holidays are over and I have to admit, I'm pretty grateful. I love being around my family during the holidays and especially witnessing my little boy experiencing xmas for the first time, but I'm pretty much all bah-humbug in my old age. Then I was shocked into a spiritual metamorphosis and emerged as Changed Scrooge after I saw what Santahusband had left for me under the tree: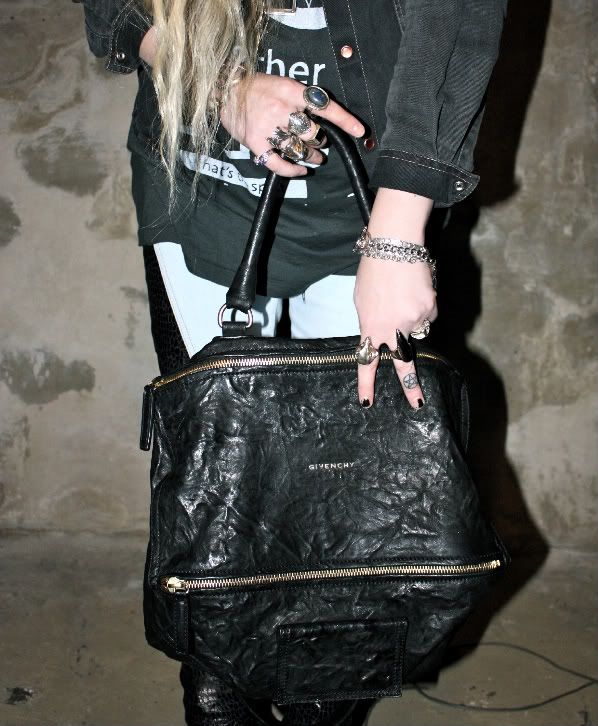 ... this spectacular Givenchy Pandora bag. My Bobby picked this up at Joan Shepp. If you've been reading this blog since its inception, you know I've been lusting after this no. 1 stunna since I first laid eyes on it at ... what a coincidence, it was at Joan Shepp! It is truly the most impeccable, breathtaking bag in the world. The single handle instead of two handles may be too unconventional for some, but it totally makes sense. I hate trying to shove two shorter handles up on my shoulder, only to have them slip down seconds later. The single strap also makes the bag "sit" properly when carried in the crook of the wearer's arm (which I still do, and evidently that's totally gauche now, but fuck it). It also features a detachable long strap so the bag can be carried messenger style, or just thrown o'er your shoulder [like a Continental soldier]: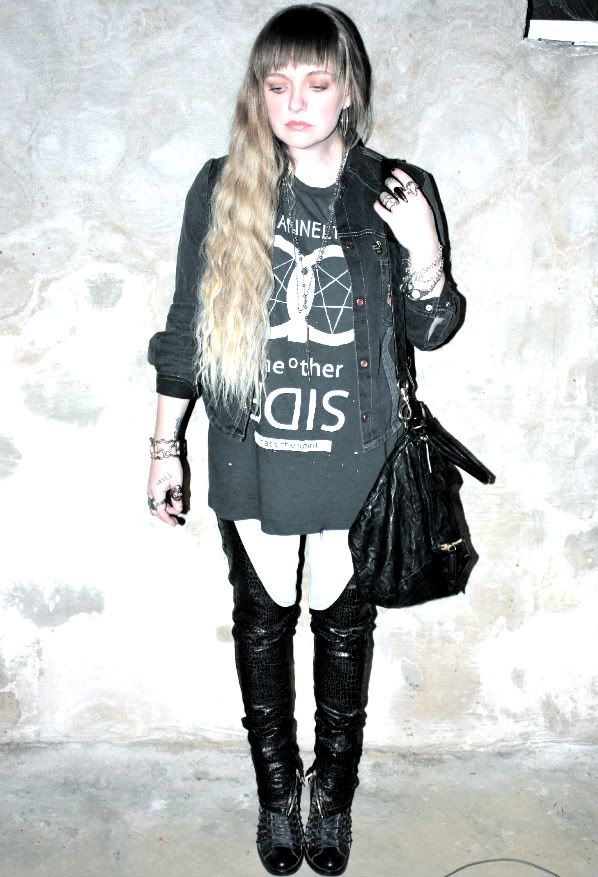 This is *the* holy grail of bags for me. The design is beyond perfect. The roomy main compartment fits everything from my cornucopia of sunglasses to my kids' bottles, bibs, and clean diapers. It also has a large front compartment where I keep my phone, keys, Orajel, Bonne Bell Lip Smackers etc. for easy access. The crinkled leather and high grade hardware would survive the apocalypse, and the gold Givenchy emblem is subtle enough that it doesn't scream, "LOOK AT ME I AM A GIVENCHY BAG, SUCK IT FAUX LOUIS VUITTON IN FRONT OF ME IN LINE AT THE CVS PHARMACY!" because I really don't want a bag that screams that; I just want a bag that will be good to me until I'm six under. I can't put into words how exquisite this bag is, so I will just stfu now. But I highly doubt I will need another bag ever, ever again. Ok, done yakking about the Pandora now.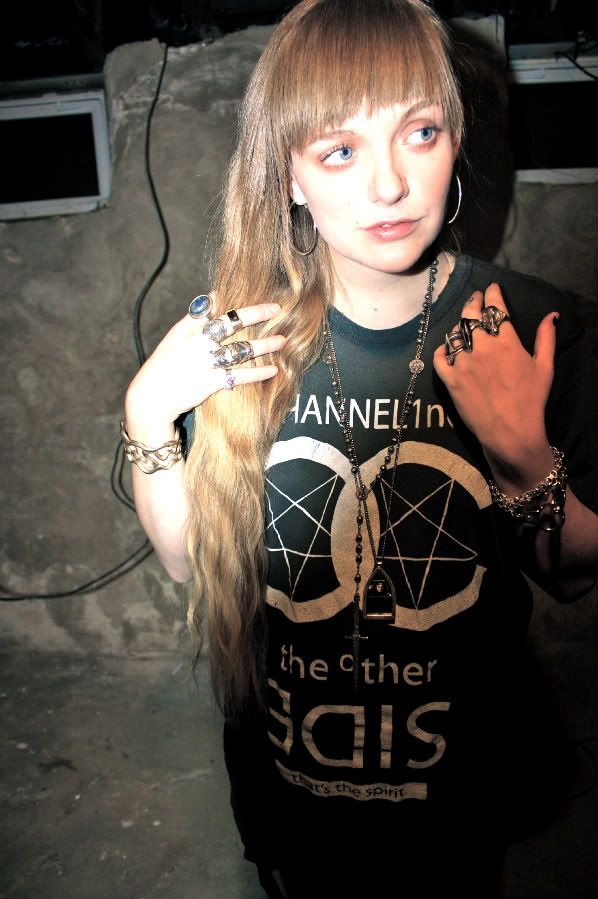 UNIF is my new favorite. I went crazy for what I assume is their fall collection. Then came the inevitable haul. When I first saw that asymmetrical faux suede/fur jacket/coat hybrid on Nasty Gal, I had to have it. Check. Then when I saw their t-shirts, my lower jaw almost busted off of its hinges and hit the floor. I instantly fell hard for two of the designs in particular: the "Channeling" shirt with the Chanel logo shamelessly defaced with pentagrams (DUH, it's destiny), and an off-white number with a colorful UNIF logo in Mayhem band logo style font (destiny again) atop an illustration of a cheerful Bambi bent over and getting ... hmmm, how can I say this tactfully ... butt-fucked by some dude, with Thumper happily watching -- hooray!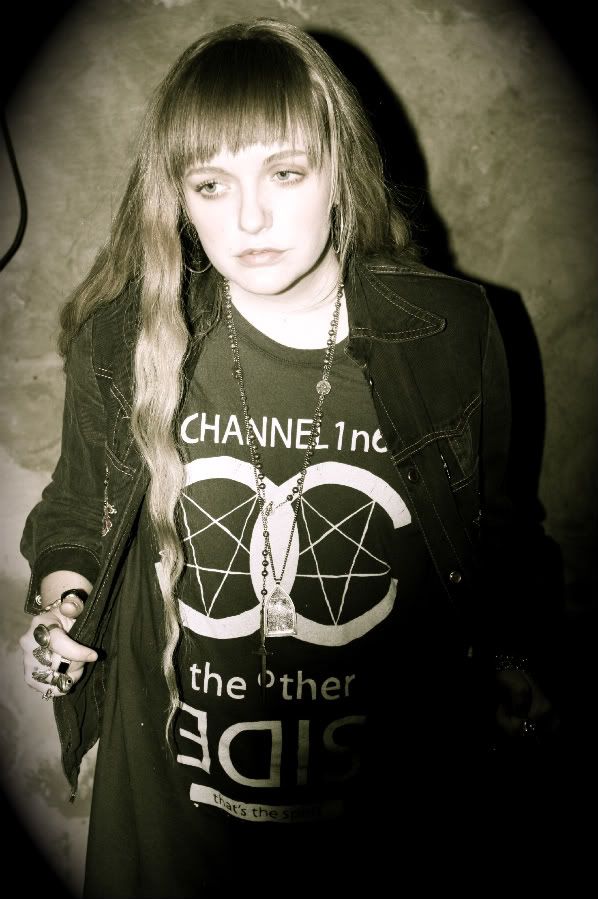 When I couldn't find the Channeling shirt in the size I wanted, I contacted the people at UNIF, who were so, so sweet and helpful. They found both shirts in my size, and the lovely Christine generously tossed into my order a distressed white sleeveless tee with a "Jesus Saves, I Spend" design emblazoned on the front. All three of the shirts are buttery soft, garner tons of WHEREDIDYOUGETTHATs, and the jacket is flawless. I really can't get enough of this line, so expect their beautiful shit to be a large part of my year-round wardrobe.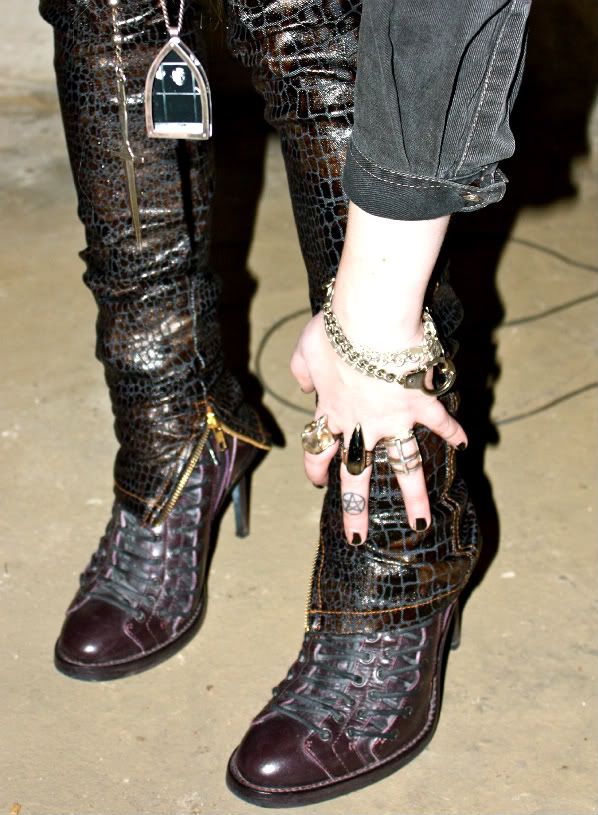 These jeans from New Zealand design house Stolen Girlfriends Club were my first post-pregnancy jeans purchase. How great does it feel to not have to wear jeggings or tights with bike shorts? So great. These are the most badass jeans I have ever laid eyes on, and they're extraordinarily well-crafted. The denim is heavy-duty with just the right amount of stretch, and the croc-embossed leather panels won my heart.




Thankfully for short women like myself who are too lazy to hem jeans, this pair has inner ankle zippers that allow one to wear tall boots to fill in the extra ankle space. Today, they seemed perfect for my Ann D triple lace stilettos. These also look good with the Lita boot, but I was not in the mood tonight to be tarred and feathered by the online Lita protesters. Haters can e-stone me to death for my stupid fucking trapper hat, pictured below, instead. That way, everyone can be happy :D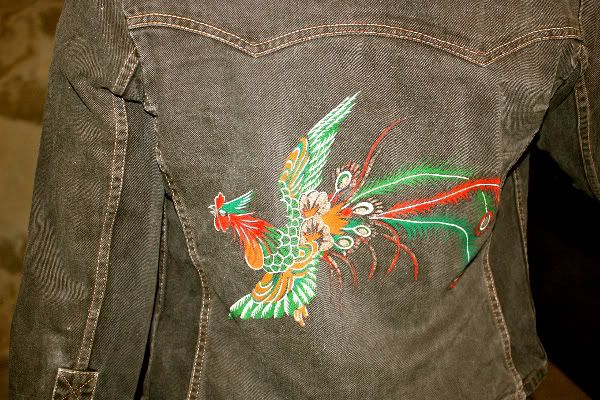 This denim jacket was purchased by my husband from E.F. Sly & Co. in 1970. He has a pair of matching jeans that came with this piece, but the jeans sit in our closet considering both of us are noooooowhere close to a 24" waist. I'm sure I would've worn the jeans to death if I were seven years old. However, I wear the jacket all the time. The detail on the bird of paradise embroidered on the back is wonderfully gaudy. Never to be outshined in his ostentatiousness, when Bobby first purchased it, my mother-in-law sewed sequins onto the embroidered parts in such an appropriately 70s matchy-matchy fashion. This piece also looks great with 70s era paisley button-ups with ridiculous collars. This was Bobby's "fuck you, I'm not going to the disco" ensemble. He's worn it onstage a few times ... then he got sober, grew a gut, and now it's mine.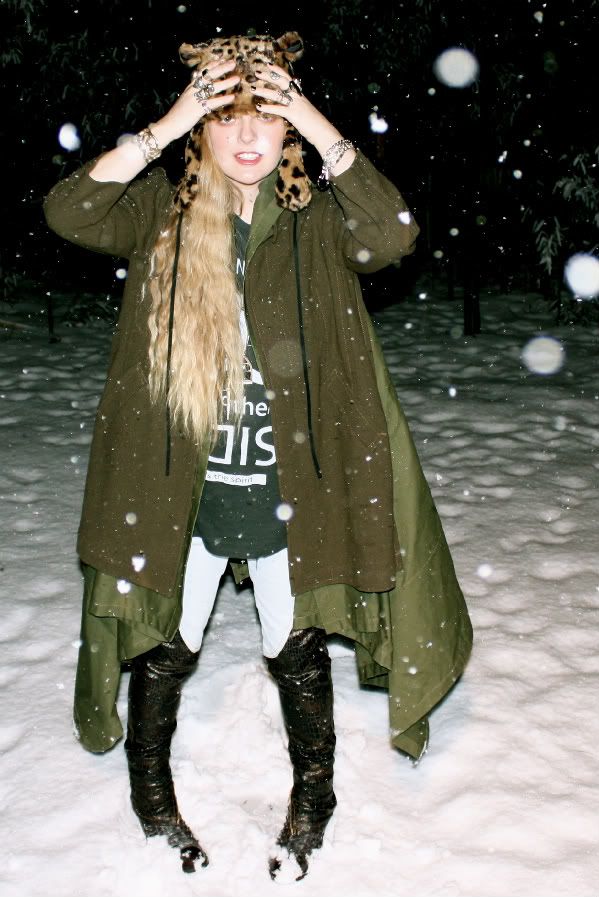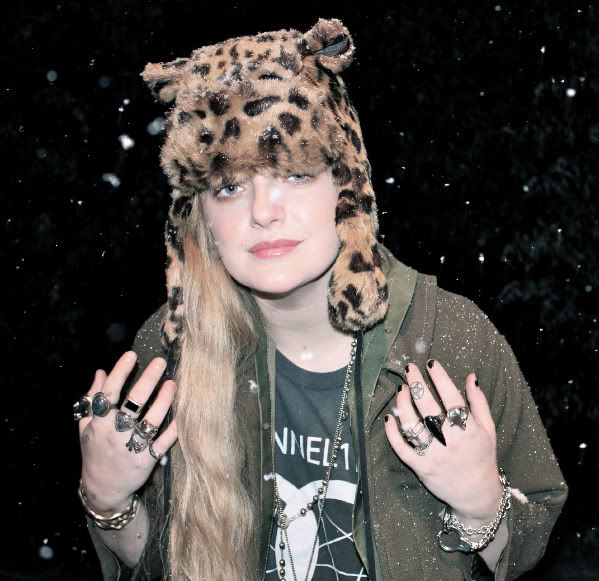 I really hate snow, because in this area it stays pretty for about 5 hours, then is dirtied up by the filthy essence of Philly, and before you know it you're trudging through a pile of gray sludge to get to your car or eating shit on a patch of black ice as you walk out of your house (happened to me last year -- thanks for shoveling the steps, ex-landlord). Last night it snowed hard, and it was pretty. ALSO, I said it last winter and I'm going to say it again: these Ann D boots are great in even deep snow. I challenge you to find another pair of stilettos that are good in the snow. Wearing Comme des Garcons coat, Topshop trapper hat.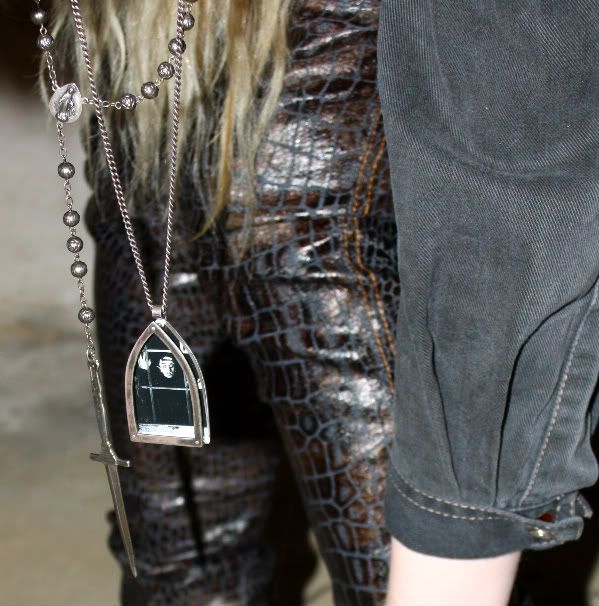 L.S.D. sent me this sterling Nosferatu pendant a few weeks ago. I love this piece. It's not excessively cheeky, and the coffin-shaped "picture frame" has her signature antiqued patina. I adore everything she makes -- nothing turns me green, I never get sick of wearing her designs, and on any given day I find myself throwing on at least one of her pieces before leaving the house. Thank you as always, Lotte!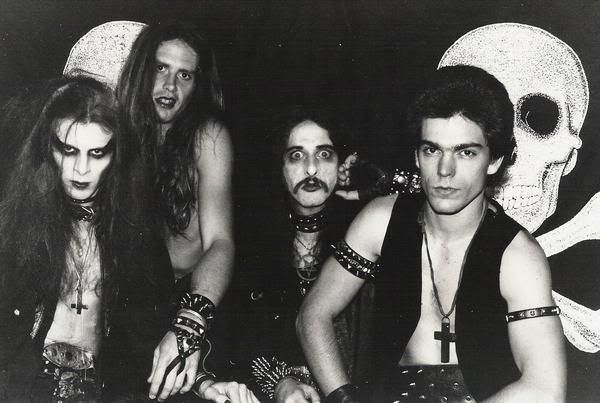 Some people have emailed me asking about the new Pentagram album. All I can say right now is: it is the best album since Day of Reckoning, everyone sounds amazing, and it will come out in late March or early April. I also want to say I am so proud of Greg, Victor, Tim, and Bobby for two very successful performances in Brooklyn and Rhode Island in celebration of Pentagram's 40 year anniversary. This year is going to be a big one for Pentagram, and I can't speak for the other guys, but I know Bobby is totally humbled, very excited, and overwhelmed that his musical vision has survived 4 decades. Pentagram is an entity in its own; a dinosaur just like its frontman ;) Thank you so much to everyone who supported -- it means the world!

I know, too much rambling and too many photos up in this post, but I have been slacking big time as a blogger and acquiring curating snagging buying/receiving some majorly cool shit lately, so I couldn't wait to ~shair with you guise~.

In all sincerity, thank you so very much for the continued support with this blog, which is now over a year old -- the whole thing has given me so many incredible opportunities, I've met some awesome people, and I really have a lot of fun with this this jawn. So again: thank you, thank you, thank you! Wishing you all a blessed 2011 &hearts