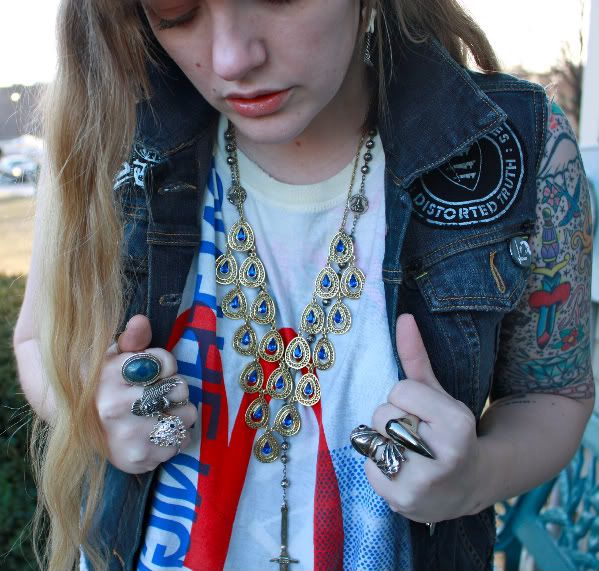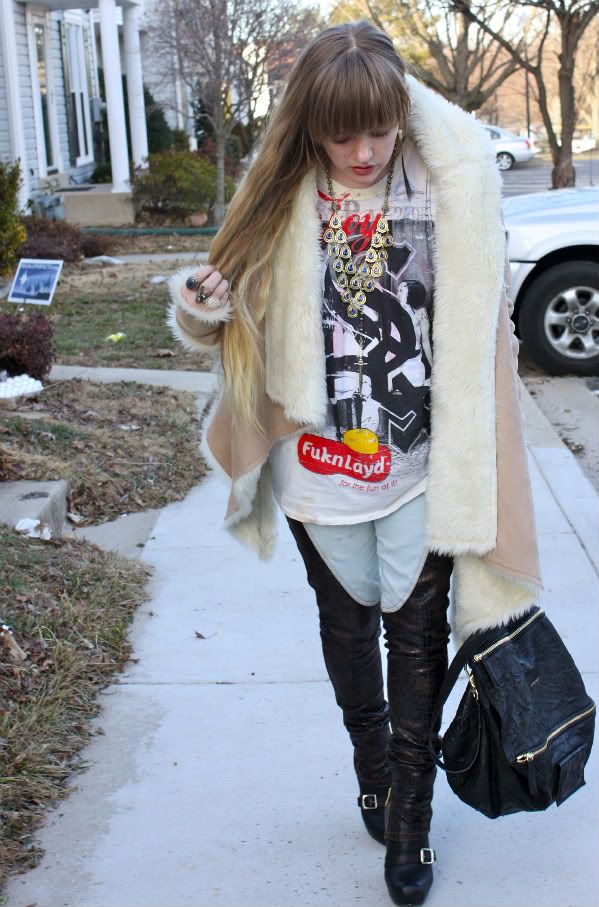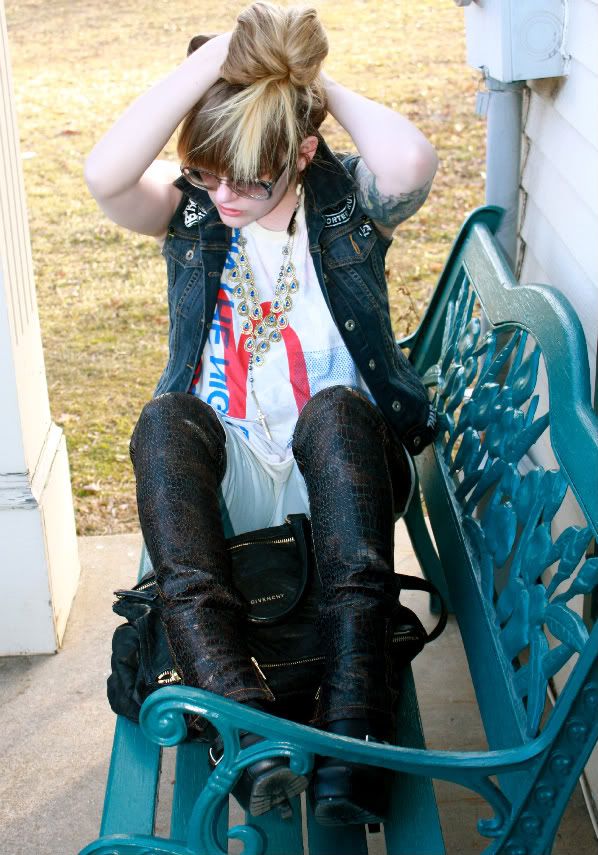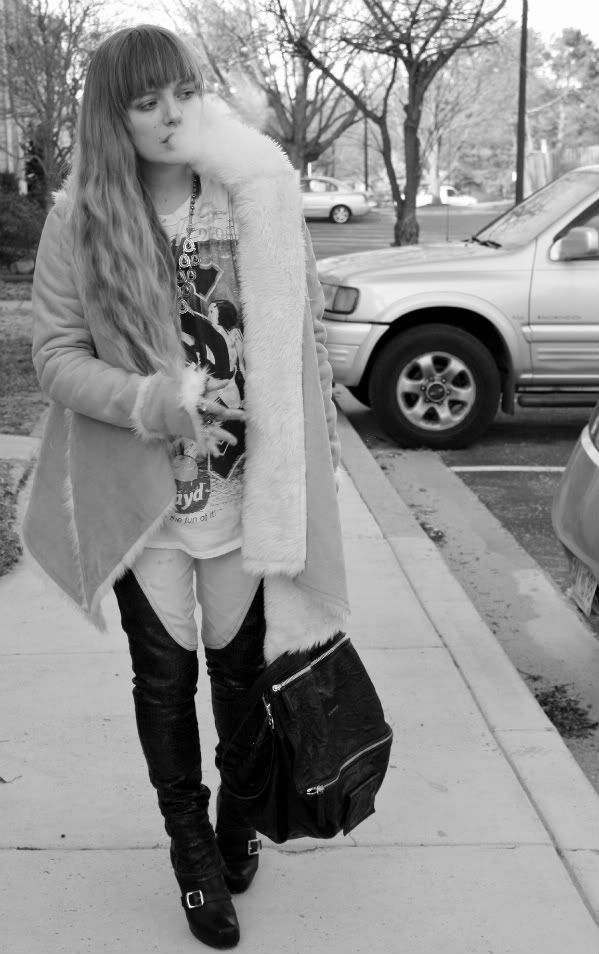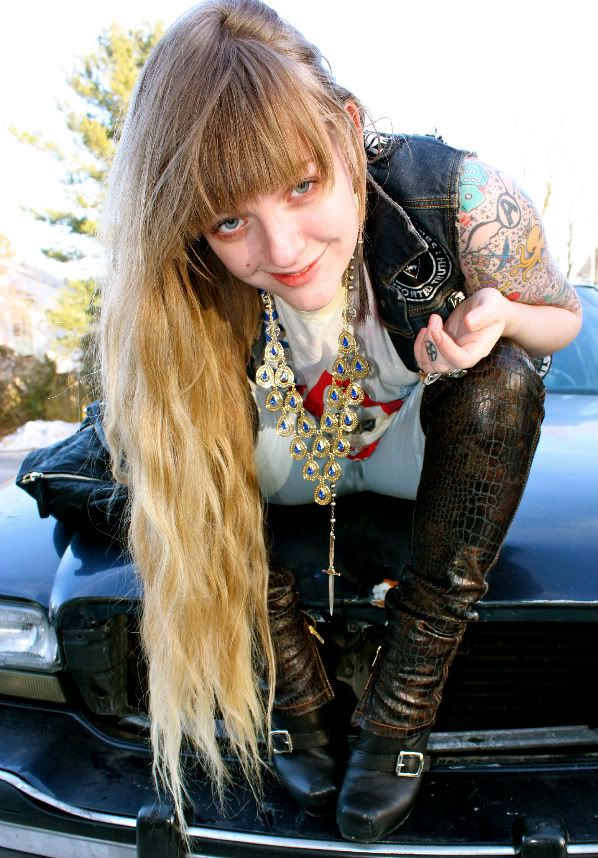 Asymmetrical shearling jacket & reversible Get Layd shirt courtesy of UNIF, Stolen Girlfriends Club jeans, DIY patched denim vest, Proenza Schouler moto boots, Givenchy bag, vintage necklace & Pamela Love dagger rosary, unisex sterling eagle ring courtesy of Alberto Juan, sterling & black gold talon ring courtesy of Leviticus, various other custom and/or vintage sterling rings.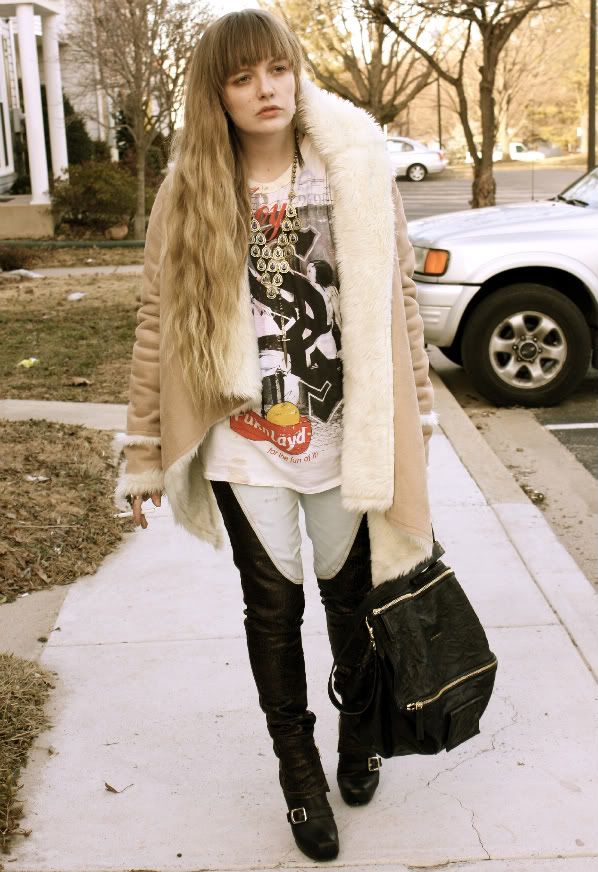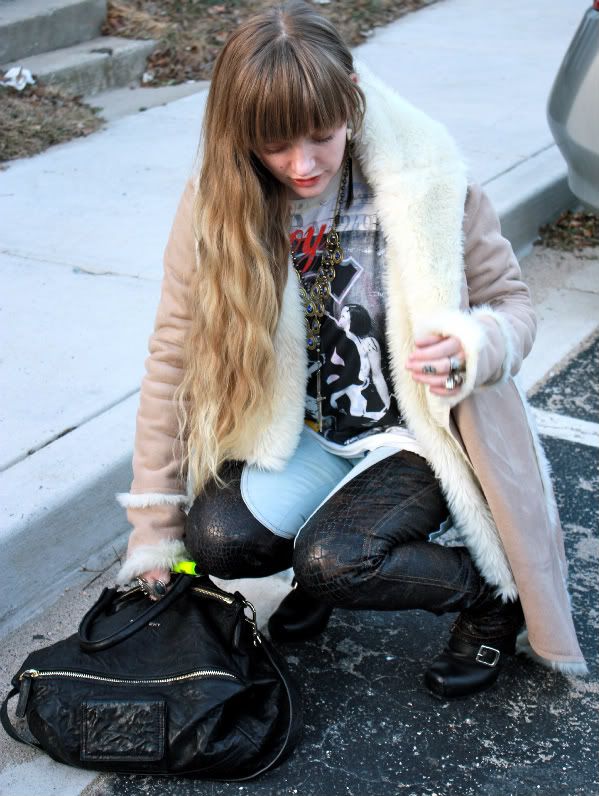 We took a day trip to Maryland yesterday to visit my in-laws. I like Germantown a lot; it is a new suburb, with new homes and beautifully constructed shopping centers. I wore UNIF, as I do pretty much every day now. This shearling coat is unusual -- it doesn't have any buttons, hooks, or a zipper for closure, and it seems to look different every time I wear it. I like that. My favorite part are the sleeves, which are extra long so I don't need to wear gloves.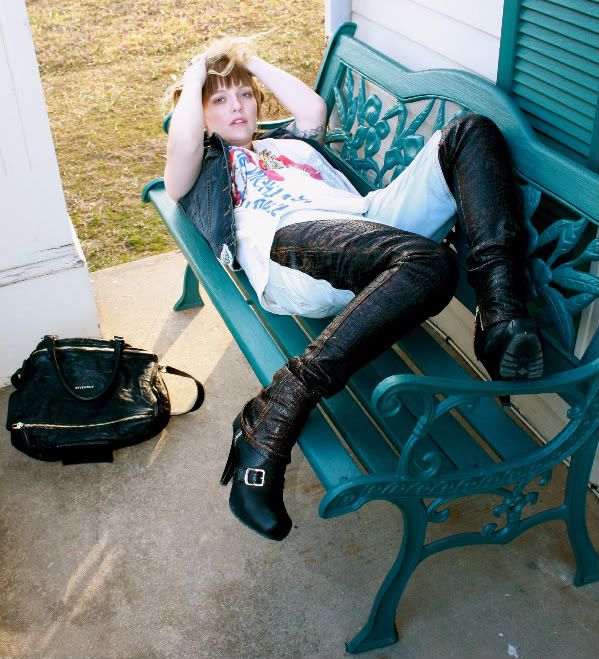 .



Before we even left PA, I spilled a cup of coffee all over myself in the car. I used an entire Tide stick to go to clean the SGC jeans, but you couldn't even really notice it on the shirt. That is one of many things I love about UNIF. They make shirts in which one can bum, steez, sleep in and then in the morning wake up, throw on a pair of jeans and wear it until it absolutely needs to be washed. Then you wash it in the sink and let it dry on your shower rod. They're just those type of tops, the kind of threadbare cotton blend shirts you search for on eBay for months and gamble on, hoping it wasn't constructed in the early 90s when t-shirts were manufactured in stiff 100% cotton with a print so thick you have to go over it with a razor blade until it hangs the right way. UNIF shirts come to you like they were worn for years, but the print kept its bright colors and just became part of the fabric, so you can barely feel it when you run your hands across it. My favorite.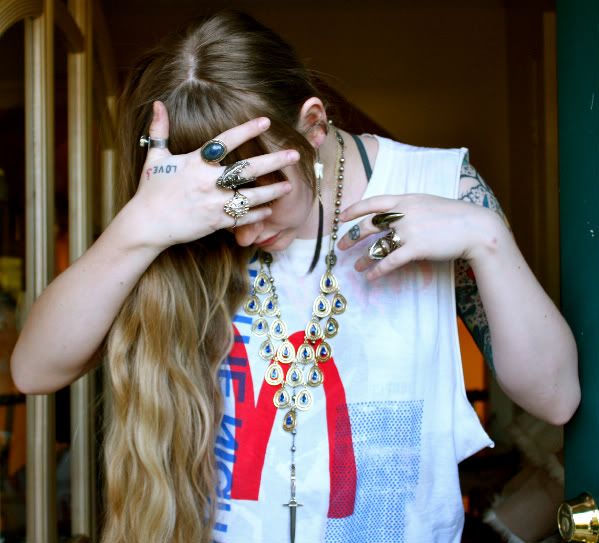 This particular shirt is reversible: the outside print features a relatively offensive print that utilizes the popular potato chip logo and font to read "Get Layd for the fun of it!" The inside print has the MacDonald's arches and reads "leave your number on the nightstand." I can't decide which side I like better, so I switched halfway through the day. The goldtone necklace with the blue stones is a vintage piece from the 70s that my mother in law gave me just about an hour before we took these photos. She gave me some other pieces too: a sapphire ring, some furs, and a vintage squash blossom necklace made from about a pound of sterling silver and some of the largest turquoise stones I've ever seen. I said to her, "Mom, I can't take this stuff -- you don't want them anymore?" She chuckled, adjusted her huge tinted glasses (much like my own), and replied, "Sweetie, when the hell am I going to wear it?"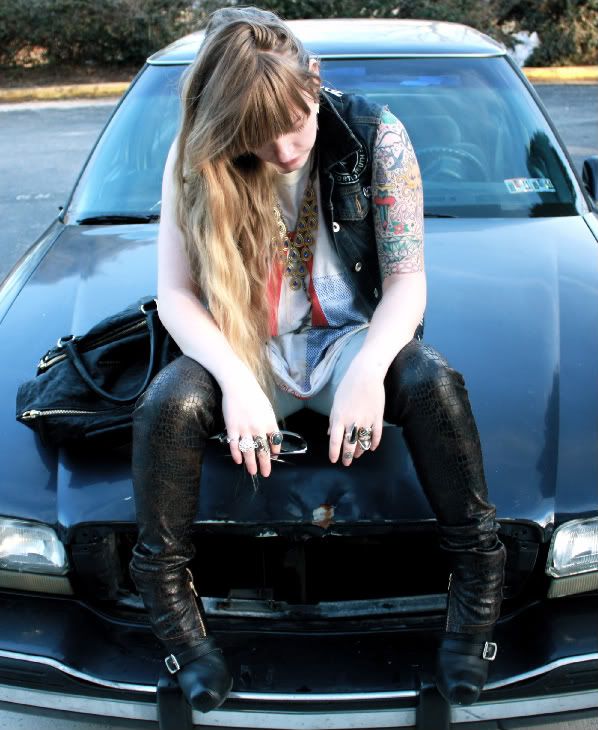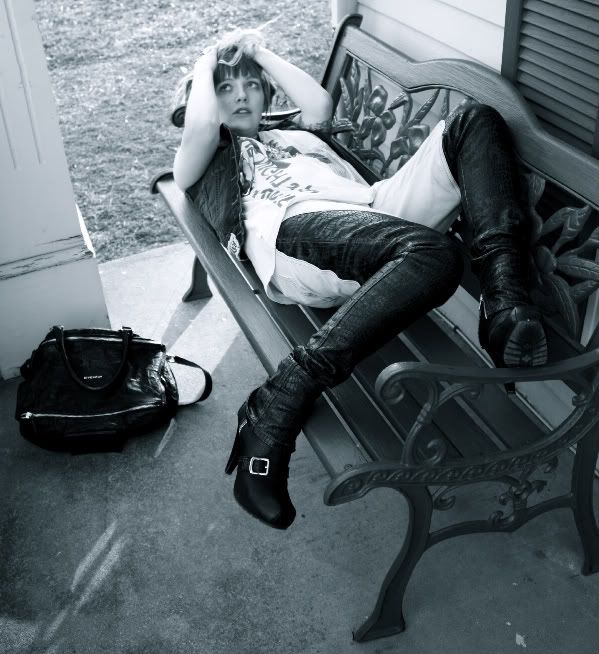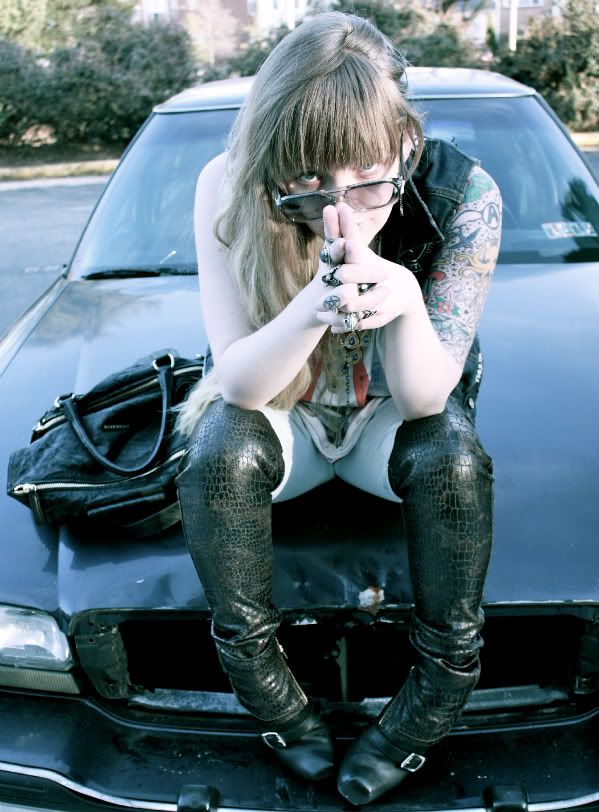 On an unrelated note, the official press release for Pentagram's new album Last Rites was recently published online by Metal Blade Records ... you can view that here. Last Rites will be available worldwide on April 12.

††††††††††††††††††††