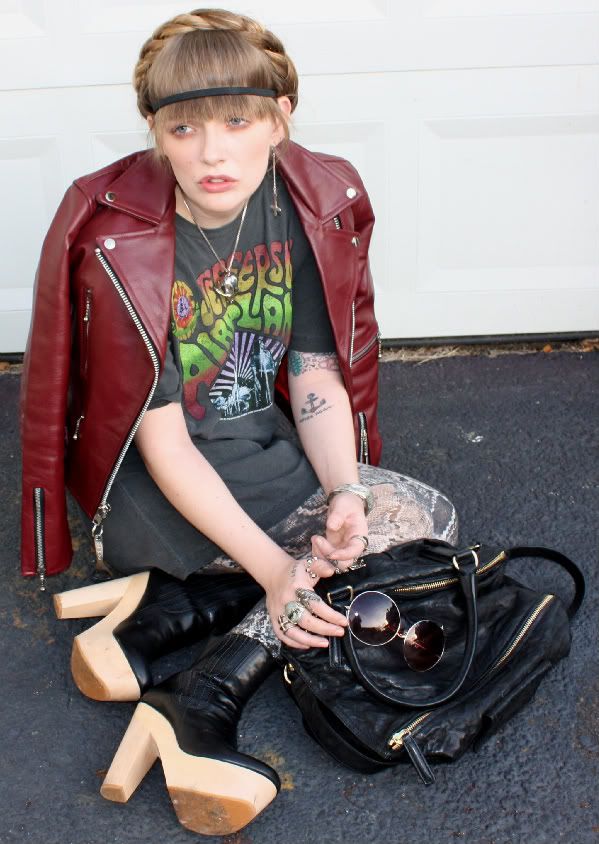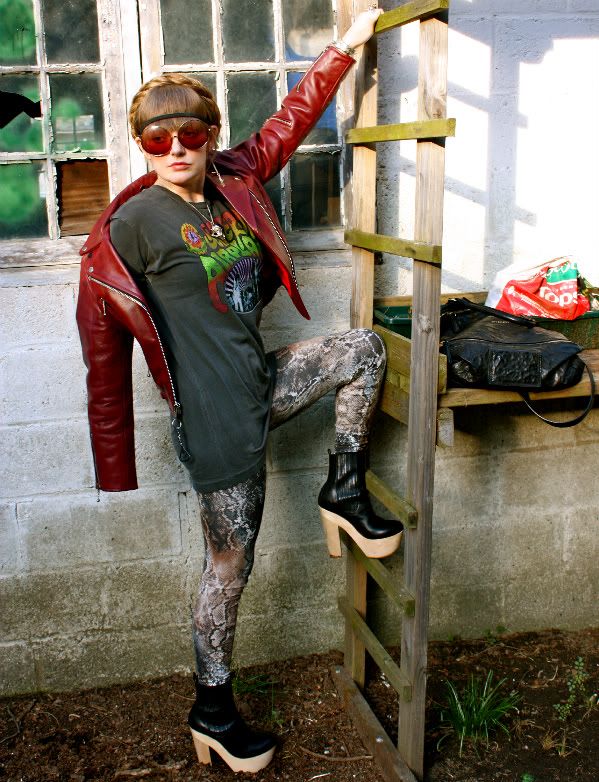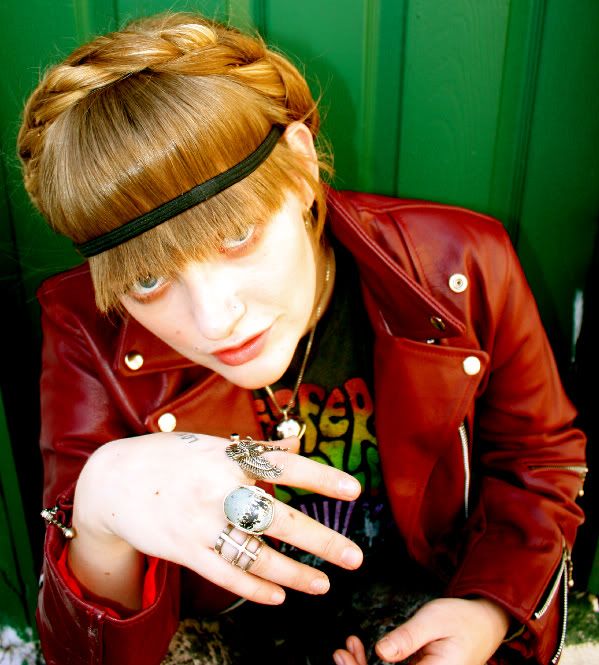 maroon Defector jacket courtesy of Straight to Hell, Jefferson Airplane t-shirt courtesy of Converse, Topshop snakeskin print leggngs, Chloe Sevigny x Opening Ceremony boots, Charles Anastase x Linda Farrow shades, Givenchy bag.

Jewelryjunk: the underworld owl skull pendant courtesy of Blook Milk. Sterling & emerald fox ring and butterfly skeleton ring courtesy of Concrete Polish. Unisex sterling eagle ring courtesy of Alberto Juan. Vintage sterling/onyx rosary ring (right thumb), XL sterling & jasper ring, Pamela Love cross ring. Devil's Hand cuff courtesy of Actual Pain.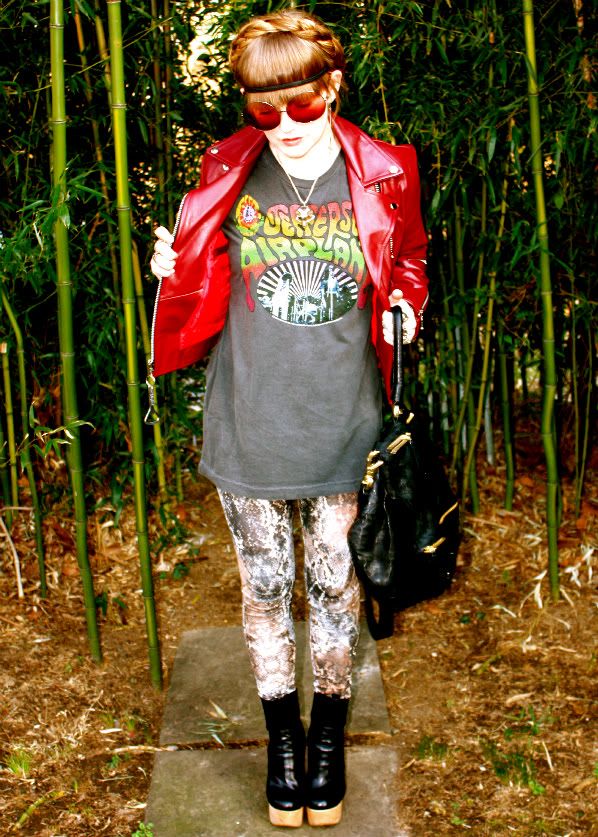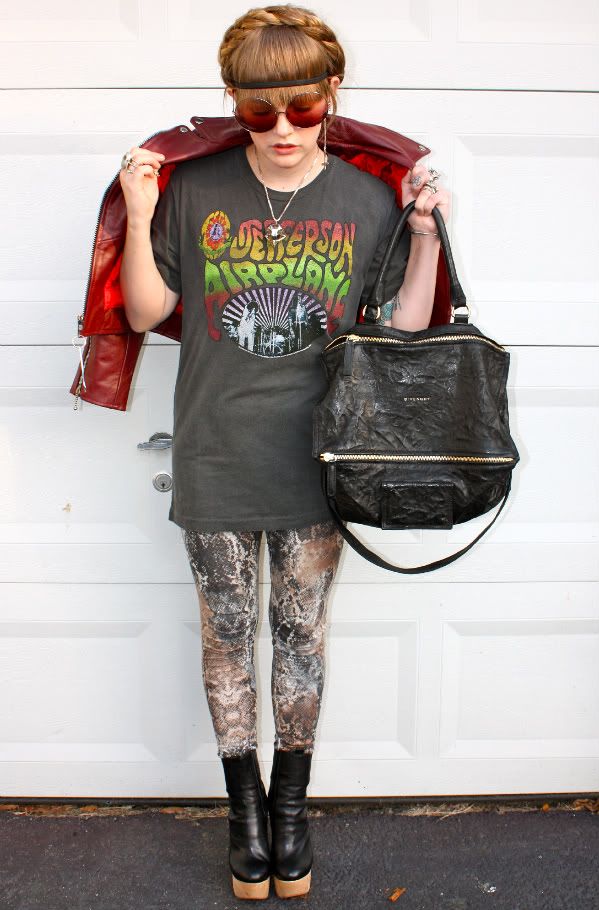 The Defector jacket, like the Offender jacket I wore several posts back, is made of the same supple, pebbly buffalo leather, has Straight to Hell's signature red lining and stamped bottle opener zipper pulls. It differs from the the Offender, however, which is more of a cafe racer style moto jacket, with the half-collar that snaps at the neck. The Defector is a true-to-itself, no bullshit traditional British-style moto jacket, which I generally prefer because they're so versatile.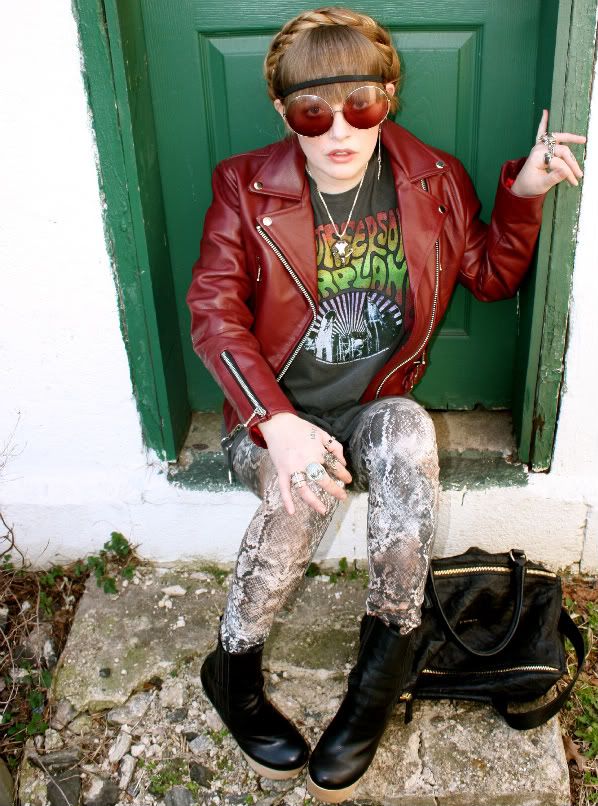 Once again, I am stunned by the quality of the garment all around. All zippers and snaps are fully functional, which is great because the collar can be popped up or snapped down. The Defector also has both a zippered sleeve pocket and an inner breast pocket, which I love (cell phone in the breast pocket, cash in the sleeve, and I'm out the door). The leather wears in very quickly -- after about a week of wearing it for a few hours every day, it breaks in just the right places. My husband has two Defectors: one black with red trim (which he wore in this month's Decibel magazine), and the other a very sleek, almost electric blue. The rich brick color of my own is outstanding ... while black is always a good option, this color goes with nearly everything in my wardrobe. The sunny, breezy weather in Philly today was perfect occasion to snap some proper photos of this beauty.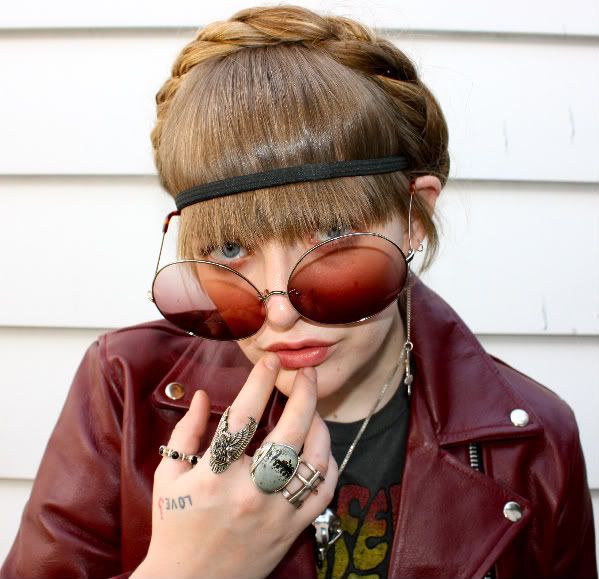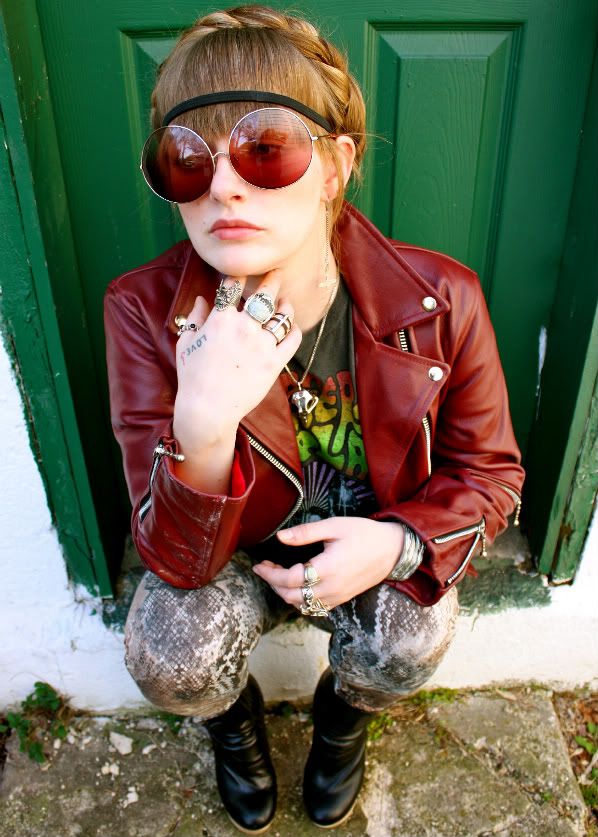 How great is this huge marbleized jasper ring? Bobby and I both got ourselves one from this neat shop on etsy called Hard Candy Gems. This girl has virtually every color scheme of every [massive] non-precious stone under the sun, and they're VERY reasonably priced. Granted she does use sterling wire, but the way she sets the stones is pretty remarkable. She even has a policy that if your stone falls out, she'll replace the ring for free. I'll definitely be needing more of these. I was recently re-united with what is probably one of my favorite rings of all-time, my vintage sterling/onyx rosary ring, which was hiding under our bed frame for months. I just adore this ring for some reason, and I'm thinking about re-creating it (with a little bit of a demeted twist) for the Käärme pre-fall jewelry colletion.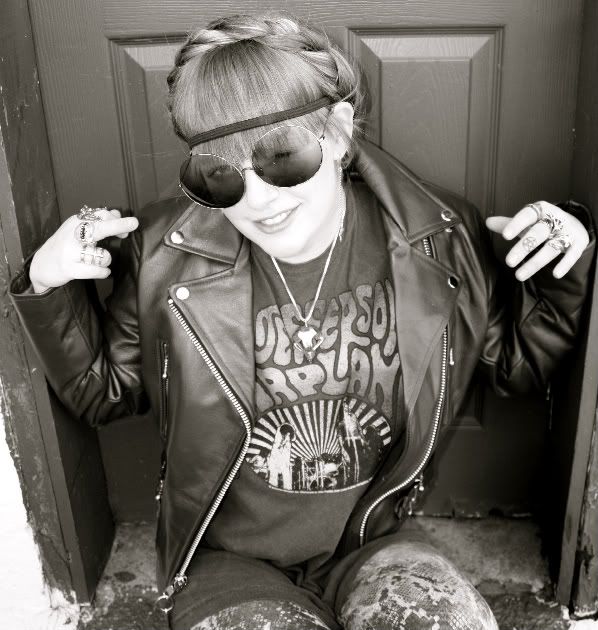 Speaking of which, inventory has started coming in for Käärme, we're putting the finishing touches on some other pieces, and our lookbook should be online next month, along with the first pieces of Neo-Natal D.O.P.E. (s/s '11) available for purchase. While we continue working on kaarmeconcepts.com, please feel free to "like" us on myspace and follow our twitter to stay updated.



No sneak-peaks of RTW or accessories yet, that's top secret for now ... but I promise, it's exactly everything Rocky Dennis would wear on his date with that blind chick.

††††††††††††††††††††