Chloe brown lace-up boots. Love these. The coat was an incredible find at a local vintage shop called Sweet Jane. It's a 50s replica that was made in the 70s. The best part is a huge inside hip pocket. The Pentagram pendant belongs to Bobby and was a gift from a very dear fan. It is a replica of the sterling silver one he used to wear in the 80s: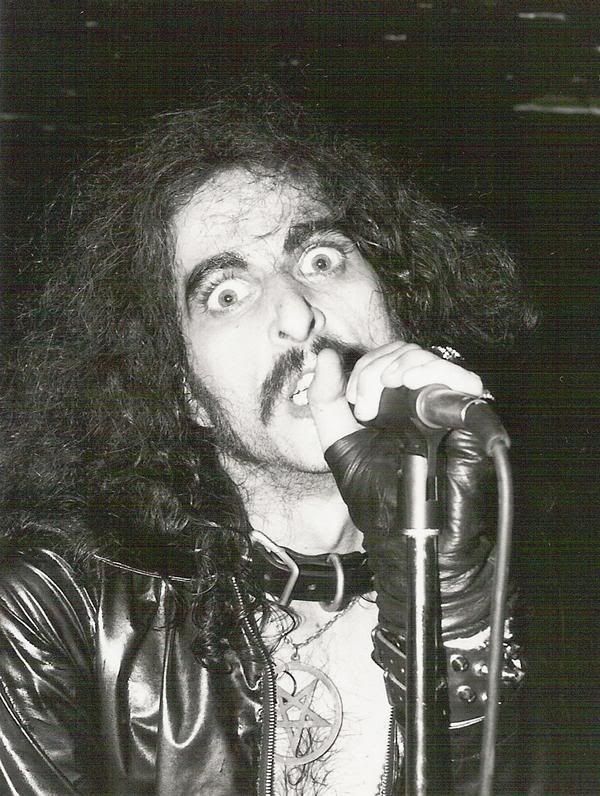 This is probably the most well-known photo of my husband, taken by Jeffrey Lee.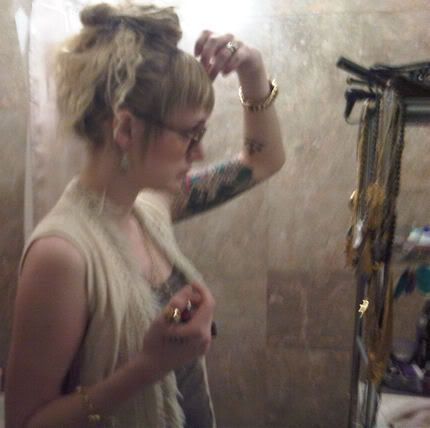 My bathroom, with South Philly-appropriate marble walls. You can see my loads of vintage costume jewelry hanging on my toiletries rack.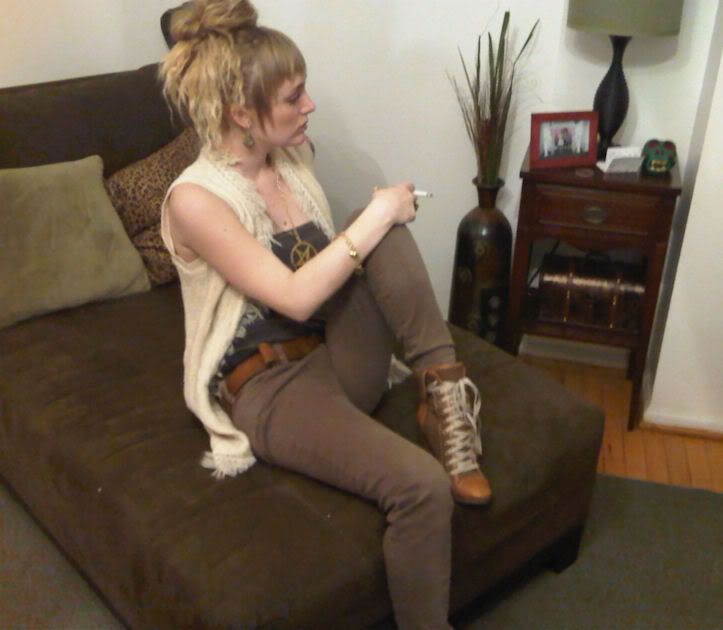 BOYY "Slash" bag.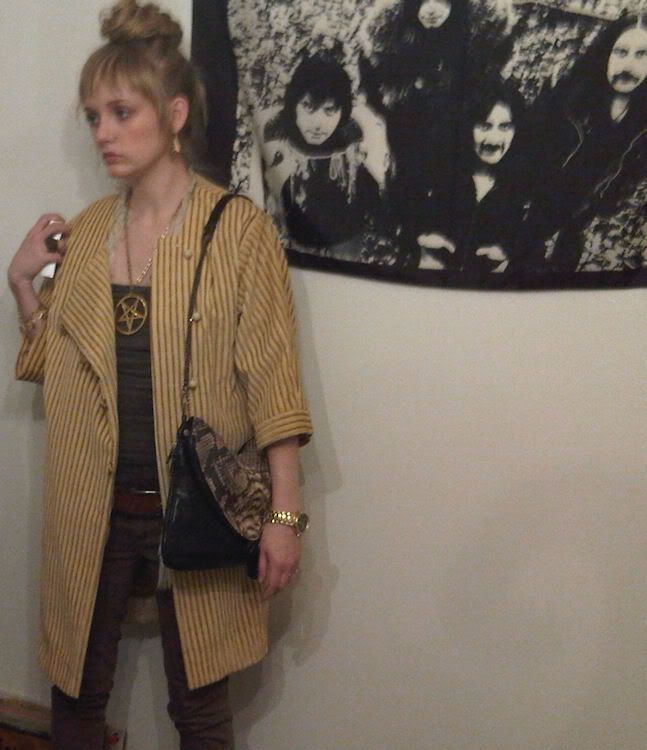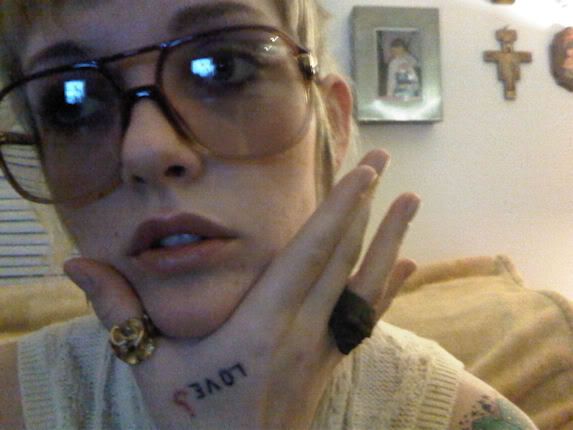 The ring I am wearing on my ring finger is by Driftwood Skull, which I got at Opening Ceremony in NYC. The thumb ring is vintage from an estate sale. I'm also wearing a charm bracelet, a gift from my Nona to which she adds charms every year.

Coat: vintage
Sweater vest: vintage
Tube top: Free People
Jeans: Urban Outfitters
Bag: BOYY
Glasses: Luxotica/Ray Ban (custom)
Jewelry: Vintage, handmade, custom, Driftwood Skull
Shoes: Chloe

Today Bobby wore all vintage: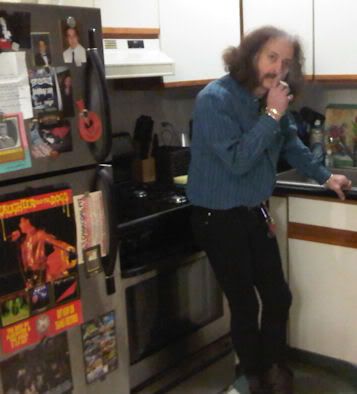 Nice busted button honey, lol.

Shirt: his father's
Pants: vintage
Boots: vintage, cuban-heeled
Jewelry: All custom pieces, sterling silver or white gold

I got my bangs and sideburns trimmed yesterday. I always hate the way stylists dry my hair, so before I left the salon, I braided it and tied it ontop of my head like I always do when it's wet: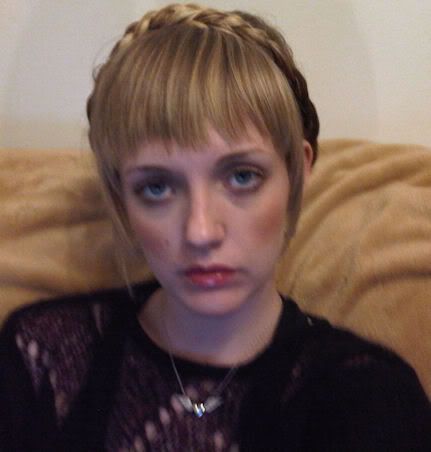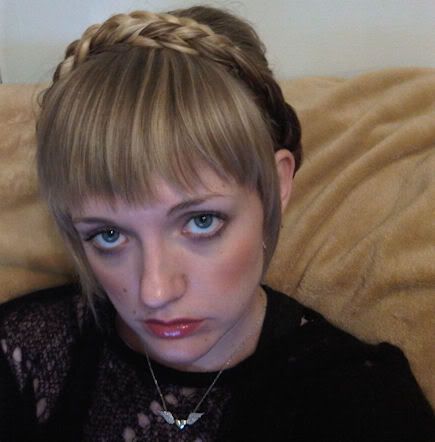 My hair is so long. It's such a pain in the ass that I never heat style it anymore. The sweater I'm wearing here is Rick Owens. The necklace is a custom white gold and diamonds piece that was a gift from Bobby. It's a shame I didn't take photos of the whole ensemble. I also wore a black denim miniskirt, black&white patterned tights, Proenza Schouler black platform ankle boots, and a black leather Furla bag I've had forever. Oh, and this black floor-length quilted faux fur-lined coat.

I got these Chloe Sevigny for Opening Ceremony buckle booties a few months ago, but I wanted to share them anyway: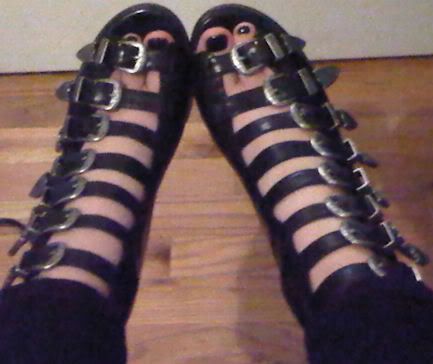 Peaches closes the post with her new toy from Doggie Style: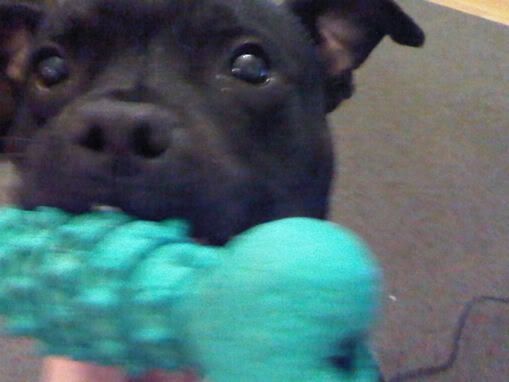 These Blackberry photos won't be standard; I'm just using them until my good camera is configured.

Have a great evening!