Charlotte Olympia's designs have been catching my eye lately. Maybe it's the exaggerated silhouettes of the shoes or maybe it's just that signature little gold spiderweb on the bottom. Either way, my mouth has been watering to splurge on a pair of new kicks, like the outrageous striped wedge "Genie" pump:




How incredible is that little fringed zipper pull? What a great throwback detail.

Or this updated black pump with mirrored gold heels ... I love the tiny red detail on the platform: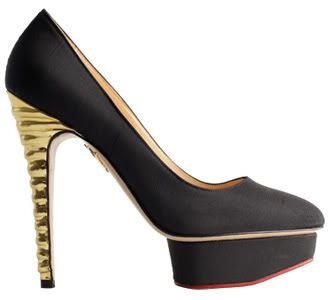 These designs are just intrinsically fun and rock n roll in a very early 70s way. How sexy would that pump look with a striped minidress and lots of chunky costume jewelry (think 60s or 70s Avon mailorder shit). Sonia Rykiel made a platform several seasons ago that everyone hated (some choice adjectives included "repulsive"), but I personally loved: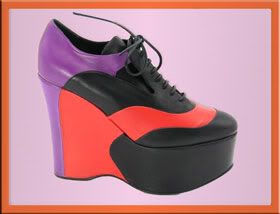 The "Billy" platform. For me, this shoe evoked that same throwback feeling. They're so hideous that they go past hideous and back to good again. I just want to get a pair and go watch Frijid Pink live in some club that holds 250 people. Psychadelia at its best. My husband's guitar player, Randy Palmer, had a similarly ridiculous pair in the early 70s: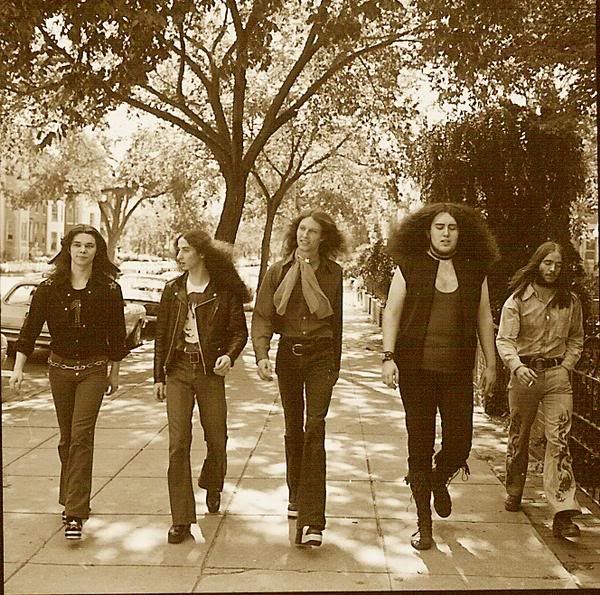 Randy (R.I.P.) is on the far left, and Bobby is next to him. I do believe these platforms had stars on them. How amazing. The shirt Bobby is wearing under his leather moto jacket was a gifted to me a couple of years ago. It is an original Lonely Ladies design with Iggy Pop's (then Iggy Stooge) face on the front. Also check out Geof O'Keefe's suede fringe moccasins and Greg Mayne's embroidered bellbottoms. Picture credit: The Pentagram Archives.

Anyway, I just picked up this Pamela Love dagger rosary from Bona Drag: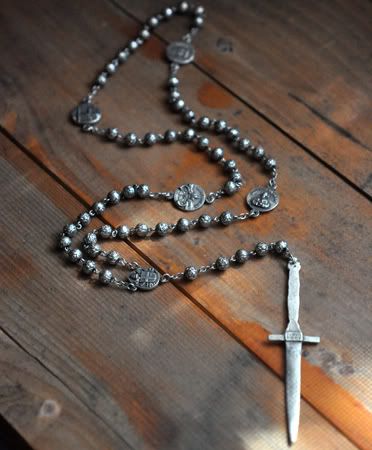 How cool is this piece? A little blasphemous for a Catholic-educated girl like me, but I'm sure Christ understands how badass it looks. Also couldn't resist this oversized hooded poncho from Obesity + Speed:




This will get a lot of use out of me on tour, when I'll be in freezing cold states like Wisconsin.