Today Bobby and I went to South Street, which is Philly's much more ghetto equivalent of the Village or Georgetown. It is the home of quirky tourists, plenty o' posers, body piercing and tattoo enthusiasts, and 13-year-old schoolchildren shopping without parents' consent. It also makes for some cool shopping, with its plethora of drag stores, costume jewelry, funky art, head shops, and vintage boutiques.




I wore a pretty similar outfit today; It's been my virtual uniform for the past week or so. I'm standing outside of a vintage consignment shop called Retrospect, where I found the most incredible 70's brown bomber jacker with paisley lining. I'll post it soon.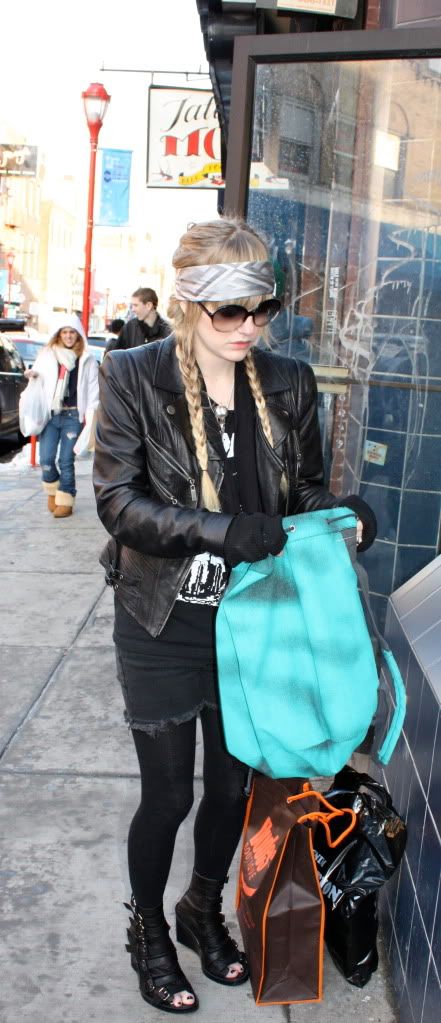 Bebe leather jacket, Rick Owens cardigan, DIY shredded Windhand shirt, shredded black denim shorts by No Future, leggings (?), Ann Demeulemeester boots, Balenciaga sunglasses, Fendi scarf as headband, Margiela bag, Pamela Love & Chanel jewelry.





Tattooed Mom's, or more affectionately known as "T-Mom's," is the local watering hole for Philly's steeziest.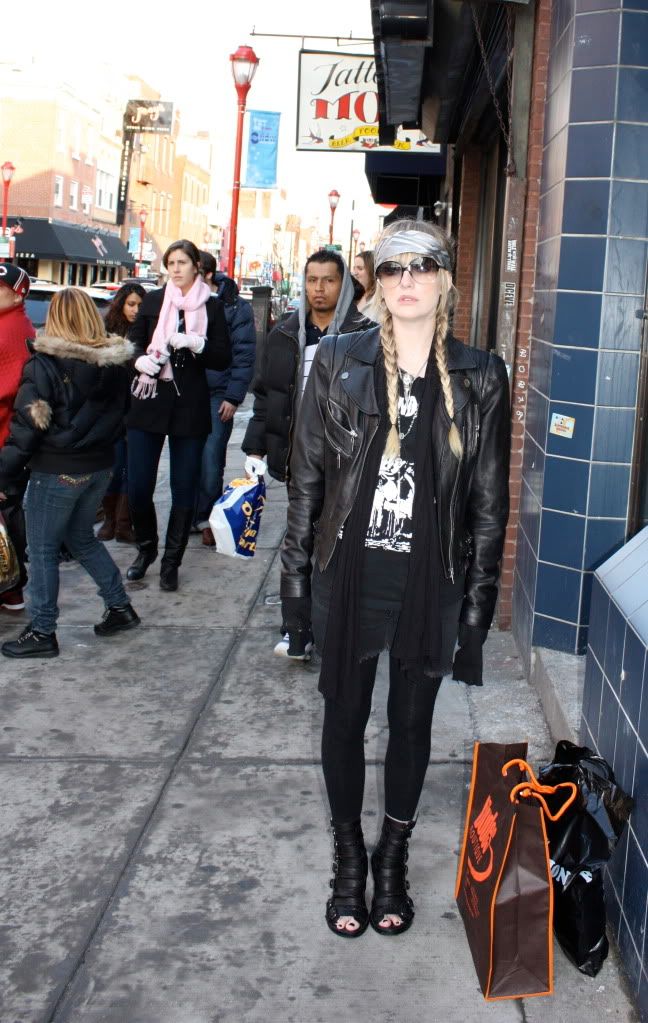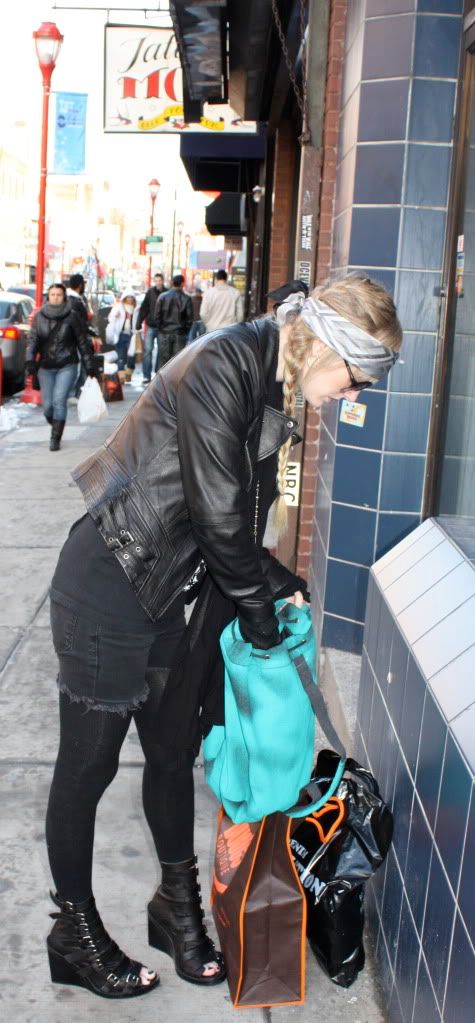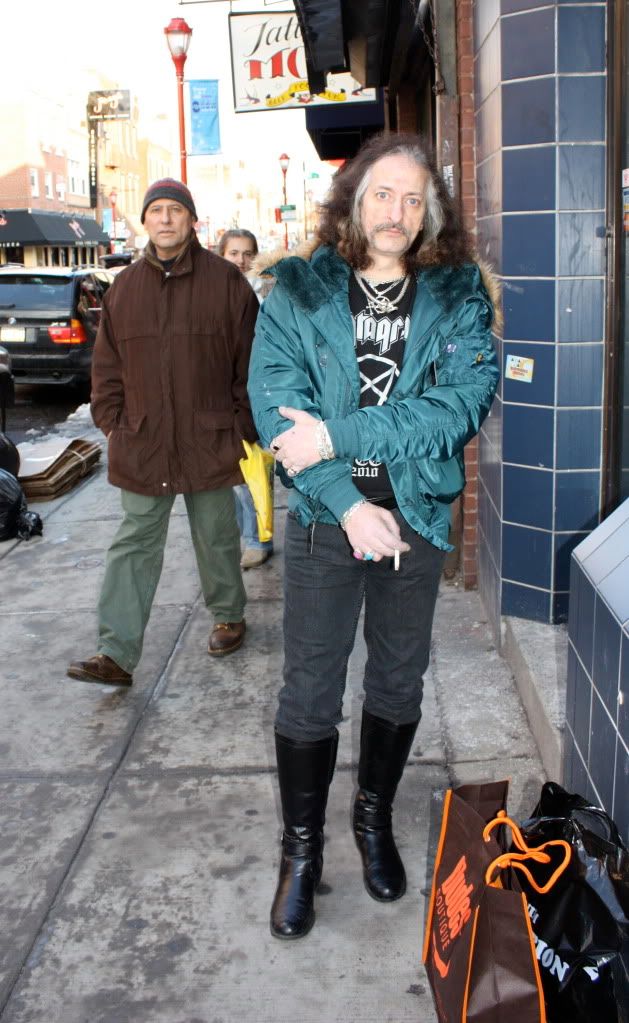 Bobby wears: Alpha flight jacket, Pentagram t-shirt, Tripp NYC jeans, and his own high leather zipper boots.

Dudes Boutique (621 South St, 215-928-0661) is a leather goods store where, true to its moniker, I always find something leather and good. I got this amazing blue tooled leather briefcase by a company called WaBags that I absolutely love; I use it as my laptop bag on tour. They carry very high quality leather for reasonable prices, and guarantee their products for a year and will fix them free of charge if anything goes wrong. The owner's name is Dave and, also true to the store's moniker, he is the nicest dude.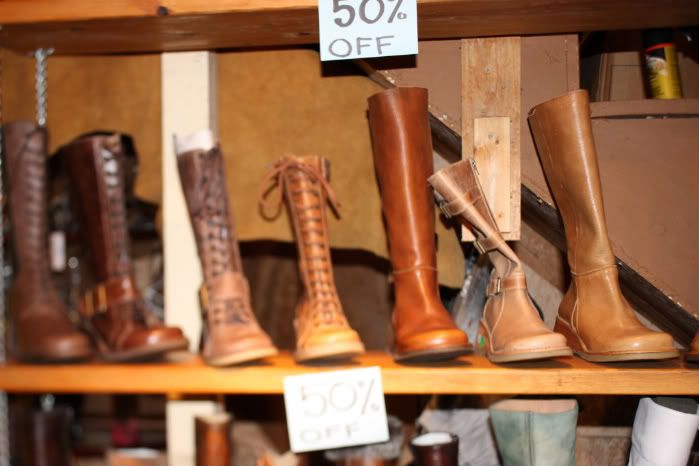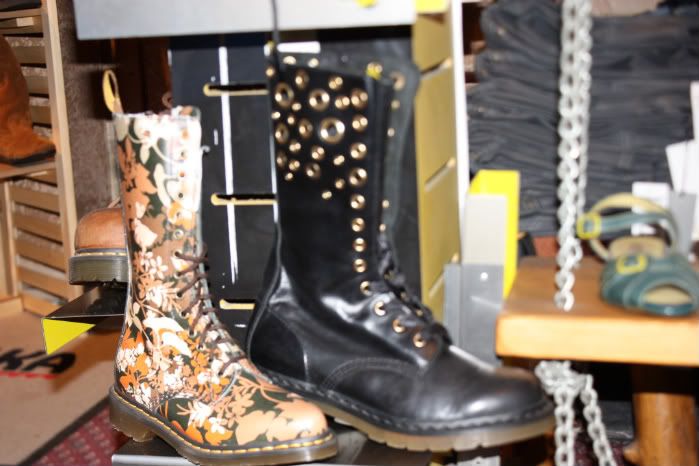 These flowered Docs would look great with a 70s print dress and a courderoy blazer.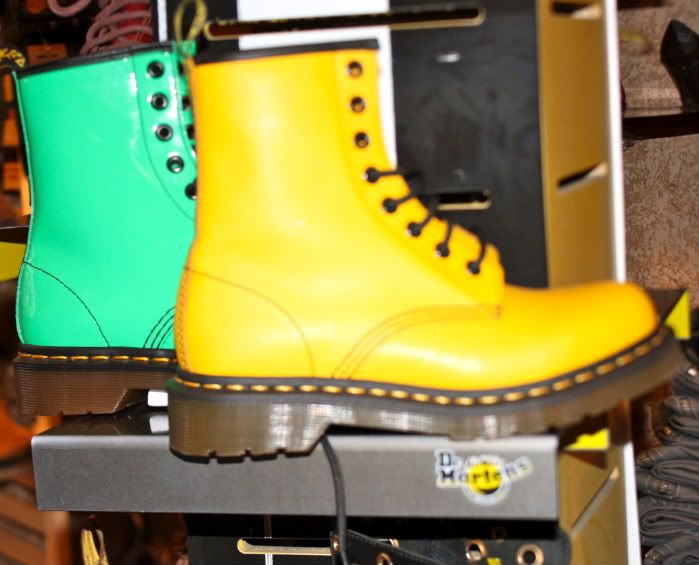 Obviously, I bought the patent green Docs. They're electric green in person; my camera sort of failed to capture their true awesomeness.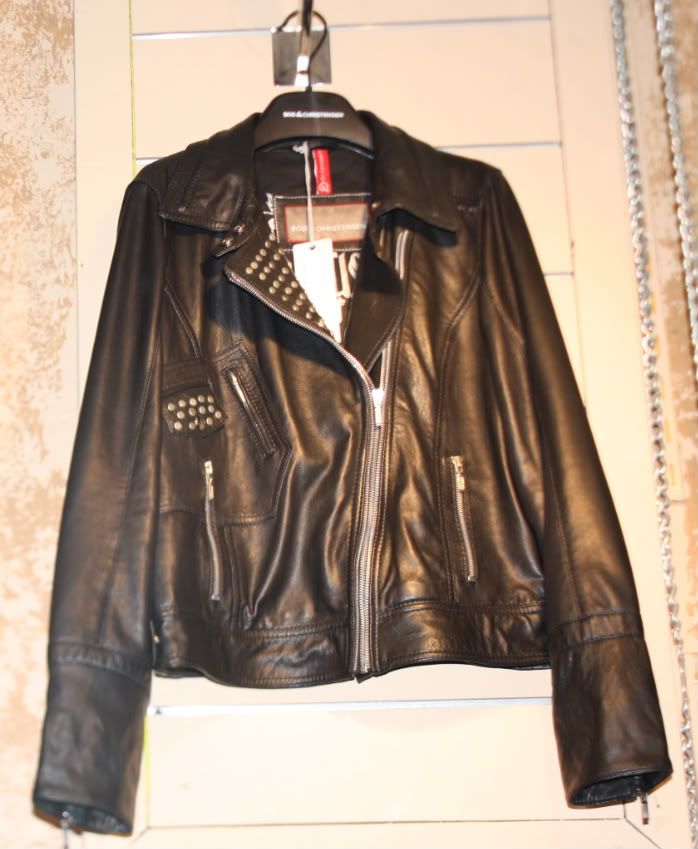 Amazing studded leather jacket that was custom designed by the owner. I wish I had gotten a close-up of the zippers; the teeth were all alternating colors. So cool.

I used to go to this shop SoHo (521 South Street, (215) 440-9922) when I was like 13 to get my ears pierced. I'd always come out with one extra hole in my ear, and an awesome t-shirt or piece of gaudy costume jewelry. SoHo it is not, but the cool owners are aware of the tongue-in-cheek nature of this store. They carry a wide selection of trendy accessories, cheeky shirts, and I believe will still pierce your ears for 8 bones, LOL. I always drop in here when I'm on South Street and usually come out with a satisfyingly kitschy goodie. Tonight it was a big oversized yellow Wu-Tang t-shirt.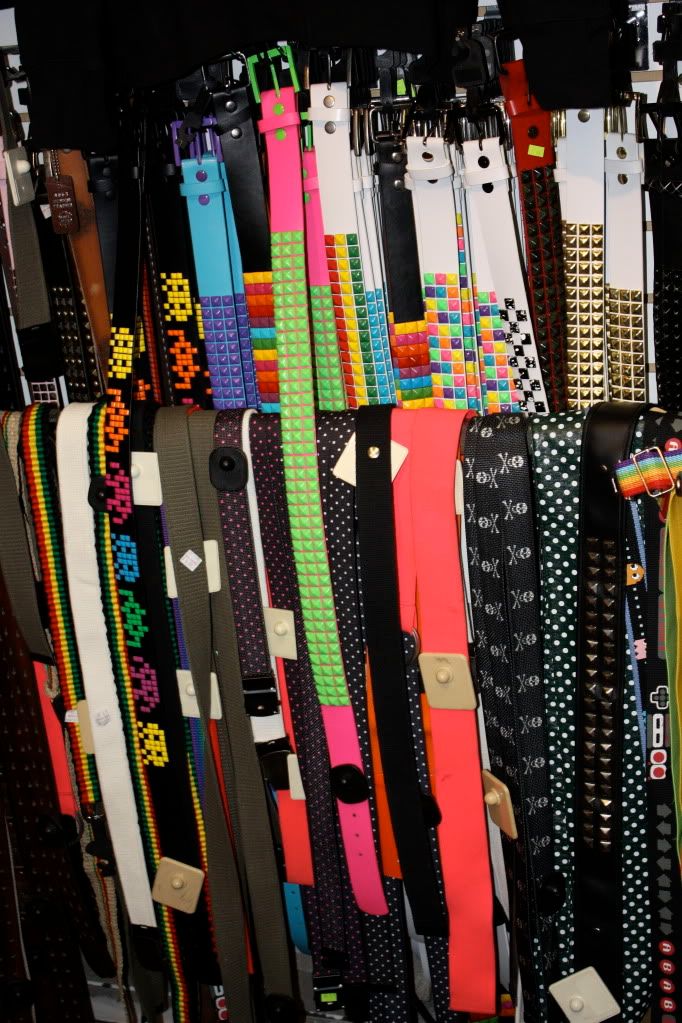 Belt overload! Love the neon colors; it reminded me of FRUiTS. I was tempted to buy the gold-studded white leather 3-row one for myself.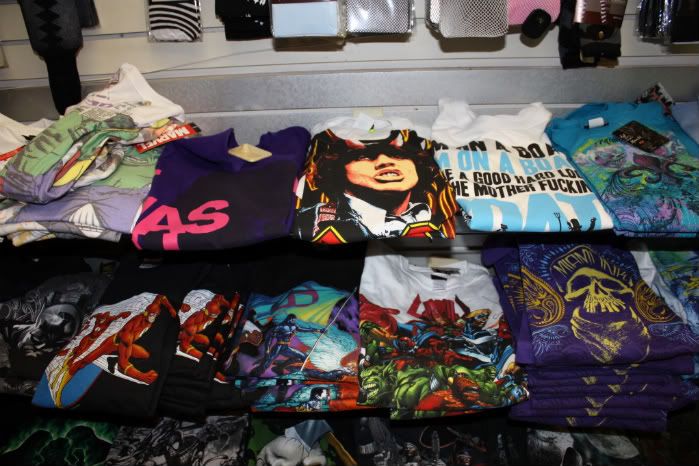 Lots o' trendy shirts. Note the cool oversized print AC/DC one.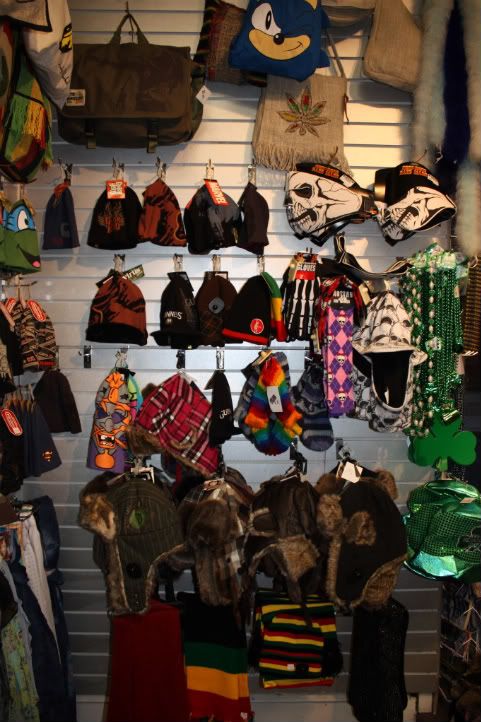 Knitted hats and canvas bags.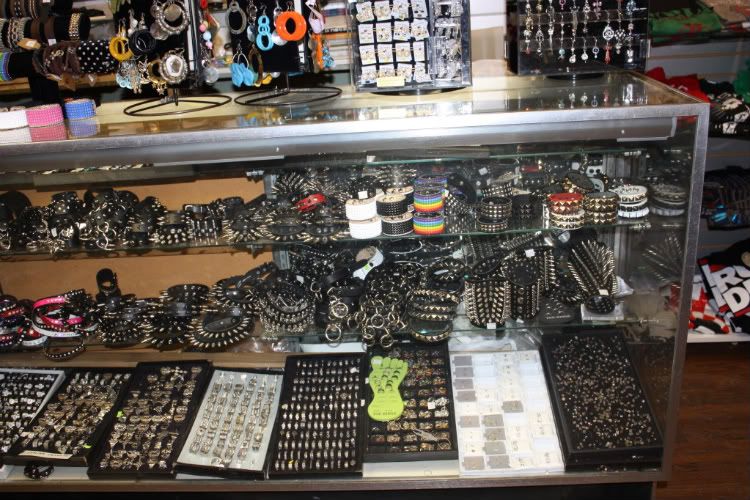 An overdose of a case full of studs and spikes. I'd still rather have the Givenchy spiked headband, but you can fashion a much cheaper one with this shit!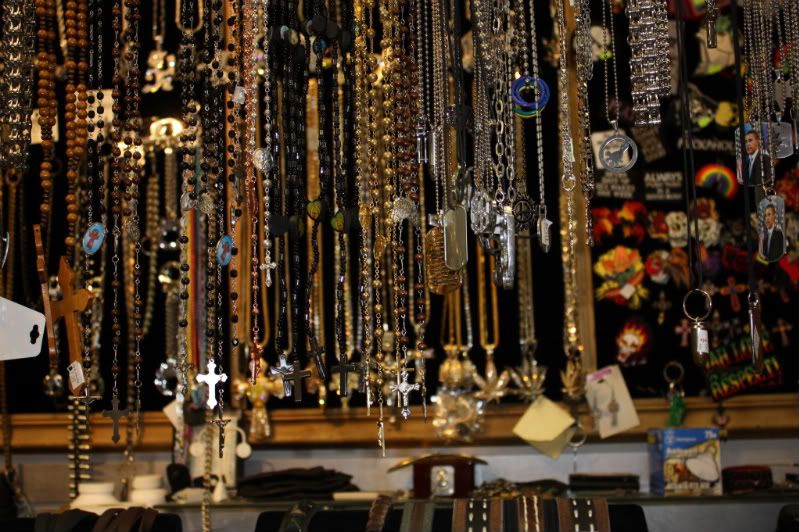 WWJD? Tell you to buy like 5 of these fashion rosaries and look rly fly.

Crash Bang Boom (528 South 4th Street, (215) 928-1123), formerly Zipperhead, was THE store for punk rock essentials when I was trying to out-stud and out-spike everyone in the Western hemisphere. Years ago, before they became popular, Zipperhead was the only place I could get pegged jeans. Years later, I still love visiting this shop. The photos basically say it all.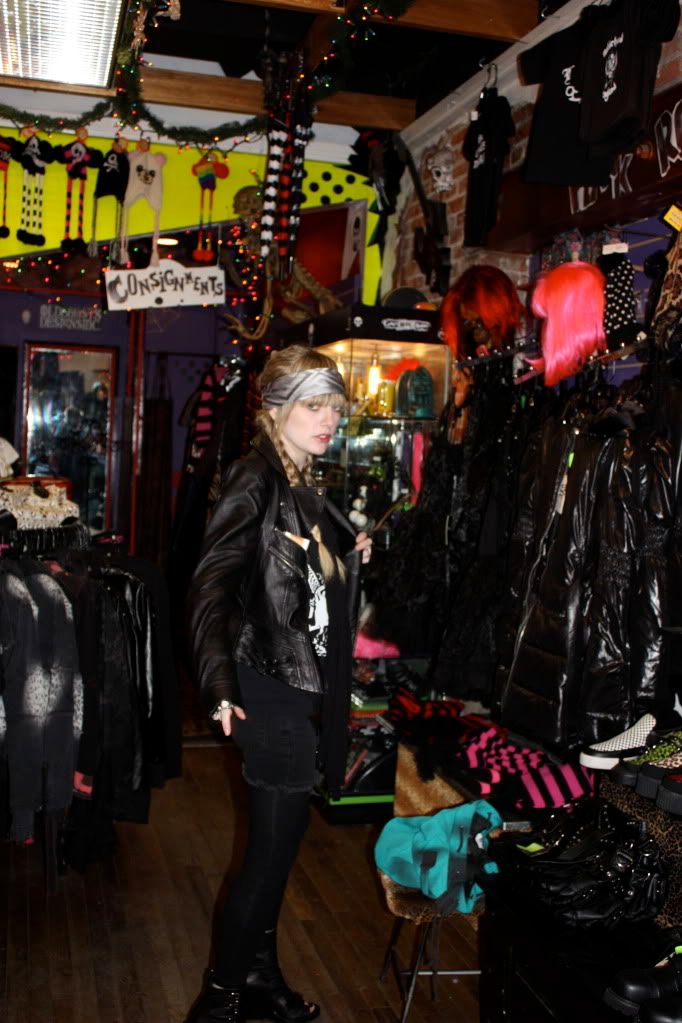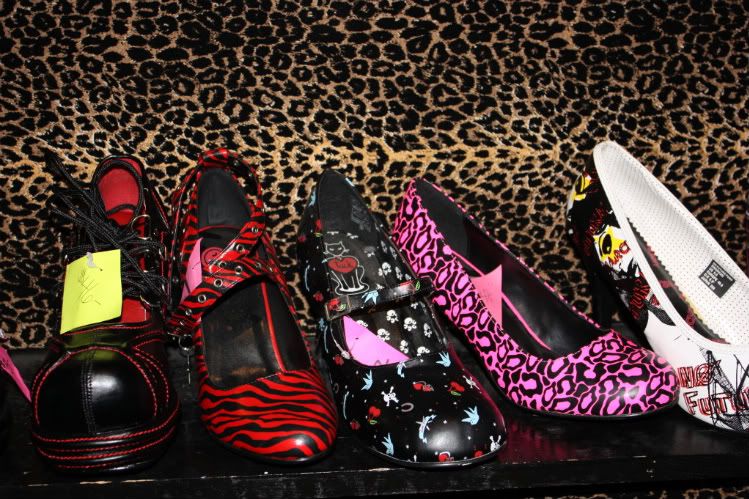 Printed pumps & mary janes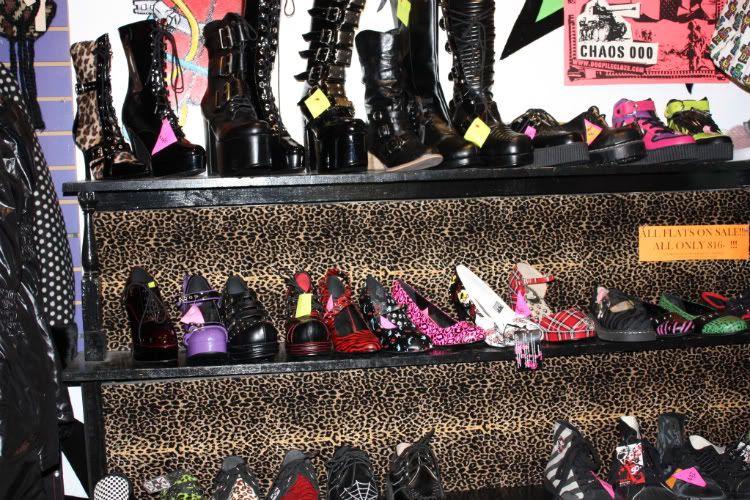 The gothic lolita kicks on the top shelf can look pretty cool these days if paired with an ultra-feminine dress for juxtaposition.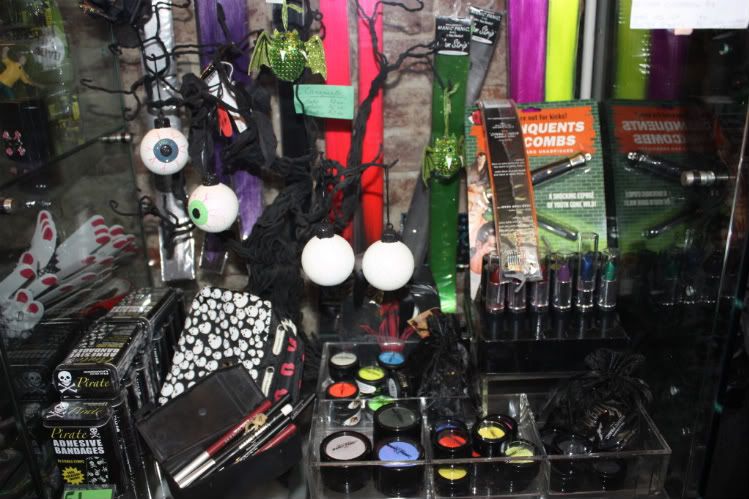 Cosmetics & sparkly eyeball ornaments.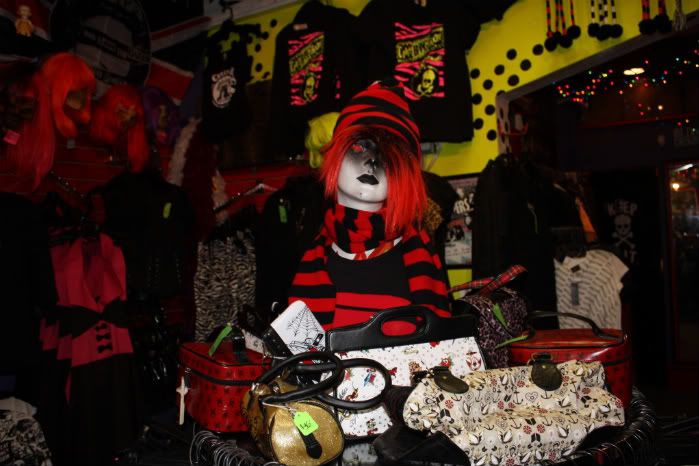 Your new girlfriends.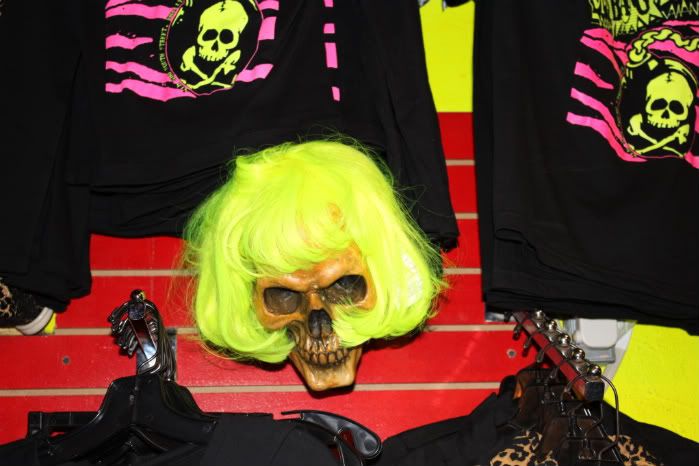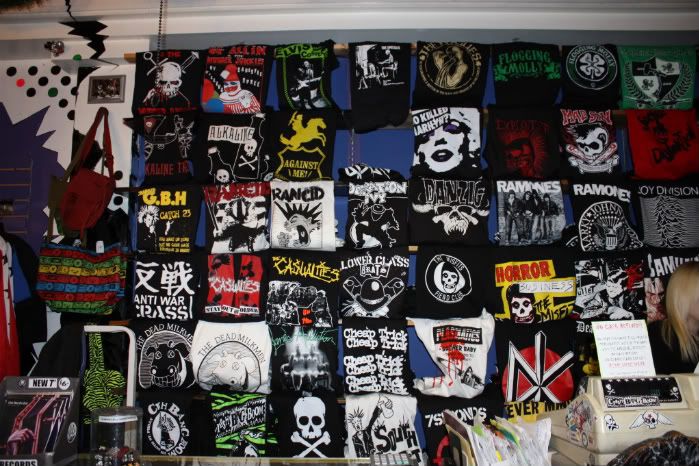 Tons of punk shirts ... DIY inspiration for me.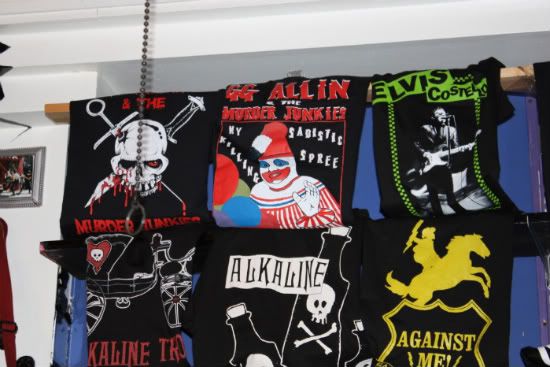 I want that Murder Junkies shirt with the John Wayne Gacy clown print!!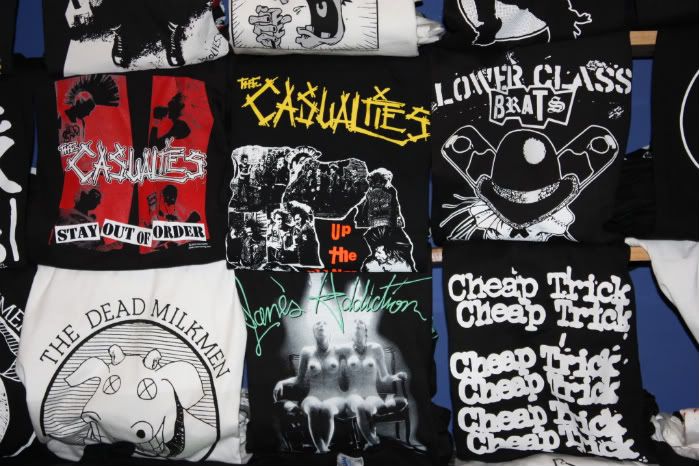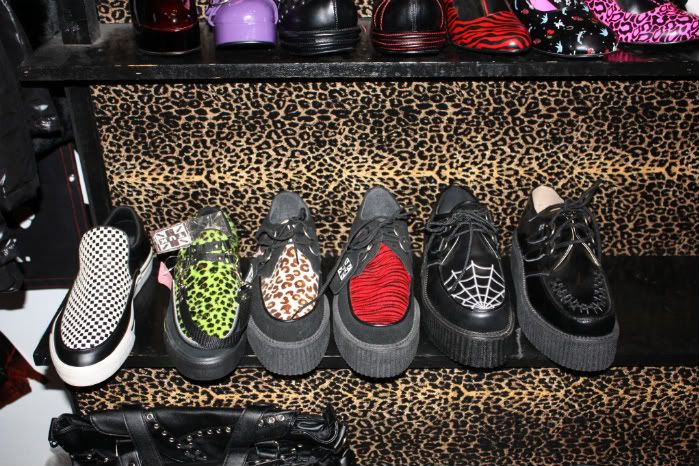 Lots of gaudy creepers ... love it.

I have a business meeting on Wednesday to talk about my future merchandizing endeavor ... very excited!

Also, Pentagram is touring again in mid-March and we'll be hitting up the West Coat. You can see the tour dates by clicking on the Pentagram icon in the Affiliates section on the right. See you in LA-LA land!

xo