Hey from Ramona, CA! Last night the band played in LA (@ Ultraviolet) and killed it. The promoters were awesome and we've gotten the best treatment in Ramona so far as well. As some of you know, the guitar player, Russ Strahan, quit Pentagram about 6 hours before we were scheduled to leave for Indianapolis to start the tour. This does not mean the end of Pentagram and the band will have a permanent guitar player before the May tour. Johnny Wretched, another Maryland doom guitarist, graciously volunteered to fill in for Russ for the remainder of this tour. I'll miss Russ and I'll always consider him an extraordinarily talented lead player and a good friend. Wretched has been hanging in there, doing very well, and has a lot of balls to take all of this responsibility on his shoulders with such short notice. The band apologizes to the fans for the short set list of Pentagram songs, but they've added a pretty incredible jam of "La Grange" in which Bobby plays harmonica. Everyone has been totally gracious and stoked to be at the shows, and the guys have gotten an awesome reception.

It's also been great to see some readers at the gigs and chat for a bit. Don't hesitate to say hi if you spot me! A few readers and Pentagram fans have taken pictures of or with me; if you're one of these people, please shoot the photos to me over at halcoholic@gmail.com and I'll post some of them on here. I've also been told that I and/or my husband have been featured in a few online fashion sites or something, so if anyone has the links I'd very much appreciate if they were emailed to me. I've taken a ton of pictures myself so far which will be posted in the next couple of days. They offer wireless at the venue here in Ramona so I'll organize all of my photos this evening before Pentagram go on.

Until I met my husband, I always wondered what it must be like to be in a lesbian relationship, be the same size, have similar styles, and be able to share a wardrobe (idealistic, I know). I guess it's a similar concept if you have a same-sex twin, but undoubtedly my twin would be vastly more successful, better-looking, and not go to Crown Fried Chicken at 3am to fetch me BBQ ribs when I'm pregnant.

My husband is of a very small build and therefore I have open-access to a wardrobe of studded leather, drapey satin, crinkled lame and hand-sequined denim, all perfected and honed over the decades. Bobby's style has changed throughout the years, but his affinity for high-quality original items and unique ensembles has remained basically the same. This is a man I would admire for his ability to make a bold statement and accessorize even if I didn't wash his underwear.

60s/70s:

My husband is an original hippie, born out of the Georgetown head shops of mammoth bellbottoms and pungent incense. For him, these years were all about Landlubbers, custom bejeweled tops with scooped necklines, hand-screened t-shirts, sky-high platforms, big starched collars on paisley button-ups (many of which I have, in recent years, claimed as my own), and the longest hair possible. Bobby was forbidden by his parents to wear blue jeans, as they were considered "white trash," so during a lot of this time he amassed an enormous collection of courderoys (all size 24 waist, so the ones that we have now and are wearable have had to be let out). He also learned how to cast a lot of his own jewelry in high school, and made a lot of beautiful custom statement pieces with semi-precious stones, most of which were sold over the years.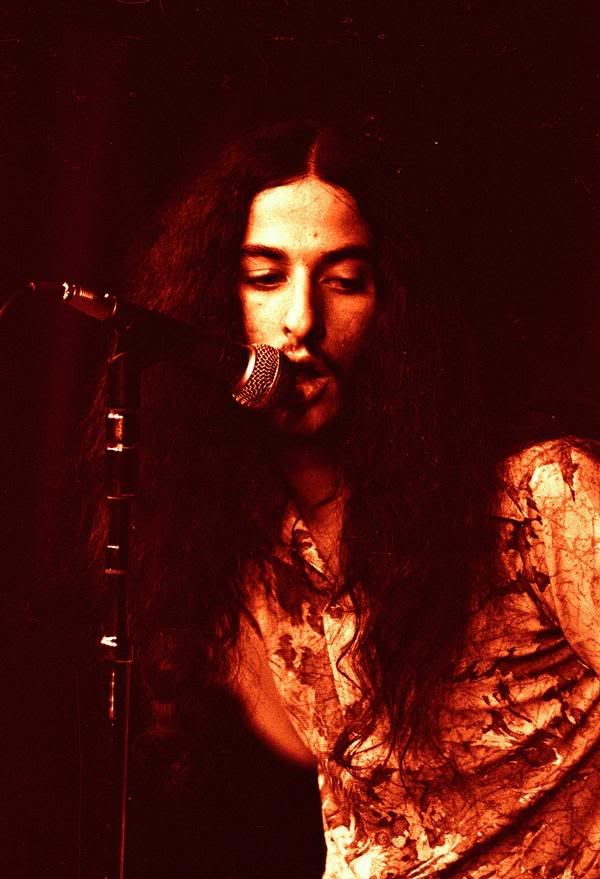 Wearing a handmade printed button-up .. I believe we still have this somewhere.




At the rear right. These images made the cover/booklet of the "First Daze Here" album, released by Relapse Records in 2002. The Iggy Pop shirt is now mine, the leather moto jacket still survives in our study closet.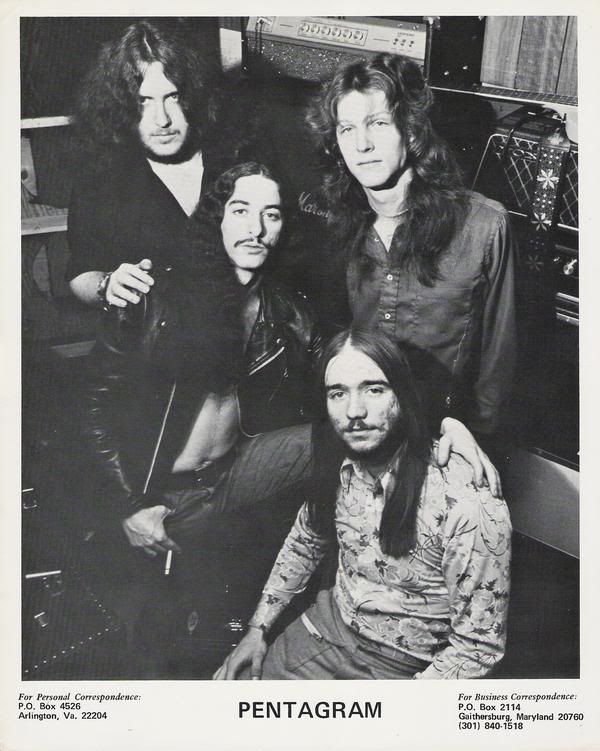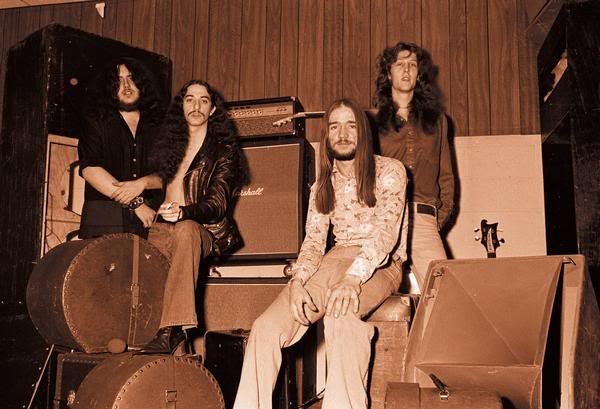 In platform cuban-heeled boots and brown velour bellbottoms.

80s:

Pentagram reformed in the 80s under the Death Row lineup and went on to put out 2 of the most successful albums of Bobby's career ("Relentless" and "Day of Reckoning"). Around this time Bobby shed his classic hippie image and took on a significantly more macabre, costumey appearance, donning leather bodysuits, studded cuffs & bullet belts, spandex pants, custom sterling jewelry depicting satanic imagery, and white face paint. In dress and sound, this lineup of Pentagram were very different from their peers, as they were not "glammy" like the hair bands of the mid-80s (not to mention they tuned down much lower), yet much showier and more rooted in rock 'n roll than the corpse-painted black metal bands that surfaced later in the decade. Although Bobby ditched the bellbottoms and hippie prints during this era, he maintained his trademark long hair and sideburns (except while briefly working security for the U.S. government in the late 70s), and a penchant for hand-sequined satins and pirate-sleeved button-ups.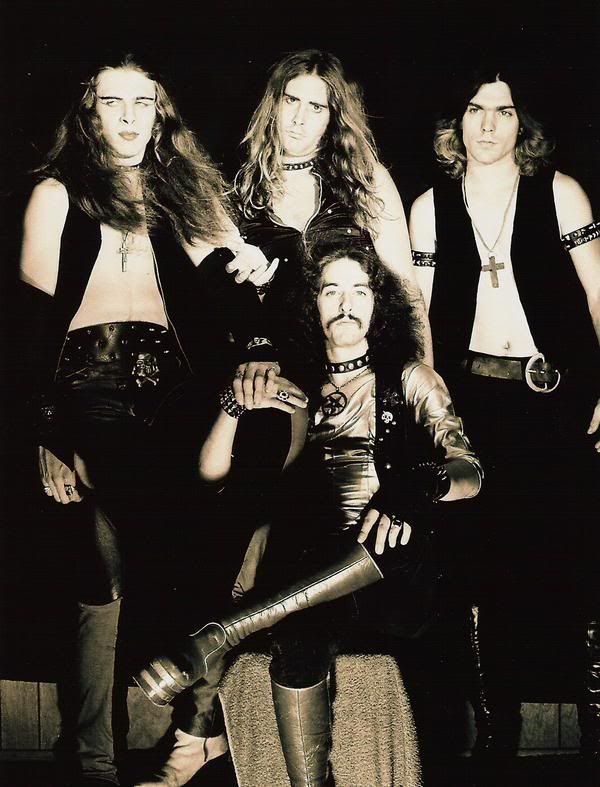 In red & silver platform boots, leather vest, and a silver lame shirt. The shirt was his mother's and I think I also have the matching pants laying around somewhere.




In white face and a leather vest. The belts I wear now, and jeweled long-sleeved shirt Bobby stills wears onstage occasionally.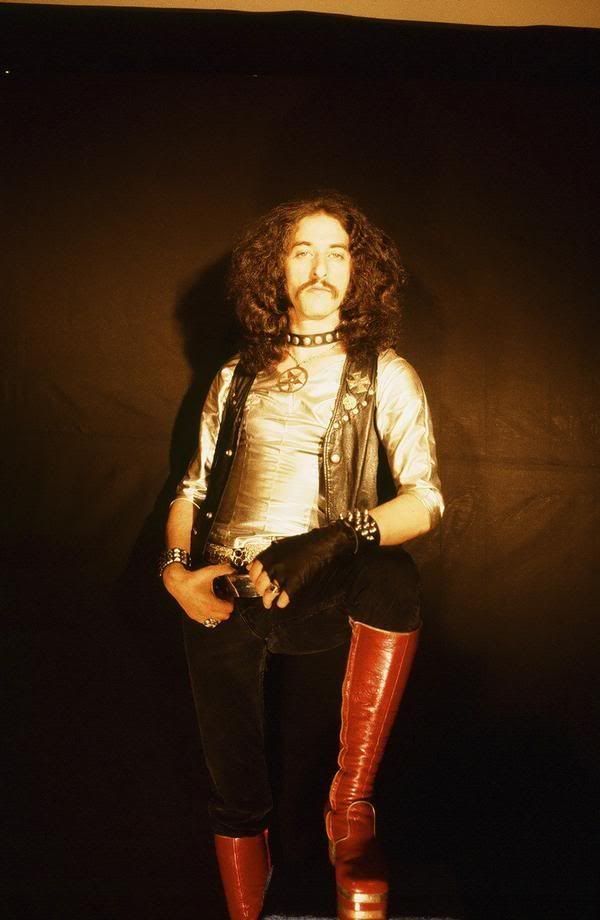 Photoshoot at D.C. jail in a black & white striped shirt, leather vest, and studded collars.

All photos are property of Jeffrey Lee.

I'll do the 90s and post photos from the tour within the next couple of days; just wanted to make sure my links worked and give readers a little something. Tomorrow we have two days off so I'll have much more time to focus on this. See you in SF!

xoxo